KarBOOM Open Alpha 0.3.6 is out
Get KarBOOM Open Alpha 0.3.6 now on the download page or at Desura. Those of you who already have KarBOOM on Desura already have the update installed, assuming you've used Desura in the last 24 hours.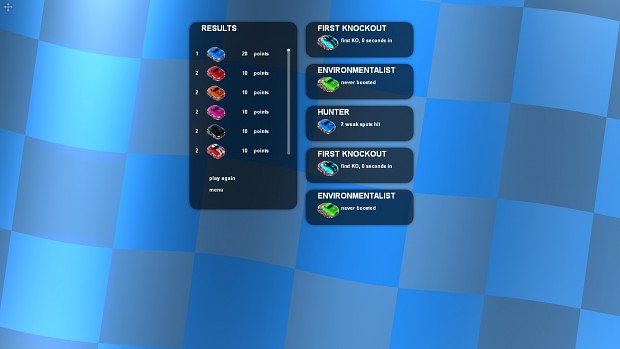 What's new?
The most obvious change is the new results screen -- the winning car or team gets their flag waved in the background as the scores and awards are displayed.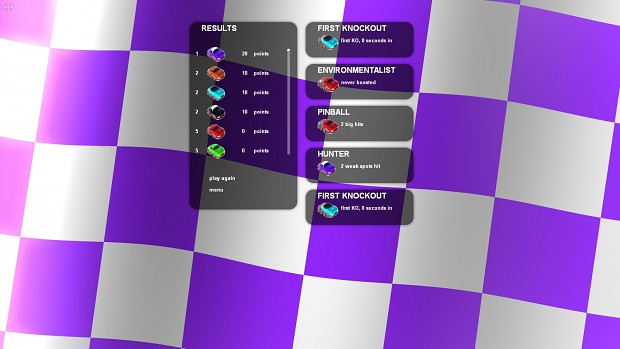 Another important change is that king of the hill now works with team play -- I was away between Christmas and New Year's Day, but wanted to release 0.3.5 before then so you all wouldn't be kept waiting for team play; team scoring in king of the hill didn't make it in time.
But now it has!
And lastly, some users have been having trouble with KarBOOM not detecting more than two gamepads. I was having the same problem, but thought it was a local driver issue. I've managed to not only fix it, but improve gamepad detection so that it's automatically done whenever the "add players" menu is opened. This means you no longer have to close/reopen KarBOOM if you forgot to connect enough gamepads before starting the game.
Any news unrelated to the game itself?
Funny you should ask that! Yes, the forum has been fixed up a little. Just some minor touch-ups here and there, but the main forum page now has a "mark all as read" button so you don't have to close/reopen your browser to clear those "NEW" alerts.
What's next?
You tell me! What do you want to be in the next update? Although, I have committed to some menu improvements to make the menus more readable from a distance (for those of you playing from a sofa) and some graphics options that will hopefully make KarBOOM compatible with much older computers.
Follow me (@JibbSmart) on Twitter for the latest info, and keep a close eye on KarBOOM as more alpha versions are released in future!