Technically, it's not so hard. After all, all you need to do is to create two windows, one on each screen ( in case of a dual screen setup ), to create two cameras, and to render the scene twice. Of course, you get a 2 times slow-down ( or 3 times in case of a triple config ).
Fortunately, InfinityAdmin took a different approach. He still created 2 windows, but used the engine's pipeline to create one virtual off-screen buffer. The scene only has to be rendered once. Much better! Then in the final stage, the buffer is shared and split between the windows.
The results are pretty cool, and if properly set up, the images are perfectly seamless. For example, consider this one, taken on a dual monitor config, each screen being full-screen 1280x1024: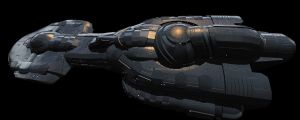 Nothing forces the windows to get perfectly aligned or to "touch", and they can even be of different resolutions ( meaning that it'll work perfectly even if your monitors have different resolutions ).