This may seem like seemingly basic knowledge, but in this article are some helpful tips to get your project in the spotlight. Hopefully some start-up projects will find this knowledge very useful. While the entire point of this article is to help projects polish up projects, you should keep in mind that no matter how many watchers/views you have, you should always keep your focus on a solid release. With that in mind, lets get started!
Header Picture and Summary
The first thing viewers will see is your summary and the header picture of your project's profile.
This is pretty straight forward, but I'll briefly go over it anyway. A summary 'should' contain a summary of what your project is. (Surprise!) If not a summary, a clincher to keep the viewers interested. (Or both!) If you read the summary of a project and still have no idea what its about, then you have a problem.
Why not also polish it up as well? Images? Why not. Its easy to find projects that do this wrong, sadly.
If you do add an image to the summary, make it a low file size JPEG. Also try to not link it from other sites. Some sites are slower and will make an ugly 'pop-in'. No one wants that. Instead put it on your account profile, link it, and then delete it off your profile. The image is still linked, and you won't have account profile clutter.
A header picture (hopefully) has something pertaining to your project. Try to aim for something very relevant. Your making an action game? Why not make something action oriented? How about some concept? The header also supports GIF files, so even animated pictures will work. Get creative! Maybe even use some HTML to make something snazzy!
Gallery and Videos
Next up, the gallery! The image gallery is a great place to add images of your progress, it is not a great place to jam everything project related. Why? Showing progress is great, but almost no one is willing to dig through hundreds of images only to find old outdated work. Try to keep media focused, and when something is updated, get rid of the older stuff to make room for the new. Same goes with models and the like. Instead of 10 images of the same model, why not put the same model in different angles on the same image. You'll see it looks very nice and cleaned up. (From Neotokyo)
Videos are a little different, as you won't have nearly as many videos. You should, however, wait for a video to get authenticated by the admins before you link them in a news post. Sometimes the authentication process takes days, prepare for anything.
News articles
A 'huge' part of getting viewers is front page news posts, or news posts in general. I heard from several Moddb'ers that they can't seem to get on the front page. To get something on the front page, all you need to do is follow a few guidelines.
Link relevant information. Talking about the Quake 2 engine? Why not link it to clue any readers in? No need to link it every time either.
Use the same image size. Mashing whatever cool picture you can find makes it look sloppy. Organising media into ordered sections with same sized pictures makes work look cleaned up.
Spell check.
Don't post small undeveloped things. A cool texture or a 10 minute gun model won't hit the front page. If it does, you won't get many viewers.
Organise the media! Separate it into sections, maybe even much like this article.
Interviews
Here's a good idea. Lets say you've got a few news posts going and you need more. Did you know you can toss a PM to the ModDB admins and arrange for an interview, or even get a news post in the headlines? No, those projects are not 'super special' with 'special' rights. They just asked! Did you also know the Indie Devs group conducts interviews/reviews/previews, purely for independent and standalone games? (Helpful articles too!) Did you know there are several groups around Moddb that do the same? Shockingly, many miss these helpful groups for who knows what reason.
A last topic to cover is: Comments.
Comments
As a PR/Developer/Modder, please avoid arguing with other commentors. This makes a team terribly unprofessional and inexperienced looking. Instead of arguing with a particualrly demeaning comment, just go ahead and delete it. Don't waste your time. People that try to rile up an arguement are called trolls. (If you didn't know.) Every project is bound to meet trolls. Also, try not to flood your own media with your own comments. Its perfectly fine if you do, but when comments get into the 50's and 100's, half of which being your own, its a pain to go through it. Comment on questions and to make point outs to help clear up a situation, as this is helpful.
Stats
If you go to your mod profile (Or any mod profile for that matter), clicking on the views will bring up the stats menu. (Or type /stats at the end of mod's URL)
You'll find a chart like this: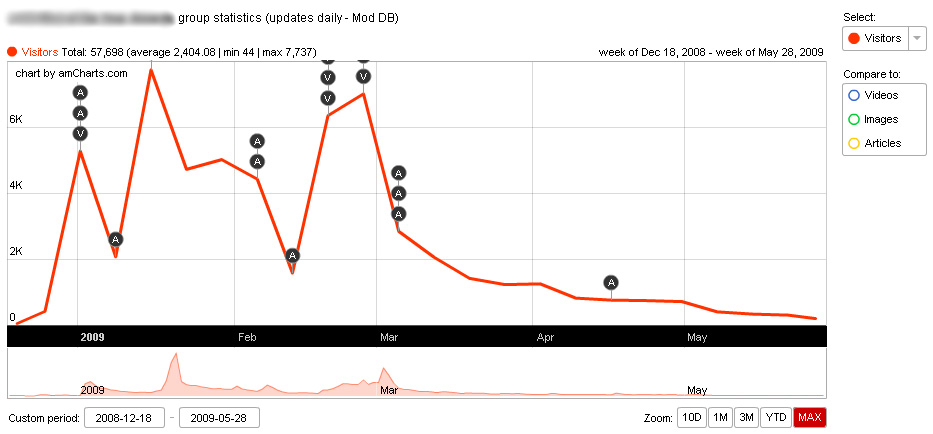 This nice graph chart shows news posts and videos, and how much attention you got. Use this to your advantage. Lets say an early news post got a lot of attention, but a later news post was barely noticed. What did the media contain? What really caught people's attention? This simple but effective tool can help plan for future media releases, and generally helps to know how much attention your project is getting.
Special Thanks
That wraps up some things you should know for getting a project recognised on ModDB. Yes, most are common sense, but hopefully this helps some mod teams out a bit. I used several reference mods/groups in this article. They've done some great eye catching work. If you didn't follow the links, they are all here:
Thanks for reading!