Some tools should be simple. The Sins Mod Manager aims to be just that.
What does it do?
The Sins Mod Manager maintains multiple EnabledMods text configurations (think templates) and allows you to activate the one you want prior to starting Sins of a Solar Empire: Rebellion.
What does it NOT do?
It won't download, install or modify any of the mods shown. It's up to you to ensure the mods are downloaded and installed properly in order to play them.
How does it work?
Simply click on the mods picture and it will copy the EnabledMods.[Mod Name].txt to EnabledMods.txt. If the EnabledMods.[Mod Name].txt doesn't exist yet, then the tool will create it for you.
What's up with the little icon next to the mod's picture?
Clicking the mod configuration icon will create or regenerate the EnabledMods.[Mod Name].txt for the corresponding mod. If the mod has optional configurations another dialog will be displayed to select those options (see below).
Why does Windows not trust the executable?
It costs money to sign an executable. As this is a free mod tool I won't be spending money to sign it. You can trust it or not trust it at your discretion. My suggestion is only use versions downloaded from moddb and verify the checksum matches what moddb displays.
THIS SOFTWARE IS PROVIDED BY THE COPYRIGHT HOLDERS AND CONTRIBUTORS "AS IS" AND ANY EXPRESS OR IMPLIED WARRANTIES, INCLUDING, BUT NOT LIMITED TO, THE IMPLIED WARRANTIES OF MERCHANTABILITY AND FITNESS FOR A PARTICULAR PURPOSE ARE DISCLAIMED. IN NO EVENT SHALL THE COPYRIGHT OWNER OR CONTRIBUTORS BE LIABLE FOR ANY DIRECT, INDIRECT, INCIDENTAL, SPECIAL, EXEMPLARY, OR CONSEQUENTIAL DAMAGES (INCLUDING, BUT NOT LIMITED TO, PROCUREMENT OF SUBSTITUTE GOODS OR SERVICES; LOSS OF USE, DATA, OR PROFITS; OR BUSINESS INTERRUPTION) HOWEVER CAUSED AND ON ANY THEORY OF LIABILITY, WHETHER IN CONTRACT, STRICT LIABILITY, OR TORT (INCLUDING NEGLIGENCE OR OTHERWISE) ARISING IN ANY WAY OUT OF THE USE OF THIS SOFTWARE, EVEN IF ADVISED OF THE POSSIBILITY OF SUCH DAMAGE.
When can I get it?
Now.
I'll be uploading the first version when I upload the next Sins of the Fallen release which should be soon. They will however be separate downloads as I won't expect people that want to use this tool to also download my mod.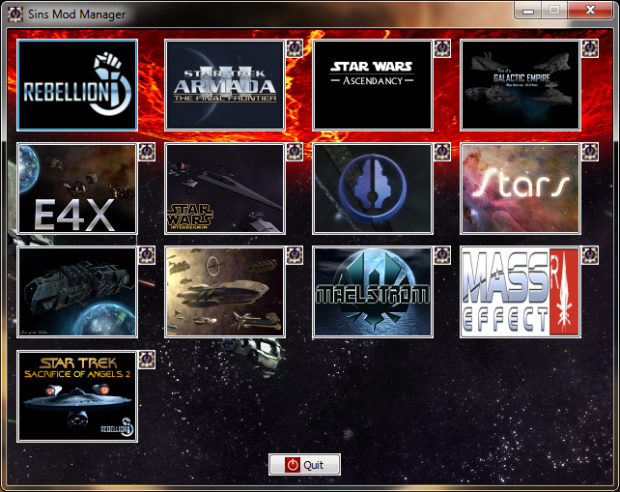 The Sins Mod Manager system menu allows you to optionally select "Use Developer" to have this session manager the EnabledMods.txt for the Developer Exe. Note: this option will not be persisted across executions.
The Sins Mod Manager also supports optional configurations for:
Sins of a Galactic Empire
E4X/Interregnum
Sins of the Fallen/Fall of Kobol