Importing models in to Quake Tutorial.
By Faparith.

Introduction:
In this tutorial I will hope to show you how to get a model from your 3d app into quake fully uv maped and animated. While there are quite a few methods to this I found this one to work best (for me anyway). Later I would like to add to this tutorial some of those other methods as well.
But enough yapping out of me, so let's get down to the Tutorial.
First off the thing's you will need to complete this tutorial are:
1. Quake (who would have guessed that one) The share ware one will do.
2. The 3d modelling app of your choice. Some popular ones are 3ds max, XSI mod tool, Milk shape 3d, Blender and many more. Most will work just fine for this.
3. A model uved and animated.
4. QME.
5. quick3D. The 30 day trial will work.
6. Time and patience. Its a virtue you know.

Exporting you model from your modelling app:
Load up your Model and export the first base frame of the
models animation to one of the following formats (.3ds,.dxf,.lwo,.hrc,.cad) name it "1". Then export each frame as an indivual model and name them 2,3,4,5 and so on.Once you have all frames of the model exported and named appropriately(1.3ds ,2.3ds so on) you are ready to convert it in to a quake
.mdl.
Converting to .mdl:
Install Quake(shareware) and Quick3D as well as QME and the 3.1 patch.
Open up Quick 3d then go to File>Open and select the first model you exported (e.g. 1.3ds) and open it.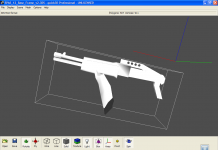 You should now see the model displayed in the window but it
missing something most likely. The texture.
To get the texture on the model go to Mesh> Texture Map.
Then in he new pop up window browser to the location of the models texture and select it. There that's better now. Next go to file> save and select .mdl and save. If your using the unregistered version you will get a message saying that the model has been saved as shareware_output.mdl. Don't worry you can just rename the file. Also note it can take a while for quick 3d to save the mdl so just give it time if it looks like it crashed. Now you have the model converted in to .mdl with a correct
uv map. Congrats. But its still lacking something, Yep the animations, next I will show you how to get the animations in to the .mdl.
Getting the animations in:
Ok almost finished.
Open you the .mdl we made in the last step into QME.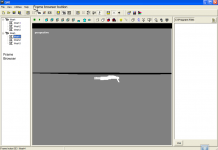 Then go to File > Import frames and browser to the folder where you exported all of the models frames, select them all except the first one (it all ready loaded) and click ok.
Now you should have the model and its animations loaded.
Just a bit of tidying up left to do.Open the frame browser as shown in the pic above.
You will notice that there two groups of frames called "Mesh" and one with no name. the Mesh one i just the first frame we used to create the .mdl.
Right click on the unnamed one and select the option "Append scene to previous scene" this combines the two sets of animations.
Next right click and go to renumber scene.
If the model has more than just a shoot animation e.g. reloading or walking if it a charter you might want to split those animations in to separate groups.
To do this right click on the last frame in the reload animation for example and select split scene at frame.
Then just rename them as approporiate.
When you are finish just go to file > save and you have you uv maped and animated model ready for use in game.
Quick testing (optional) :
Make a back up of the id1 folder in you quake install. Justin case.
Rename the model to "v_shot.mdl" and place it the .pak file in the id1 folder in the location where you installed Quake. Confirm the file overwrite. We are replacing Quake normal shot gun with our model. Load up Quake and you should see you model in place of quakes shot gun.
Congratulations on completing the tutorial (unless you skiped ahead to this part).
Tips:
Now that the tutorial is complete here is a few tips that may be useful.
1. Qme can export models from .mdl this can be useful for exporting a current model and using it to position and correctly scale a model for in game use.
2. Most modern modified quake engine support loading of external textures for models. This means that you can have higher quality
images on models. Just rename the .tga texture "v_shot.mdl_0.tga". And the engine should load it instead of the one in the .mdl.
I hope this tutorial was useful. Feel free to ask questions if parts of it where unclear or just if you have a question.