---
Hello there, today I will be teaching you on how to change the textures on a model in Half-Life.
It's pretty simple so we'll we walking through it quickly.
First, download Jed's Half-Life Model Viewer and install it. After you do that we can begin. First let's locate and backup our models. To do so we'll go to C:\Program Files (x86)\Steam\SteamApps\common\Half-Life\valve\models (I assume everyone has this game on Steam at this point), then we'll copy all the models and paste them into another folder. Once that is done we'll go into the "models" folder, right click on "scientist.mdl" and click open it "Jed's Half-Life Model Viewer". It should look like this: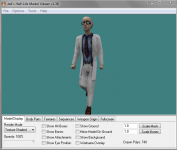 Now we click "Textures", and we can click the drop bar and have access to all the textures on the model. Let's modify "Sci3(Back2).bmp", to modify it we must export it to our desktop. To do so click "Export" and direct it to your desktop. Once done we can open it with a photo editing program, for this tutorial i'll be using "Paint" because Paint.Net, Gimp, and Photoshop CS6 will not work for me for some reason (It says "Error loading BMP image", please comment info if you know how to fix this). Now that we got it open in Paint we are now able to edit it to our liking. Once we are done we need to save the image as a ".BMP". After we saved it we can Import it with the "Import" button. After we import it we can go back into the "Model Display" and look at the back of our scientist and see his new jacket.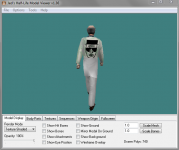 As we can see, his jacket is different, now what you do is click on "File > Save Model As > (Name Model).bmp" . After you do this you just go back into your "models" folder and swap the files out.
And that's how you change textures on a model!
_______________________________________________________________________________
Notes: If you notice horrible pixel quality you should test out the other programs (Paint.Net, Gimp, PS CS6+)
I am currently experiencing this problem but Jed's Model Viewer will not let me upload any files from Paint.Net, Gimp, or PS CS6, and it's pretty annoying. Any tips on how to fix this will be greatly appreciated.