Originally posted here: www.planetavp.com/modmaker/
Created by: William "modmaker" Bostjan
Mirrored here for archival purposes
Particle F/X
Steam
Dripper Object
Creating your own Particle effect
These are the detail items in a map. Most these objects work to create the atmosphere of Aliens versus Predator. A STEAM filled corridor, a Green secreted dripper torn into a damaged walkway. They make the game exciting. They can also use up processing time in game. Use them wisely. ALLEY is one of the few MP maps that uses these objects, and its in a fairly tight confined corner, for a reason.
The most challenging part of adding Steam is choosing the appropriate version.
Make yourself a test map, and place the various steam objects in it to see the various types. Set up some sort of an organization system, that way you won't waste to much time figuring out the code names for the various types of steam.
For example geyser base and Waterfall have interesting similarities and differences, choosing between the two in a map scenario is very important.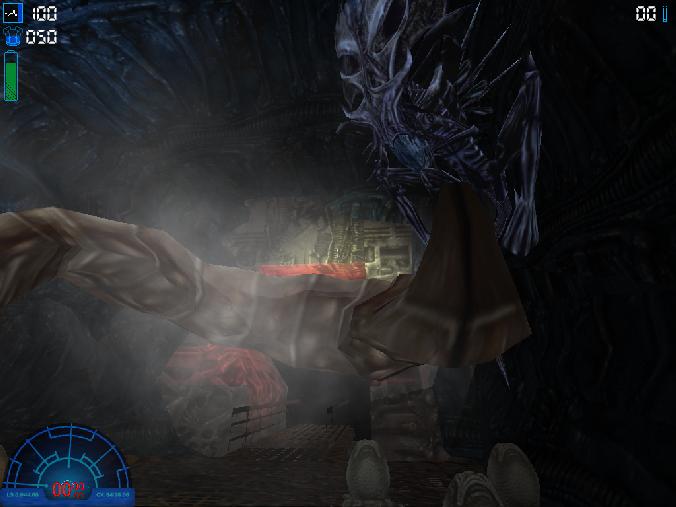 This is the LAST ONE OUT Queens Chamber in the
bottom sublevel of the Atmosphere Processor
The process is simple. Choose the STEAM object, place it appropriately, you may have to fine tune its location based on the steam's actual dispersal pattern in game. Rotate it if necessary, in the properties menu. Also note that some of the steams,(actually quite a few) are semi coded to damage the player. You can't switch these, at least on easily.
I crated a simple box map and placed the various steams, and numbered them. it is the best way to figure the correct one for the uses you need. I suggest you do the same.
Drippers can be resized
The classic setup. A Hole in the floor, a dripper hanging from the ceiling. Easy enough to duplicate.