Hi there community. It's me jukki, and i am trying to write this update as fine as i can do. Well lats start by saying i wish you had very creepy Halloween. I killed hundreds of zombies. What about you ;)
Well at the moment we have done 3 new weapons. Sawnoff shotgun, m1a1 thompson sub-machinegun and ppsh-41 submachine gun.
Here are some screenshots from the game (notice the map ;) ):
Yeah lil datk but it doesnt have lights.. hey wait a second is tha verruckt. Yes it is. Dropthebomp have been working on this one for a while. Its not yeat done but this side you are seing is almost done. It need lights too, but thats not important yet.
I LOVE YOU <3
Well we do have crawlers in too now :D Thouse lil guys looks so epic and cutes. Here is a quick pic of it: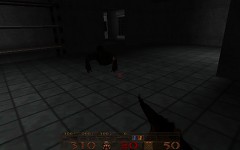 I know he looks so cute (btw texture and howering is fixed now).
TALKING TALKING
Well me and blubs made a new podcast yesterday. Like in older podcast we talked about nzp and some other mods. Also talked about reallife and stuff like that. You can find it in downloads section.
GAMING FOR DEVS
Well recently halo solitude finaly (after 2 years) released their first public alpha release for pc. Go check it out, it is prety awesome (not awesome as us thought XD ) i have been playng that alot and recently started to map againg. Some of you folks probaply remeber my map trapbridges. Well i have release an update of it. Go check it on solitude forums. Other devs, well i know mobster is playing solitude too. Blubs have been playing nzp saying solitude suck ( :P ) (j/k)
Well that it for this update. Stay tuned on and more will come. And we do habe something big in our game. Not gona tell you what :P
Btw comment how well i writed this XD