Hello everyone. First of all, thank you to everybody who voted for us this year and helped us reach the Mod of the Year Top 100 finalists for the fifth year in a row! We are really pleased with this feat and we could not have done it without your support. You're all awesome! If you enjoyed our Public Beta 5 release earlier this year and haven't voted yet, please feel free to go ahead and vote for Twisted Insurrection as mod of the year! Simply click the "VOTE" text next to the Twisted Insurrection icon to cast your vote, simple!
Secondly, if you're familiar with the mod Dawn of the Tiberium Age (which by the way is also in the Top 100 for the first time, congratulations to them!) you will be aware that they use the same client and launcher as Twisted Insurrection does, meaning that the recent updates they had will also be coming to our own client once they are ready. This means co-op missions, tons of new options and settings, themes and game-modes (plus many, many more features) will all become a possibility in the near-future, so a big hand to Rampastring for all his hard work on the client and Iran for his hard work with Spawner!
I apologize that there have been no previews of Twisted Insurrection's new client as of yet, but I have been very busy with other things. I plan to take a day off solely to work on new options and features for Twisted Insurrection's next big update, which hopefully won't be too far off. The updated client will be the main feature in the next update (aside from some new music, which I am about to talk about) but will of course feature some other updates such as updated maps, bug fixes etc.
Next on our update agenda, we have some new tracks to add to our Original Soundtrack. Here is the current track listing for Volume 4 of our OST: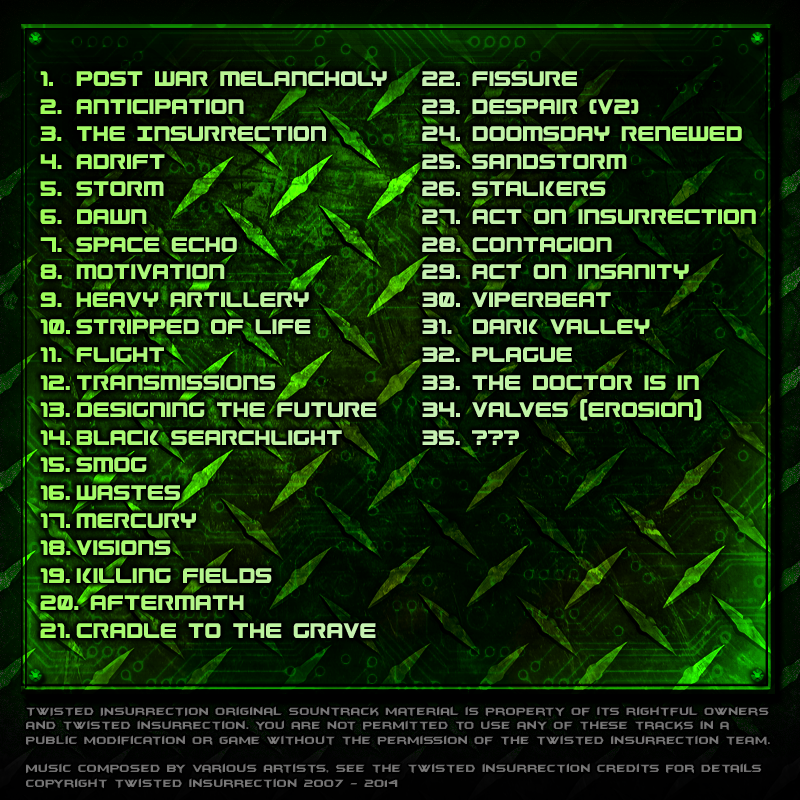 It should be noted that some of the names may not be final, by the way! There are currently a total of 6 new tracks since the release of Public Beta 5, some of which are currently still a work in progress, but there are two complete tracks that have just been published on our YouTube channel today, both of which were composed by Speeder of Mental Omega APYR, also the composer of our popular track, Contagion.
Act on Insanity
Viperbeat
So there we have it! I am sorry for the silence as of late, but I have been extremely busy recently and hope to get back into the game soon, Mod of the Year normally rekindles my interest! Thanks again to those of you that voted and once again, if you haven't already, please vote for Twisted Insurrection as mod of the year if you enjoyed Public Beta 5! Thank you.