Whew! It's been a very busy couple of months here on the Twisted Insurrection team. You all may have noticed a huge burst of activity, that is because I had decided to take a short break from modding just before the new year, meaning that once I got back into the spin of things, there would be a huge list of progression updates. The Public Beta 5 changelog already has well over 400 changes and additions and is definitely going to be our biggest release yet! It's looking like a release will come much sooner than we had initially anticipated.
There have been tons of larger changes as well as smaller changes done in the past month, some of the most significant things involve remastering some of our older, dated work, the addition of hundreds of additional visual assets (or the replacing of old ones) and some new campaign missions. GDI Mission 13, Nod Challenge 2, major edits of Nod Missions 11, 12 and 13 and there will be many more ready for the next release.
Since Tiberain Sun itself works with palettes, it can be difficult to get as much detail as possible out of most assets, primarily animations. Apollo, TI Team member and leader of the immense Robot Storm mod has remastered the animation palette, allowing much more detail to be provided in every single animation SHP. Along with the improved palette, several older and uglier explosions have been remastered. Here are a couple of examples:
]
The cameos I put together for the early releases of Twisted Insurrection somehow managed to survive up until now, I'm surprised there were no requests from the public to replace them, 'cause lets face it, they weren't very good. I've gone through all of the Nod cameos and remastered every single one of them (With exception to the Scorpion Tank and Infector cameos, which were made by our leading voxel artist, ErastusMercy), along with adding cameos for Twisted Dawn era units, GloboTech vehicles (which will now be available in TI Skirmish mode once capturing the new warehouse tech structure) and all others. GDI cameos will also get a polish, but not until some of the voxels/sprites are replaced.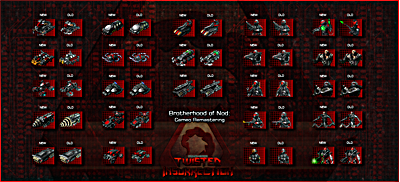 Eventually, we aim to replace all of the voices borrowed from other games in Twisted Insurrection with our very own. We'll be putting up a spreadsheet as soon as posisble so the public can donate their attempts at voiceovers too. I have already added two full-time staff members to work as voice-actors and so far they are doing a good job! Here is a preview of the new Infector voiceover by Swirekster (or Swinfector, since a lot of his work revolves around it)

Our website has undergone so many changed since December. These changes include adding whole new pages to the website, updating older ones, adding all of the new cameos, updating the gallery and maps sections and many more bits and pieces (which I'm sure you'll spot after flicking through). Updates will still occur as time goes on, so keep your eyes peeled! Eventually I'll also get around to adding a new IRC channel...
Lots of units have gone under role-changes and general revamps for Public Beta 5. The most noteable changes would be the new Enforcer and revamped WASP APC for GDI (WASP still needs an image change).
Another new unit that will make a solid appearence in the later missions of the TI campaigns is the new GloboTech "Super Goliath". After assessing the Emerald Peak massacre, GloboTech executives issued the order to repurpose the Goliath stockpiles, to aid in the defence of the company against their new foe.
Utilising these supplies GloboTech engineers attempted several failed refits before successfully producing what they dubbed the Super Goliath. The Goliath's hull was reinforced and the discus launchers were removed in favour of a power cell capable of powering the vehicles new primary armament, a custom built rail-gun. These tanks were then issued to GloboTech most elite armour divisions whose skilled crews were familiarised with the workings of their new vehicles so they could more efficiently maintain them.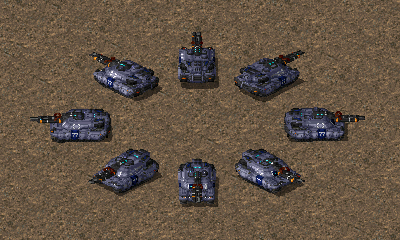 And last on our list (I have skipped a couple in order to save time, such as some remastered maps and new civilian eye-candy) Henskelion has a new FMV fresh out of the oven. This is a generic Nod Logo cutscene for either Nod Victories or GDI Losses. Expect many more to be reveleaded soon, there is another that is 90% complete, however we will not show it until it is deemed a finished product.
And that is all for today. I hope you enjoyed the update and are looking forward to the many more announcements to come! Thank you to all of our fans for the over 10,000 unique downloads of Public Beta 4 and for playing the mod, it really does make us proud and we couldn't have the motivation we need without you! Keep on tracking, 'cause there is plenty more to come. Hopefully we will be out of beta much sooner than we think!