Twisted Insurrection 0.39 has been released! Finally straying away from our previous Public Beta releases, Version 0.39 brings a whole new layer of layer of vast improvements, additions, changes and fixes to the mod and is our most stable build to date.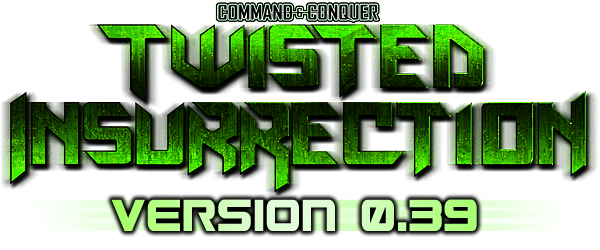 The Twisted Insurrection download file (Twisted-Insurrection-039.ZIP) contains the complete Twisted Insurrection installation so all you need to do is extract and play. Alternatively, those of you whom have Public Beta 5 installed can simply run the launcher to update your current build to Twisted Insurrection 0.39.

Note: It is highly recommended that you run TI_Launcher.exe as an Administrator!
● Download Twisted Insurrection 0.39 from ModDB.com
● Download Twisted Insurrection 0.39 from Project Perfect Mod
● The complete changelog since Public Beta 5 can be viewed here!
To install and play Twisted Insurrection, simply extract the folder (Twisted Insurrection 0.39) from the downloaded ZIP file and run TI_Launcher.exe to launch the game, update, set up and play Twisted Insurrection. No hassle, no mess, just a simple extract and play!
- What is Twisted Insurrection? -
Twisted Insurrection is a stand alone modification of Tiberian Sun, meaning you don't need to own Tiberian Sun to play. The mod features a completely new in-depth story-line which puts you in an alternate timeline where the Brotherhood of Nod were victorious during the first Tiberian War rather than GDI; After the Brotherhood used the Ion Cannon to destroy an irreplaceable monumental structure, the Global Defense initiative lost all UN support leaving them in total disarray. This is where our story begins.
Along with the complete overhaul and replacing of the original games graphics and having it's own all new soundtrack, Twisted Insurrection brings you all new units, infantry and naval forces to command as either The Brotherhood of Nod or the Global Defense Initiative in both singleplayer and multiplayer missions along with all new structures and base defenses to build as well! The mod also introduces the GloboTech corporation and contains all new campaigns for both GDI and Nod, plus some additional bonus challenge missions and several hidden maps so there is always plenty more to play. TI also features all new game-modes such as Survival, Twisted Dawn and Checkpoint Mode and has over 100 multiplayer maps to play either online or in skirmish mode.
Do you have what it takes to drag the shattered Global Defense Initiative out of ruin? Or will you crush all who oppose the will of Kane and his Inner Circle? The choice is yours commander.
- Version 0.39 New Features -
For a complete list of features, minor and major, please read our changelog here. Probably one of the most important features in Twisted Insurrection 0.39 is the new and improved Client, granting you the ability to customize your Skirmish and Online games with loads of new options and tweaks, pre-set teams, locations and alliances on all maps (even with AI players) and have many new game modes to try such as Twisted Dawn, Survival, Meat Grinder, Unholy Alliance, Timeless Insurrection and Ultimate Insurrection.
Loads of options that were not possible before are now available, which will enhance your skirmish and multiplayer experience greatly, allowing you to play the style of match you are looking for, be it a quick relentless war or a long-winded battle with unlimited funds at your disposal. Some of these new options include Build Off Ally, Start Without Shroud, Tiberium-Resistant Infantry, Disable Tiberium Lifeforms, Berzerk Cyborgs, Unlimited Tiberium and Enable Ion Storms. Some screenshots can be seen just above of all of the new client options!
Version 0.39 brings a massive balance overhaul to the mod too implementing lots of feedback provided by staff testing and the public players. The campaign missions have been modified and improved along with the addition of a few more new missions to play, including the Nod Finale. Some new units and structures have been added into the game too, some of which we won't reveal how to acquire just yet.
A list of Twisted Insurrection's top features (old and new):
Windows 8 / 8.1 Support
All new Skirmish/Online set-up Options
Optional Base Props mode, giving you more eye-candy for your bases
Completely Standalone (No CD/TS Required, TI runs entirely by itself)
A new in-depth story-line following Nod's victory in Tiberian Dawn (C&C95;)
Completely revamped and improved graphics
Additional Skirmish Modes such as Twisted Dawn, Survival and Checkpoint
New campaigns and new missions for GDI and Nod, including special challenge missions.
Over 100 new multi-player maps
Smooth and f

ast Paced online game-play

Official CNCNet and Online Play Support
All New Units and Structures
Enhanced Skirmish and AI
Custom cinematics and a completely Original Soundtrack
Please note that this is not considered a final release, meaning that bugs and errors are a possibility. We are always looking for feedback and thoughts from the fans and the players so if you have any thoughts, ideas or want to report any errors you have come across, please feel free to share them with us! Thank you, and we really hope you enjoy the mod!