The Wayfarers story: turning trope characters into people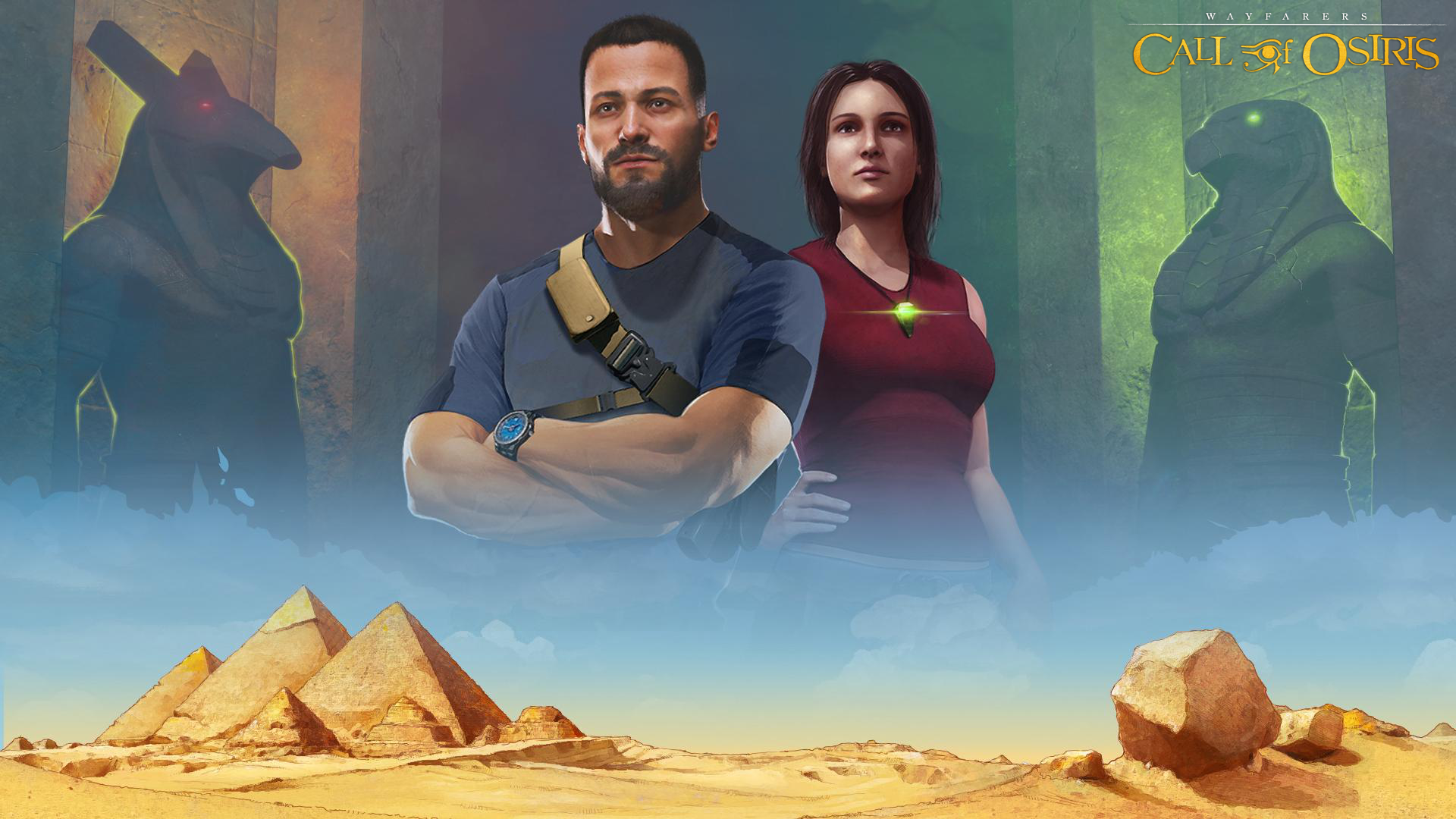 [Call of Osiris: "Caught between deities."]
In my previous article, I talked about how I joined the "Old Kingdom" project and began building upon a solid foundation. Adventure-wise, it didn't take much work: Jack and Leila's path through Egypt was anything but uncharted, and already took them on a winding path across the land, touching many of the well-known sites and leading our heroes deep underground. They got caught up in a war between ancient deities, and were burdened with a 'curse of the Pharaohs'. Cool. So, the main task ahead was to make the characters themselves less of a trope.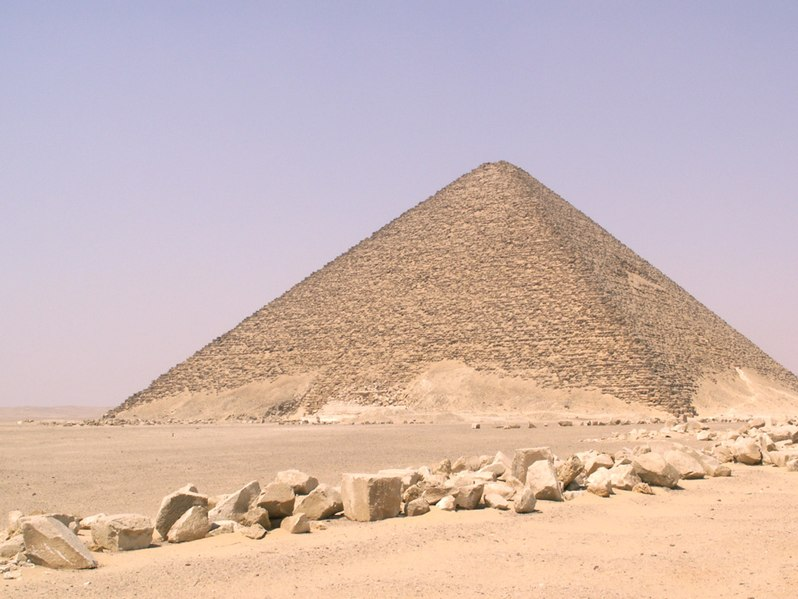 The Red Pyramid of Sneferu at Dahshur features heavily in Call of Osiris.]
(Source: Wikipedia Commons)
At the time, Jack Dawes was still a treasure hunter. In my eyes, this made him too similar to Nathan Drake and Lara Croft, who in turn are extensions of the brave, if clumsy "Saturday matinee" adventurers like Indiana Jones and Rick O'Connell. Many are bound to compare the game to Uncharted and Tomb Raider, and I wanted our characters to blaze their own path. I kept Leila as a scholar because of the gameplay itself; we needed one of the main characters to be knowledgeable about ancient Egypt, and I didn't want Jack to be a know-it-all like Lara and Indy. So I turned him into a professional US soldier, which made perfect sense. As a Delta Force operative (hey, why not? :)) he'd be muscular and athletic, able to run, sprint, jump and climb without much effort, and capable of using any kind of weapon.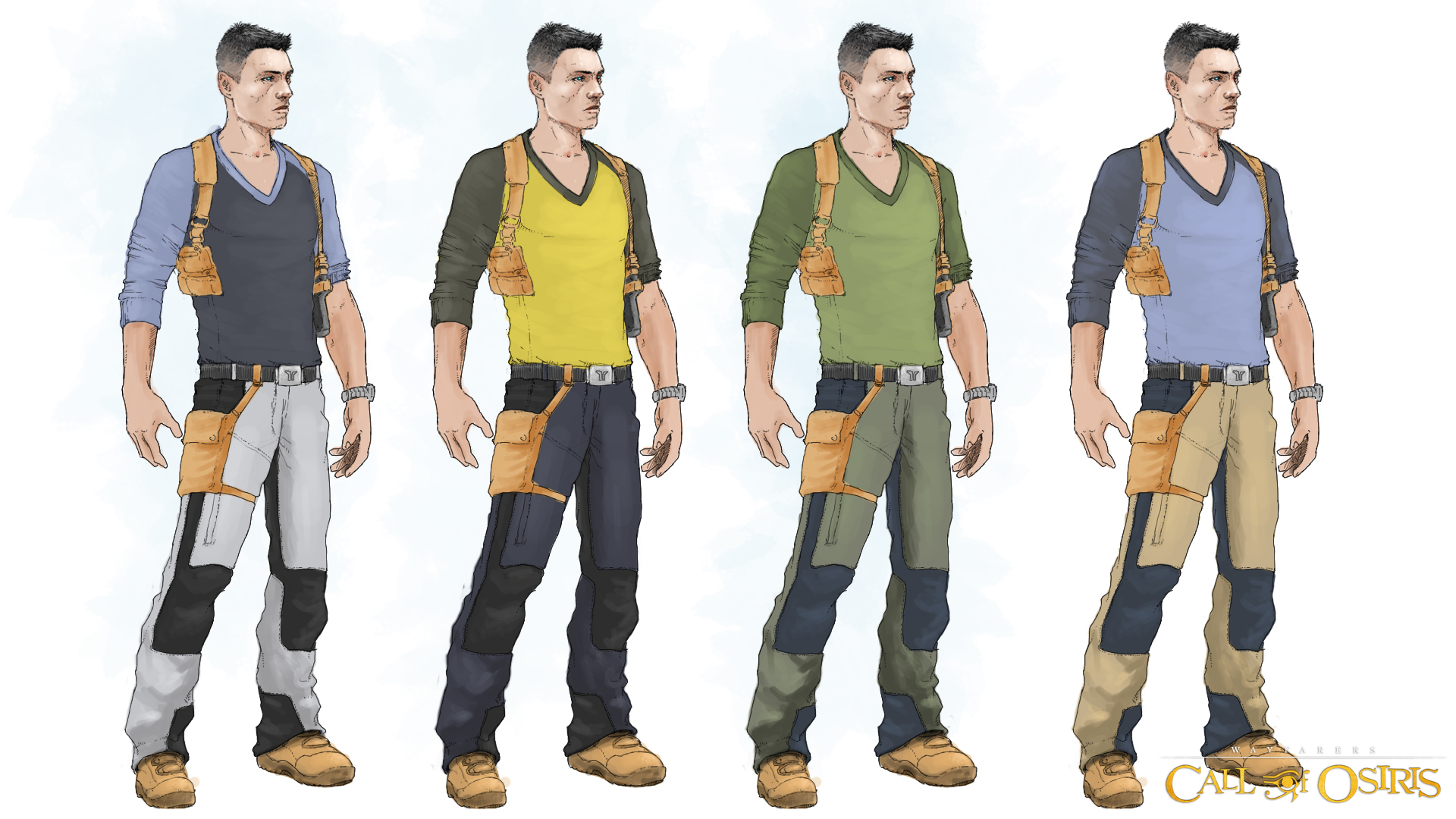 [Jack Dawes, early concept art.]
Leila would be his counterpart, because everyone knows that opposites attract and sparks they create ignite good stories. However, I wanted her to be able to keep up with Jack and not be a damsel in distress, so I painted her as a runner and a climber from the start. But isn't that unusual for a linguist and academic? Certainly - that's why I came up with valid reasons for her athleticism and wove them into the plot. Bottom line: her fitness enabled her to keep up with Jack, and for them to be friends, even rivals. The friend-rival angle is evident throughout Call of Osiris as Leila often challenges Jack to a friendly competition.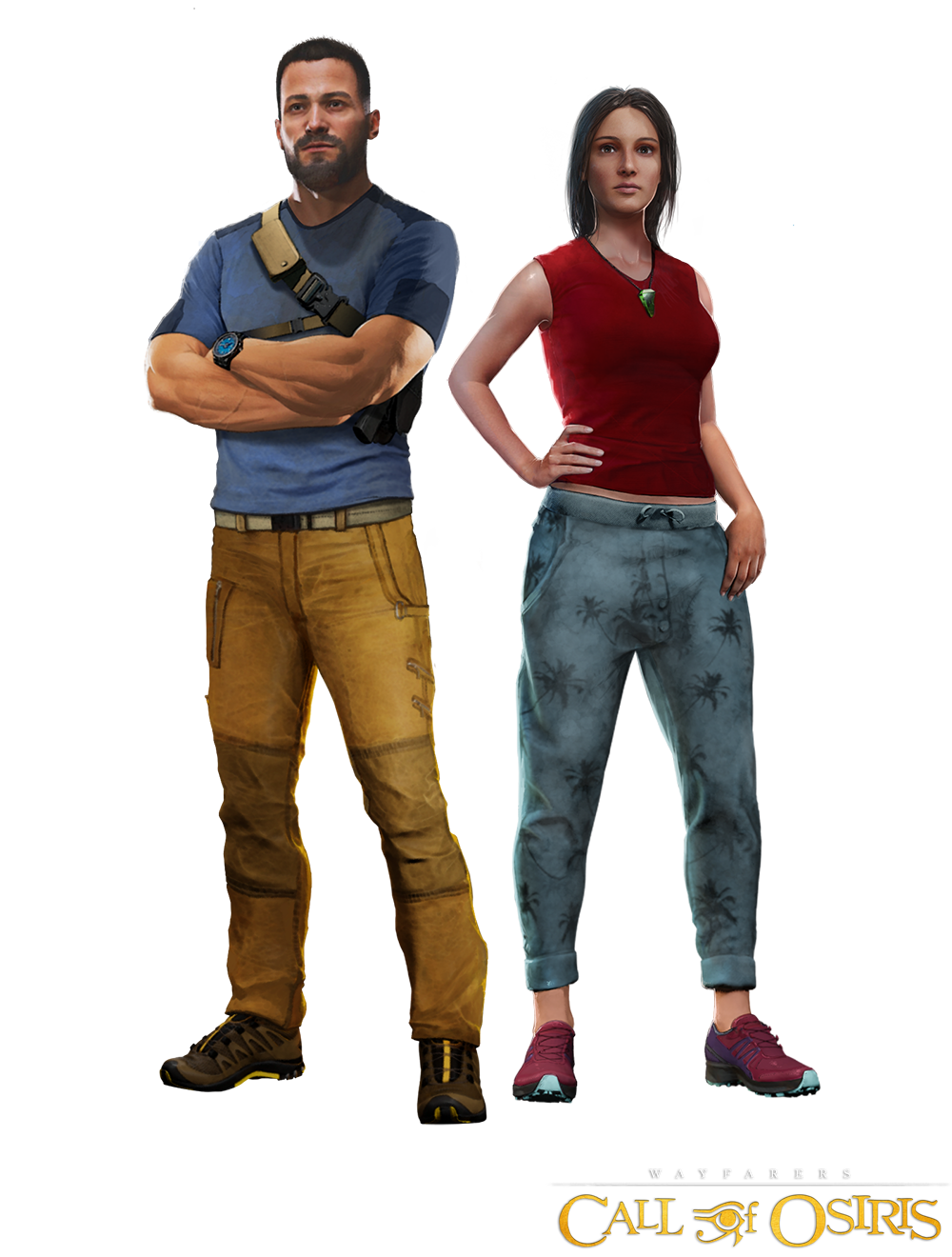 [Jack and Leila Dawes, final artwork.]
You see, Jack and Leila are married, and that creates a different kind of dynamic than lonely Lara with her daddy issues, and Nathan's mating dance with Elena (and Chloe). I wanted Jack and Leila to be comfortable in their long-term relationship and to be friends as well as lovers, because it's friendship that makes a relationship work in the long run. But I also wanted to complicate things for them, to make them take a long, hard look at their marriage. I drew them as a couple with certain problems, then used the curse and Set himself to keep increasing the pressure on their relationship and on each of them personally. In other words, I threw a wrench in their works, then stepped back and watched what happened, Umberto Eco style.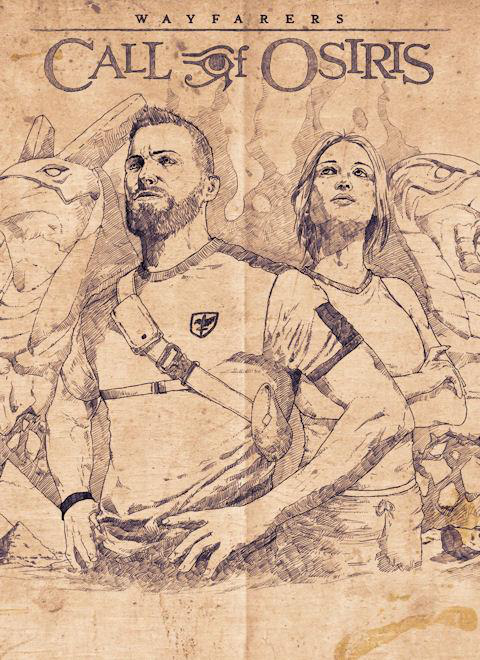 [Jack and Leila Dawes, artist impression.]
The curse itself is a cliché, but in conjunction with these two characters, its effect proved to be an interesting storytelling device that allowed me to develop them further. During the course of the game, the calamity burrows deep into them and unresolved issues begin to surface. In the first half of the game, we watch Jack and Leila come apart, while in the second half, we see them try to rebuild themselves and their relationship which has taken a major blow. Jack often comes across as rude, gruff and even abusive… not exactly heroic. That won't be to everyone's tastes, but I didn't want to pull any punches. I made an effort to shape the protagonists into real people who have to deal with heavy issues like grief, loss, illness and death, who are imperfect and react imperfectly to circumstances.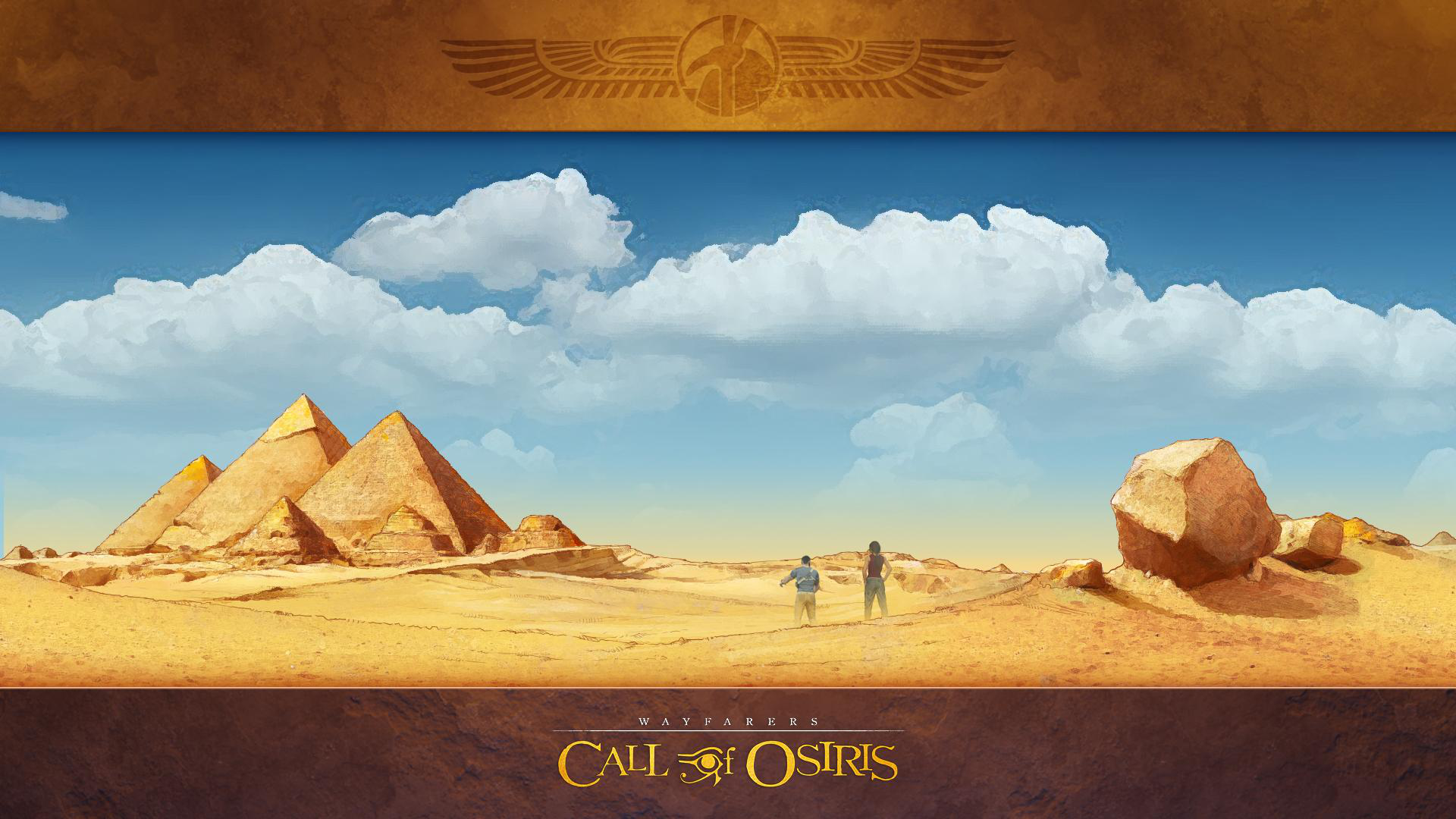 [Call of Osiris: "What Hides Beneath"]
Some might say this isn't what action adventures should be about, and that I needed to keep it all in the realm of fantasy, as that would mesh better with the player mowing down supernatural monsters. That's a good point, but I think plenty of videogames already function as pure escapism, and that more raw, human, believable characters are needed even in fantastical circumstances.
Sergej Hvala, Lead Designer and Storywriter, ActaLogic
---