So we opened up the doors to diversity over in Gym Empire with clients of all shapes, sizes, colours etc.
However for some reason they all thought it was OK to strut around the gym environment scantily clad! Now I understand that exercise makes for hot and sweaty work but everyone exercising in just their underwear pushes the limit.
So the next step was to get some clothes for these cheeky peeps! To start with I identified three options for clothing, each option increasing in difficulty:
A single texture mapped over the whole model with different texture variations providing different clothing looks
o Pros – No 3D modelling experience required
o Cons – Tedious to add variations, Less realistic
Multiple textures mapped over the model, each one corresponding to an area of clothing, with different colour textures for each area
Pros – Limited 3D modelling experience required, Large variation
Cons – Less realistic
Separate clothing 3D models combined with the character model
Pros – More realistic
Cons – Decent 3D modelling experience required, Tedious to add variations
To start with I decided to trial the first approach. This involved no changes to the existing 3D models. The technique was to modify the texture file (a single .png) to have the different areas coloured for different parts of clothing. The existing texture file is an image which is all skin toned with an area in the top right for facial features.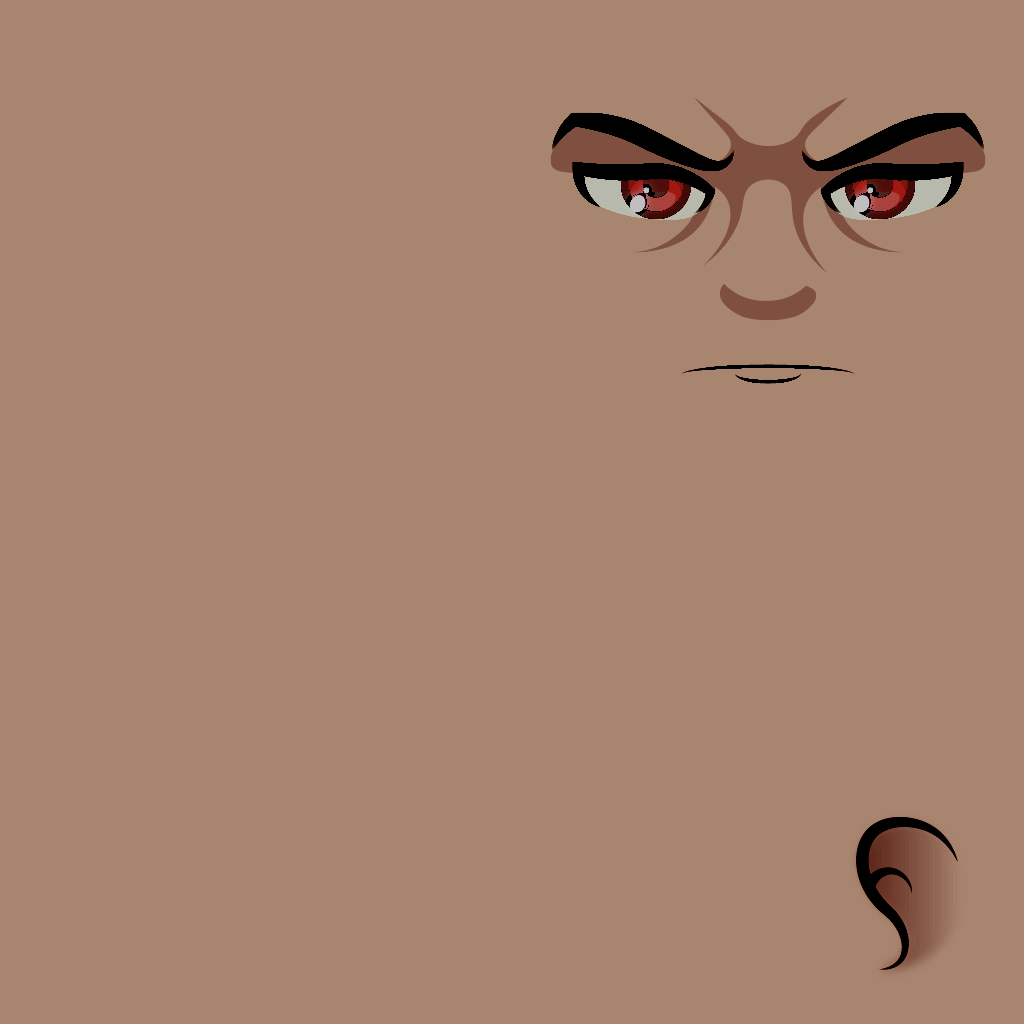 As I started trying to modify the texture to give the look of clothing mapped onto the character I started getting some weird results.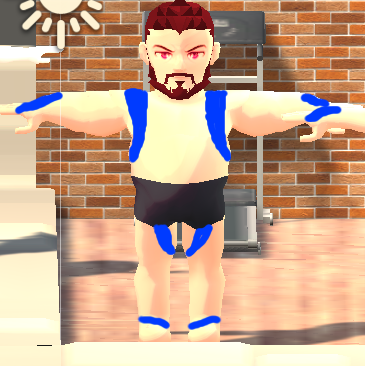 It turns out the way the mapping had been created there was no real logical pattern to anything other than the face.
What made things worse is that each model variation also seemed to have a different mapping so it's not as if one clothing style would work for each model, i.e. each model style would need its own unique set of variations meaning the image count would increase rapidly! I feel like this would be an easy fix for an experienced 3D modeller but I decided to move on quickly to the next option. Furthermore as I thought about it in more detail I realised that I was going to have to generate an excessive amount of texture variations to take into account all the new skin colours, facial features etc that I added into the last updates.
The next option was to look at the 3D model in Blender and to separate the texture regions so that I could colour them individually. I was really hoping this approach would work and look good as I didn't fancy the extra time it would take to get good enough to fully model 3D clothes!
I decided it would make sense to have regions corresponding to a vest, short sleeves, long sleeves, underwear, shorts, long pants and shoes. That way if I wanted the character to have, for example, a vest, shorts and shoes I could colour the vest, underpants, shorts and shoes regions with clothing textures, and colour the short sleeves, long sleeves and long pants regions with the skin texture thus completing the look. The only possible downside to this is the clothes might look a bit too skin tight, however I felt the style of the 3D model could get away with it.
So after my first attempt I put the character back into Unity and gave it a go… And I was really pleased with the outcome! The effect of just colouring certain areas to give the look of different clothing works really well and the clothes don't look overly skin-tight. In fact they still manage to show off the physiques of the characters which is a really important aspect of the game! So I breathed a huge sigh of relief knowing I wasn't going to have to take a 3D modelling course and went on to update the rest of the characters.
I'm really pleased with the overall look and variation. I feel it really fits well with the style and aesthetic of the game and really helps to give it that unique Gym Empire look!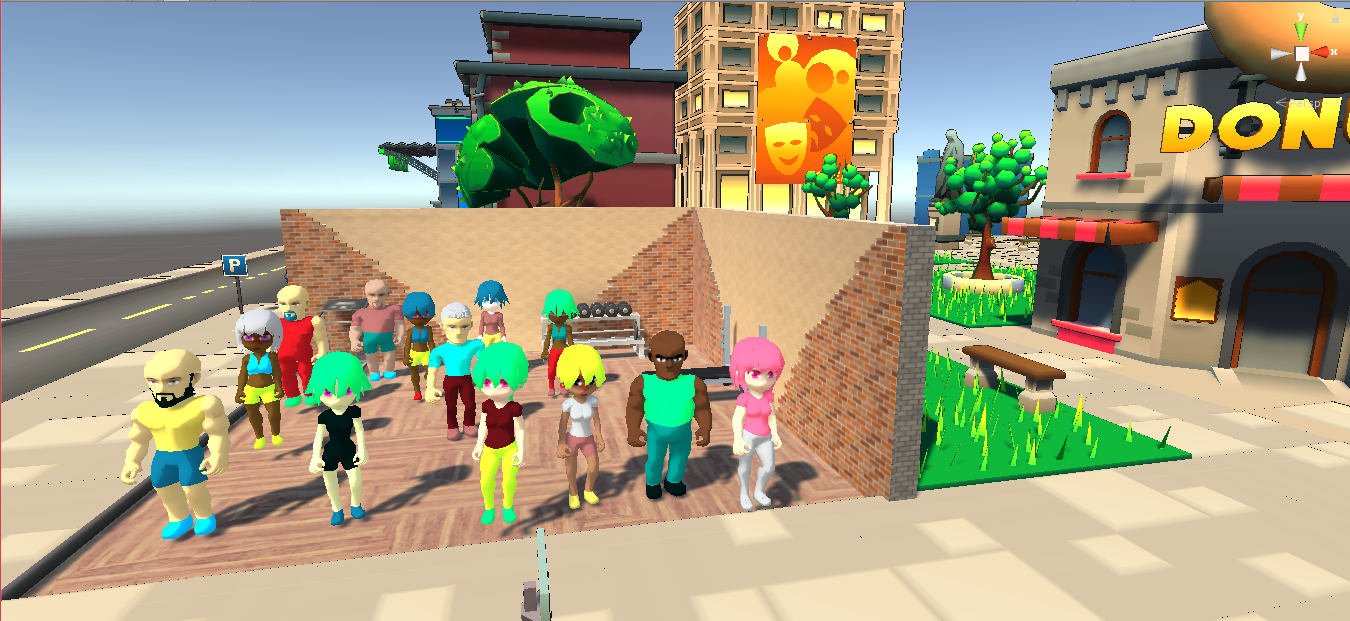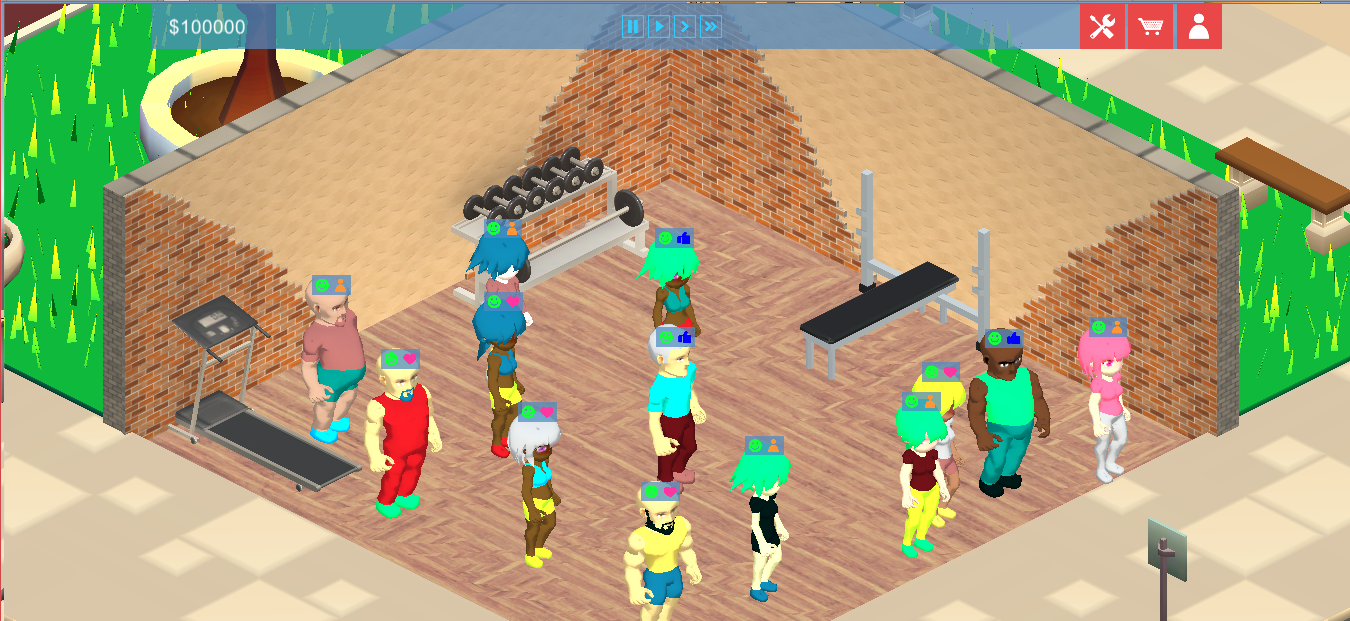 The next thing to get the makeover treatment is going to be the UI…


You can add Gym Empire to your Steam Wishlist now.
Join the discord for exclusive beta access Chronik Spartan Discord.
Please subscribe for updates on Gym Empire and to be in with chances of winning free copies of games!
You can support Chronik Spartan Games and get exclusive access to in depth behind the scenes news and other awesome rewards at Patreon.
This blog post originally appeared on the Chronik Spartan blog.