Hey Everyone,
The time has finaly come!
The NeuroSlicers Closed Pre-Alpha will launch on Friday 13th April at 6PM UTC And you're all invited!
---
HOW TO GAIN ACCESS
So how do you secure you place on the Pre-Alpha you ask?
Well, there are a couple of ways:
The easiest and our preferred way for you to gain guaranteed access to the Pre-Alpha. We want you to be a part of our journey and we want your input, feedback and insights into how we can make NeuroSlicers the best possible game it can be.
This will guarantee that you'll get an invite at some point over the 8 weeks that the Pre-Alpha will be running.
Your place in the queue is determined by your community rank.
Ranking up is easy, all you need to do is interact with the community and you'll start to gain XP.
You only need to be level 2 at the moment in order to gain access during the second batch.....so get chatting!
The other option...if your not feeling in a chatty mood is to purchase access to the Pre-Alpha via Brightlocker.
Will guarantee you access on the 13th April
Includes a discount on the final game when it releases next year.
You'll also be supporting the continued development of the game!
Joining the Discord Community is optional, but recommended for finding matches + providing feedback and bug reports.
All you need to do is head to the rewards section on our Brightlocker page and either use some of the free gold that Brightlocker so kindly rewards you for signing up, or pay the purchase price of $12.99
Though as you can see via the below image, spaces are limited via Brightlocker and we'd really prefer you all to just join our Discord community and get involved with helping us create a better game by sharing your thoughts, ideas and feedback.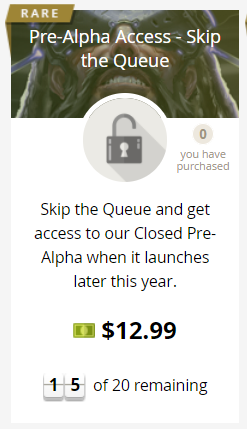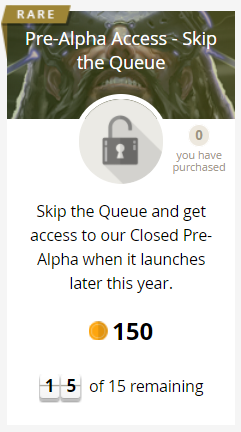 ​
Steam Keys will be sent out via Brightlocker and Discord on Friday 13th in time for the digital cyberwar to begin at 6PM UTC sharp and servers will stay open until Monday 12pm UTC each week until Monday 11th May.
Invites will happen in Batches, with the first group of 30 players being invited on Friday 13th April and each week this number increasing in size until everyone has been invited.

Looking forward to seeing you all on the digital battlefield!
WHAT TO EXPECT IN THE PRE-ALPHA
During the Pre-Alpha you'll be able to get a first taste of the core gameplay experience offered in NeuroSlicers as well as the first versions of a number of our core systems, including the following:
Hub System V0.1
This is where you'll be searching for a ranked match, requesting friendly / unranked matches from other online players, checking out the leaderboard and your standing and accessing the Deck Builder. You'll also be able to get additional details about our available maps by directly interacting with the map.
PLAYER PROFILE SYSTEM V0.1
During the Pre-Alpha we've decided to keep the player profile systems simple. You'll be able to choose an avatar from a small selection, some of which are locked behind the ranking system.
RANKING SYSTEM V0.1
During the Pre-Alpha we'll be using a simple version of our ranking system that will reward you for playing matches and staying in the matchmaking queue.
Ranks go from 1 (Lowest) to 30 (Highest).
Rank progress is earned through each match played and you get a bonus for staying continuously in the matchmaking queue for more than 10 minutes, ie, playing multiple matches one after another.
Every week, players above Rank 10 are reset back to Rank 10.
You'll be earning new Avatar portraits and portrait borders as you rank up.
There might also be special rewards if you manage to battle and win against the Dream Harvest team and our Community Testers, the Sentries.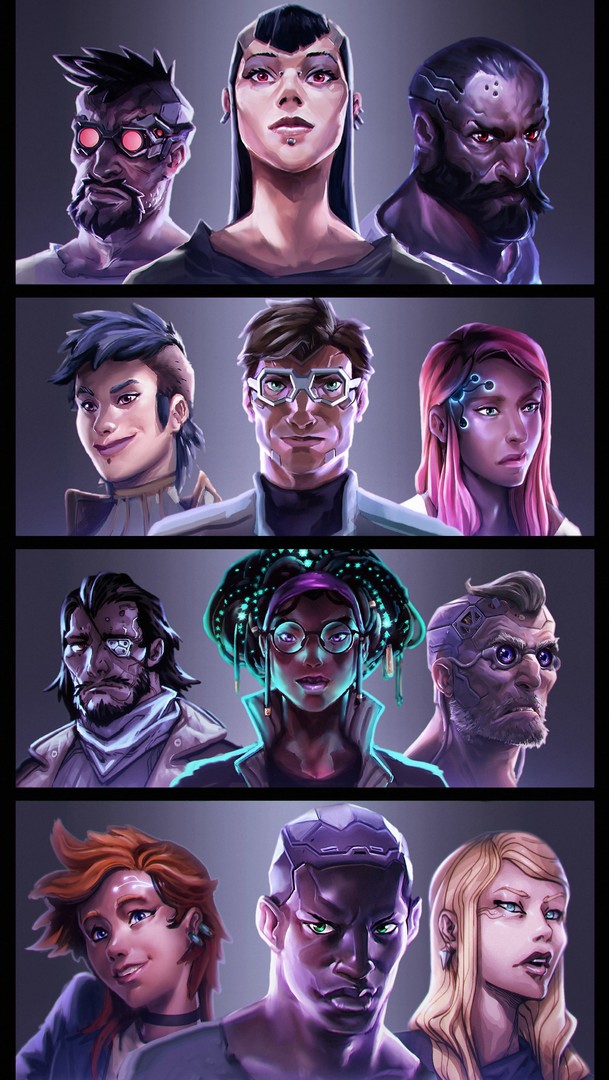 MATCHMAKING V0.1
Our initial matchmaking system will match you with similar skilled players using an MMR rating, however, with such a small number of players playing there's quite a bit of leeway in terms of tollerance as our aim is to get you into a match as quickly as possible.
MMR - This number increases or decreases based on each win or loss. It's used to match people on similar skill level.
Players have access to both Rank and MMR leaderboards.
All players are collected into the matchmaking pool.
We try to find players with the close MMR.
Over time (the longer you wait), we increase the tolerance of what matches are acceptable.
Our target is <20 seconds before you find a match.
TEST LEVELS
During the pre-alpha you'll have access to 3 different levels that can be played across 1v1, 2v2 and 1v1v1.

It's important to note that these 3 levels are not indicitive of the final quality and are not how our final levels will be in terms of layout, level objectives and environments. These are the same test levels we've been testing features out with over the past year. New levels, environments and objectives will be coming later during the Alpha.
DECK BUILDER V0.1
The Deck Builder will allow you to build a custom loadout of Scripts to take into a match made up of Units, Buildings and Function Powers. Finding the right balance of abilities for your chosen play style will take some experimentation, but be sure to read up on each Script to determine their strengths and weaknesses and core abilities.
SCRIPTS
Units
Binary (Prototype Script)
Firewall
BruteForce
Sprectre
Nanite
Buildings
Pylon (Prototype Script)
TechForge
Outpost
Railgun
Artillery
Functions
DataField (Prototype Script)
Reconfig
TeslaBomb
Shield
Sentinel
Over the coming 25 days in the runup to the pre-alpha launch we'll be releasing more information about each of these scripts along with additional details, images and more about the systems you'll be getting your hands on.

Be sure to keep an eye out on Twitter and other social media and help spread the word!
WHAT'S NEXT?
It's important to note that the Pre-Alpha doesnt include the majority of what we have planned for NeuroSlicers, it's just a taste of the core gameplay, something we want to make sure is as solid as possible before we start to add our other systems.

So what can you expect post Pre-Alpha?
Well, lots, including:
Stances system that adds a deeper layer to our resource systems
The Contracts / Mission systems
Proper levels with their own sets of objectives
Our full narrative
Lots more Scripts / Abilities
The in match upgrade system
Firmware system that changes the functionality of your Scripts and allows them to be customized
Script mastery system
Training systems to help you improve your competitive game.
Deep player progression systems
Faction Warfare systems
improvements to UI, both in game and menu's
Social Systems
Holographic E-Mote system for in match communication
Lots of unlockable visual customization elements.
Lots lots more!
So when is all this stuff going in the game? Well, we're aiming to get a cross section of this stuff ready for August this year, but lets see how the pre-alpha goes first. Most importantly we're looking to gather as much feedback and ideas from all of you as possible over the 8 weeks of the pre-alpha and through that we'll then determine what we want to focus on.


IN OTHER NEWS
Here's this month's video dev blog with some other interesting news:
Re-branding from Failure to NeuroSlicers
The Global Top Round Workshop
Raising the rest of our development budget and the London Games Finance Market
Preparing for the pre-alpha with 25 days worth of content
If you want to check it out be sure to subscribe to our Youtube channel and turn notifications on. We'll also be posting this update over on Brightlocker, IndieDB and Twitter.

Anyway, that's it for this newsletter, see you all in the NeuroNet!

Justin & The Dream Harvest Team