Greetings, Generals! It's been 2 weeks since the mod development started again, we have some news for you, as we all going through some of our unit profiles. These 2 weeks I've been focused on finishing the Infantry roster of The Gallians. As we all know, they are the backbone of the Gallian Military, when the Empire have their wave of Tanks, we got the Infantry!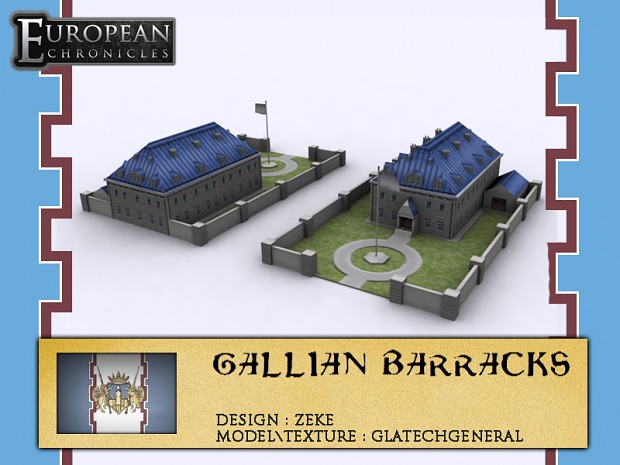 Barracks are usually a group of long buildings built to house military personnel. The main object of barracks is to separate soldiers from the civilian population and reinforce discipline, training, and esprit de corps. They have been called "discipline factories for soldiers".Like industrial factories, some are considered to be shoddy or dull buildings.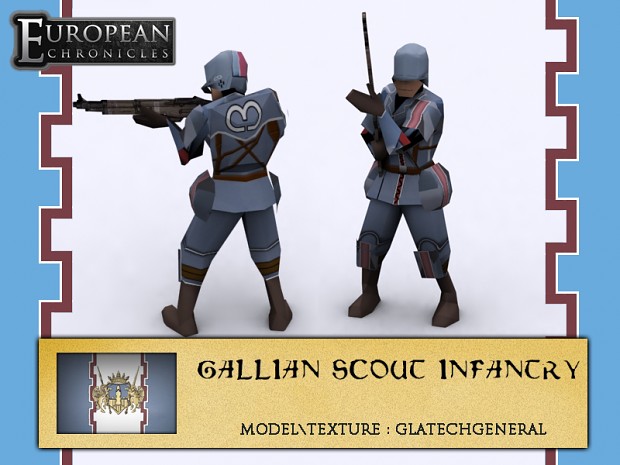 Scouts are armed with medium-long ranged semi-automatic rifles, hand grenades, small ragnaid canisters, and under-barrel mounted grenade launchers. Scouts wear only light armor to increase their mobility and therefore have low defense. they are the game's primary long-range reconnaissance unit.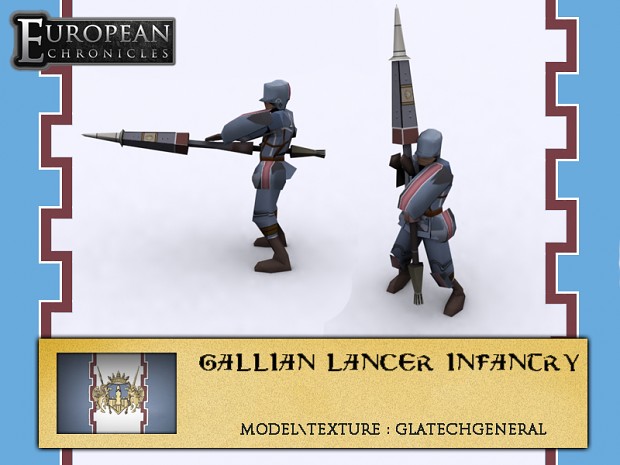 Heavily armored anti-tank units. The Empire's tanks are the evolved forms of their armored cavalry, and similarly, the Gallian lancers are the evolved forms of their heavily armored infantry. As the firepower of the lancer's and tank's weapon increased, the lancers started scattering to put space between facing tanks instead of maintaining a fight formation.
Armed with high-power launchers carrying a variety of warheads, small ragnaid canisters and equipped with heavily armoured blast shields (army and militia lancers) or combat suits (Lanseal lancers) which protect them from mines, gunfire and mortar blasts, Lancers excel at attacks against armoured vehicles.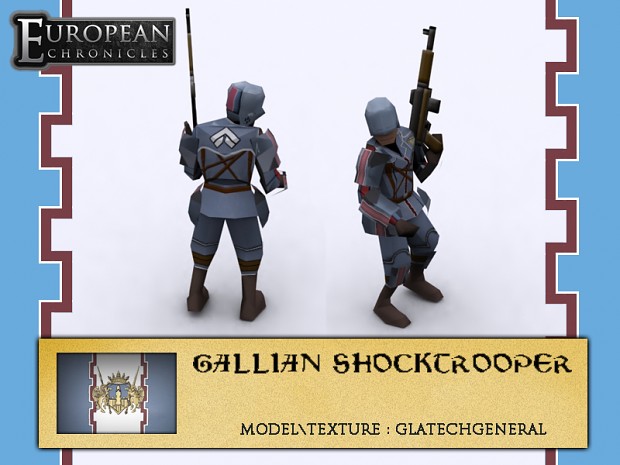 These powerful soldiers are the ones who lead the charge into enemy lines after scout returns with their reports. In order to increase their chances of surviving the enemy's focused fire, the shocktroopers have a little more armor than the scouts. Their armor is not too heavy, however, as they must avoid cannon fire rather than withstand it. Shocktroopers are armed with flamethrowers to make them more effective when overtaking enemy encampments.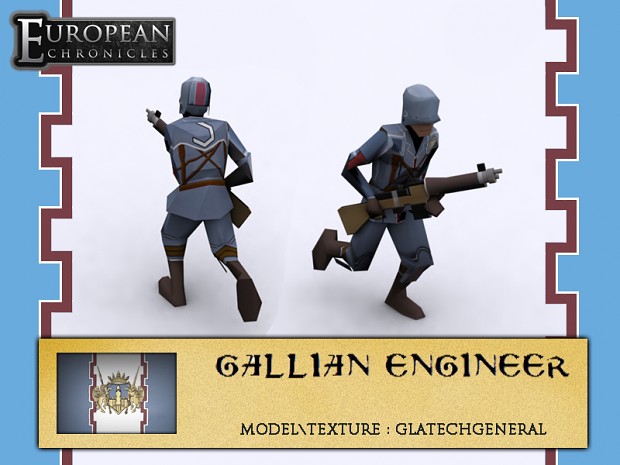 Engineers offer all sorts of important support up on the frontlines, such as offering first aid, performing quick fixes on tanks, clearing mines, and constructing makeshift bunkers. They are sort of a mix between the modern-day engineers and medic. They really are only meant to perform support duties, and their armor is comparable to that of the scout, which makes them ineffective in frontal assaults.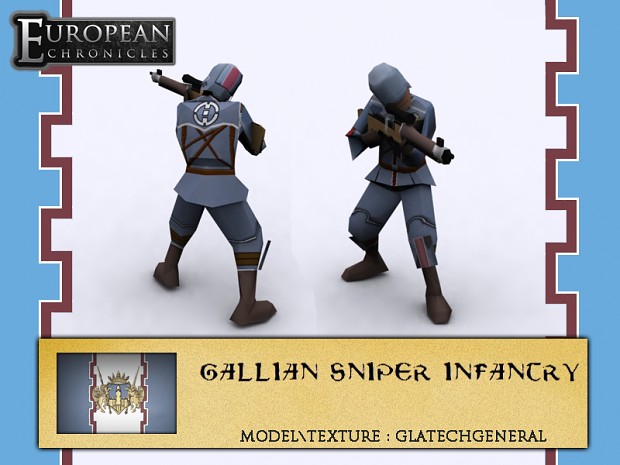 Specializing in extremely ranged combat, the snipers have even less armor than the scouts. Their cumbersome sniper rifles also make them the least-mobile units in the game, but their ability to target an enemy from a distance without fear of immediate retaliation makes them powerful allies indeed.
Actually, I'm updating the Infantry models to be more similar to the source game, like fixing the Helmet and adding the armor on arms and hips. Even changing the face texture.

So, Come another question, is there any way I'm gonna put the Valkyria Chronicles characters like Alicia, Selvaria, or Alisse?
Yes, I'm gonna do that, but not in the near future I suppose. We still have a long way before that, like finishing the core units and buildings of the factions and possibly, the Super Units that are in the Source Game.
By the way, I'm also made a Gallian Defense Structure while at it.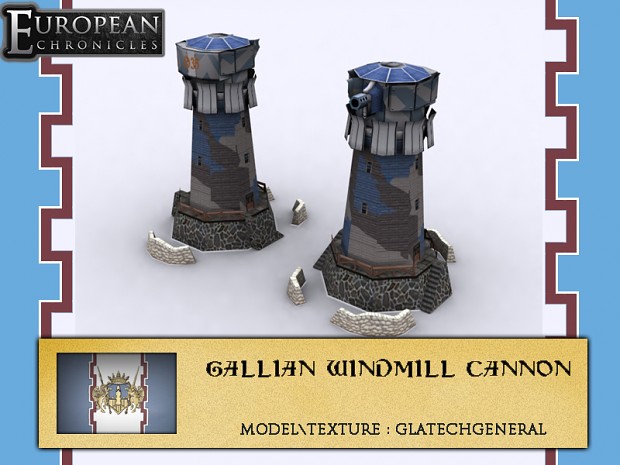 One of the many experimental methods used by the Gallian Armed Forces as a defensive strategy for the nation. Many Windmills scattered around Gallia would be armed with a short-barreled cannon built into the sail axis. This idea was apparently rejected due to the fact that it did not effective in the time of invasion (as happened in EW2).
Eventually, some of these experimental windmills survived, used by the militias and seen action even though it was not enough to repel the Imperial Invasion. During peacetime, it would function as a normal windmill, but the sails could easily be removed when enemies invaded so that it could be used as a turret. A great weapon fits in quite well with the concept that Gallia is a strictly defensive country.
The next 2 weeks would be the development of Gallian Tanks and many buildings such as Upgrade center and Supply lines.
That's all for now if you are curious and wanted to keep a close update on this mod, feel free to follow by clicking the Recruitment Poster Below!
Sincerely,
GLATechGeneral