I just thought I'd let everyone know what we've been focused on since the release of v1.52 of Situation Outbreak. The progress we've made has been amazing, from the completion of the layout of our single-player variant of the modification to making the finishing touches on our new gamemode, Extermination. There's a lot to talk about, so without further ado, I'll get right into it!
Extermination
By far our biggest project we've been working on is Extermination. In this gamemode, players go head-to-head as either a member of the Survivors or enlist in the Military to take down the opposing team. But beware! Creepers, reapers and seekers continue to lurk around every corner, and they certainly aren't loyal to any side.
This time around, we've really tried to incorporate ideas and map layouts that have already proven to be successful in other Source games, like Counter-Strike: Source and Day of Defeat: Source. The mentality behind this is that we want players to enjoy their experiences on an Extermination map right away without having to wait for bug fixes and adjustments. While the map itself is on the smaller side, it is still totally immersive and really gets players thinking strategically as far as what route to take, where to take cover and when to hide. This is what we're trying to bring out most in Extermination maps.
Situation Outbreak: SP
The next big thing the team has been doing, especially Harrison, is SO's single-player modification. The layout of the map is complete, so now it's just the matter of detailing and working on scripted sequences. We've also enlisted LoudCore to do most of our voice acting and ambient sounds, so things are really starting to come along. We hope to have everything done on this front before the end of January, ideally late December around the holidays or early January, but there is no clear date for completion at this time. Stay tuned throughout this week and next week for media regarding this project.
Misc. Features
Situation Outbreak is maturing, and as the community and the team begin to wind down on ideas, we've still got plenty of miscellaneous features completed and in the works to talk about and show you guys.
-> Benelli Semi-Automatic Shotgun
Just when you thought there were enough weapons in the mod, here comes the Benelli! A special thanks to Robin and his team at Base 2 Base for allowing us to use this model in SO. Of course, we made the animations and necessary adjustments.
-> Military Soldier NPCs
With the introduction of the Extermination gamemode in the next release of Situation Outbreak, we've prepared a new NPC for use in any gamemode: the military soldier. This beast will attack most anything that moves, including any survivors or zombies. This really opens up some new doors for mappers, so we hope that once this is available to the public, folks will take advantage of this excellent NPC and use it in their own SO maps. A special thanks goes out to Kaffi of Facepunch and others who let us use this excellent model.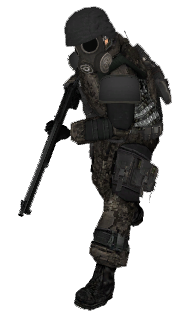 -> FMOD Sound System & Dynamic Ambient Sounds
We're proud to announce that we've implemented FMOD, a powerful sound system, for all of our ambient sounds. This free-to-use product has allowed our coding team to create a truly unique ambient sound system that determines how dangerous a player's surroundings are based on enemies around them and adjusts the pace and intensity of a map's ambiance accordingly. Think of it as the L4D series' director on steroids! Samples of each sound tier - there are currently four - will be released in the coming weeks.
-> Zombait!
Of course, if you haven't heard the news already, the next release of SO will include a new weapon called Zombait! which distracts zombie NPCs for just enough time for players to get the hell out of a potentially dangerous and life-threatening situation. Have a look:
Much more is on the way, including zombie classes, at least three additional maps and a whole bunch of other stuff we simply cannot tell you guys about yet, so stay tuned!