The time is here; version 1.13 of The Dawn of the Tiberium Age has been released.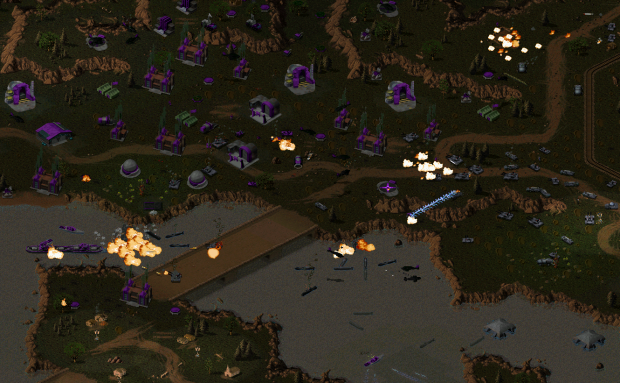 A few highlights from the change log are:
Improved and added client features

Game lobby themes

New terrain

New maps

Co-Op missions

Many new options for the game lobby:

Destroyable Low Bridges: You can destroy low bridges by force-firing on them.
Starting Reinforcements: You will receive a small group of controllable units about a minute after the game starts.
Infinite Tiberium/Ore: Tiberium trees and ore mines will spawn tiberium so fast that even 10 harvesters won't be able to harvest it all.
Replace Tiberium With Ore: Tiberium and tiberium trees will appear appear as ore and ore mines instead.
Harvesters Unload Instantly: Harvesters instantly unload all tiberium/ore when they dock with the refinery, just like in Red Alert.
Turtling AI: The AI will focus on just building its base and will rarely attack at all.
Build Off Ally: Build next to structures of allied players.
Stormy Weather: Storms will start at random intervals, during which you'll be bombarded by lightning and meteors.
Start Without Shroud: The map will be entirely revealed when the game starts.
Shroud Regrows: Shroud slowly grows back.
No Infantry Crushing: Infantry can't be crushed.
Disable Visceroids: Maps won't have any visceroids on them and infantry also won't turn into them when they die on tiberium.
Disable Super Weapons: Players can't use super weapons such as the nuke and ion cannon.
Disable Unit Queuing: Just like in Tiberian Dawn and Red Alert, you won't see a queue counter when you click a unit's icon on the sidebar more than once and you'll have to wait until it's finished before you can click a unit's icon again.
If you haven't seen it already, give the trailer a watch while you wait for the download to finish.