Stargate Invasion Progress Report June (Week 4)
Intro
Below is a change-log of our updates since the last post.
UI
- Some button crossovers were fixed so that the buttons provide feedback when the cursor is placed over them.
- The Research Buttons texture was fixed to remove some damage (e.g. fleet button icons).
Strings
- Missing strings were fixed for the Human orbital Trinium and Naquadah extractors.
- Metal was renamed to Trinium and Crystal was renamed to Naquadah.
- Pirate Scout, Anti Fighter, Medium, Heavy, and Siege Frigates missing strings
- Laser string was changed to Plasma
- Autocannon String was changed to Railgun
Balancing
For the Asuran Faction:
- Destiny Capital credit and mineral cost was reduced
For the Human Faction:
- The Asgard Pulse Ability was reworked (lowered damage and particle count)
Various Fixes
- crash caused by Random Event Commodity Boom was fixed
- Asuran Titans, Culture Center, Refinery & Trade Port now require research to be built
- BC304 (Daedalus) changes:
connected sound files
added 2 fighter squadrons
added Asgard Pulse weapons (available with research)
- Pirate stock models were replaced with Human models (temporary)
- X303 (Prometheus) various changes including:
plasma weapons are now only available after the corresponding research is completed
stock sound files were exchanged for SGI custom audio files.
the X303 can now fire at fighters
Sound
- connected SGI sound files to BC304 (Daedalus), F302 fighter, X303 frigate, Destiny Capital
- some unnecessary stock sound files were removed
Models and Textures
We are now putting the finishing touches on the Asuran Antaeus geometry details. The next step will be to make them into height maps. Since we already have over 150 new geometry greebles from this model we'll be completing any remaining details during texturing.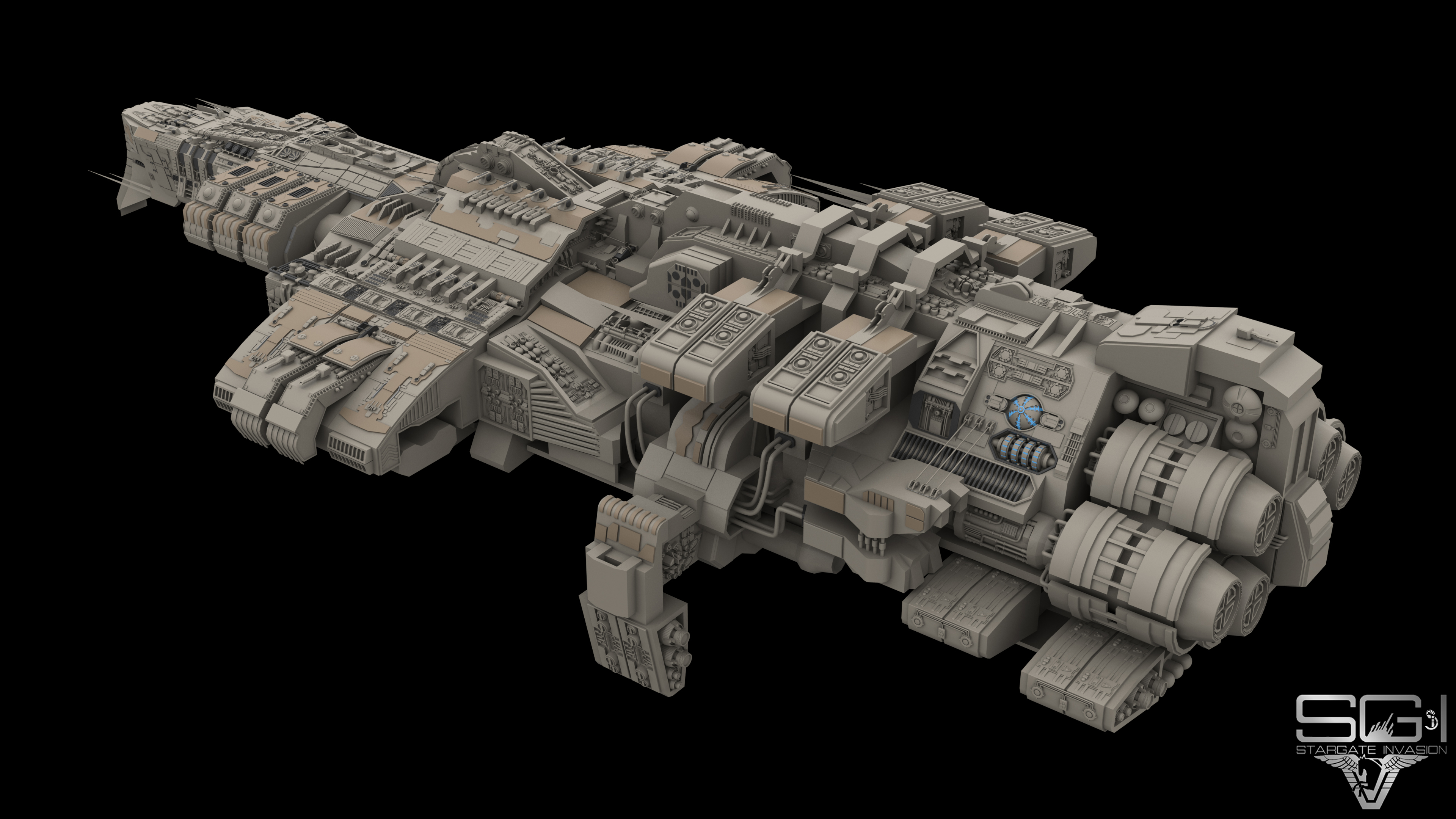 New Members
We would like to introduce you to 3 new members that have joined us in the last couple weeks.
Idaeus III is our new concept designer, he mainly writes us reports on how to improve the mod. He has already written us 2 reports on how we can make each race have a unique play-style. Below you can read what he has suggested for the Asuran race.
ElJefe is our new Graphic Designer, he has been hard at work these last couple weeks creating new UIs for the Human and Asuran Races, these are still WIP so any suggestions for improvements are welcome.
Human UI

Asuran UI

Ademis has joined us as a modeler, he is currently working on the Asuran Starbase Constructor, we will upload pictures of that model as soon as it's complete.
Stargate Invasion Models in Stellaris
Frstwlf has been hard at work this last month importing our models into Stellaris, so be sure to thank him! Below are some images of our models in-game.
We have created a discord channel for all Stargate Fans! Come and chat with not only the Stargate Invasions developers, but also Stargate Pegasus Chronicles, Stargate-DOF, Stargate Utopia, Stargate Traits and Stargate Ships developers. Just click on the image below to join.