That infamous plot twist
If you played BioShock around its original 2007 release, you'll remember the twist. Because it's the sort of twist, as with Fight Club (it was him all along!), The Sixth Sense (he was dead all along!) and The Happening (I'll never get those two hours back!) you never forget. A modern replay is actually only richer now you know it… and if you don't, well, we envy you. Now you get to experience it for the first time.
Whether you're new to BioShock or a fan of the franchise, you can now stream BioShock Remastered on NVIDIA SHIELD with a GeForce NOW membership ($7.99 a month and free to try out for one month). BioShock 2 Remastered is also available to purchase via GeForce NOW for 75% off its regular full price for a limited time, and comes with an additional free key to download the game on PC.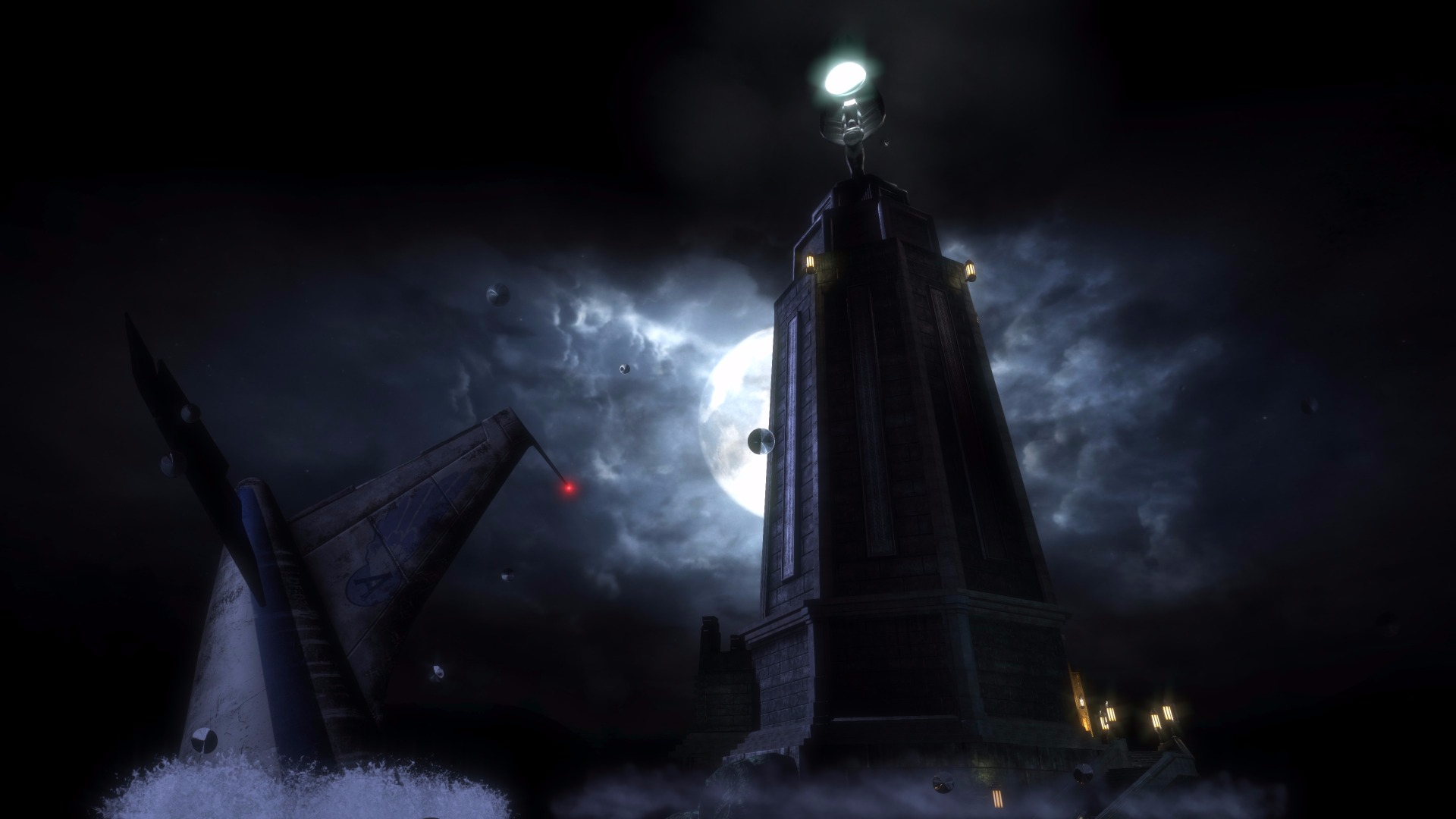 A little bit of politics
If there's one thing we all agree on, it's that gamers love nothing more than a good, hard examination of objectivism, capitalism and morality as laid down in Ayn Rand's 1000-page 1957 novel, Atlas Shrugged. You're probably breathing hard just reading that.
And that's exactly what BioShock's instant classic of a story does. The early game went through various settings (including a spaceship and a lost WWII Nazi bunker) before slipping beneath the waves to a city inspired by New York's art deco Rockefeller Center – and the statue of Atlas outside it.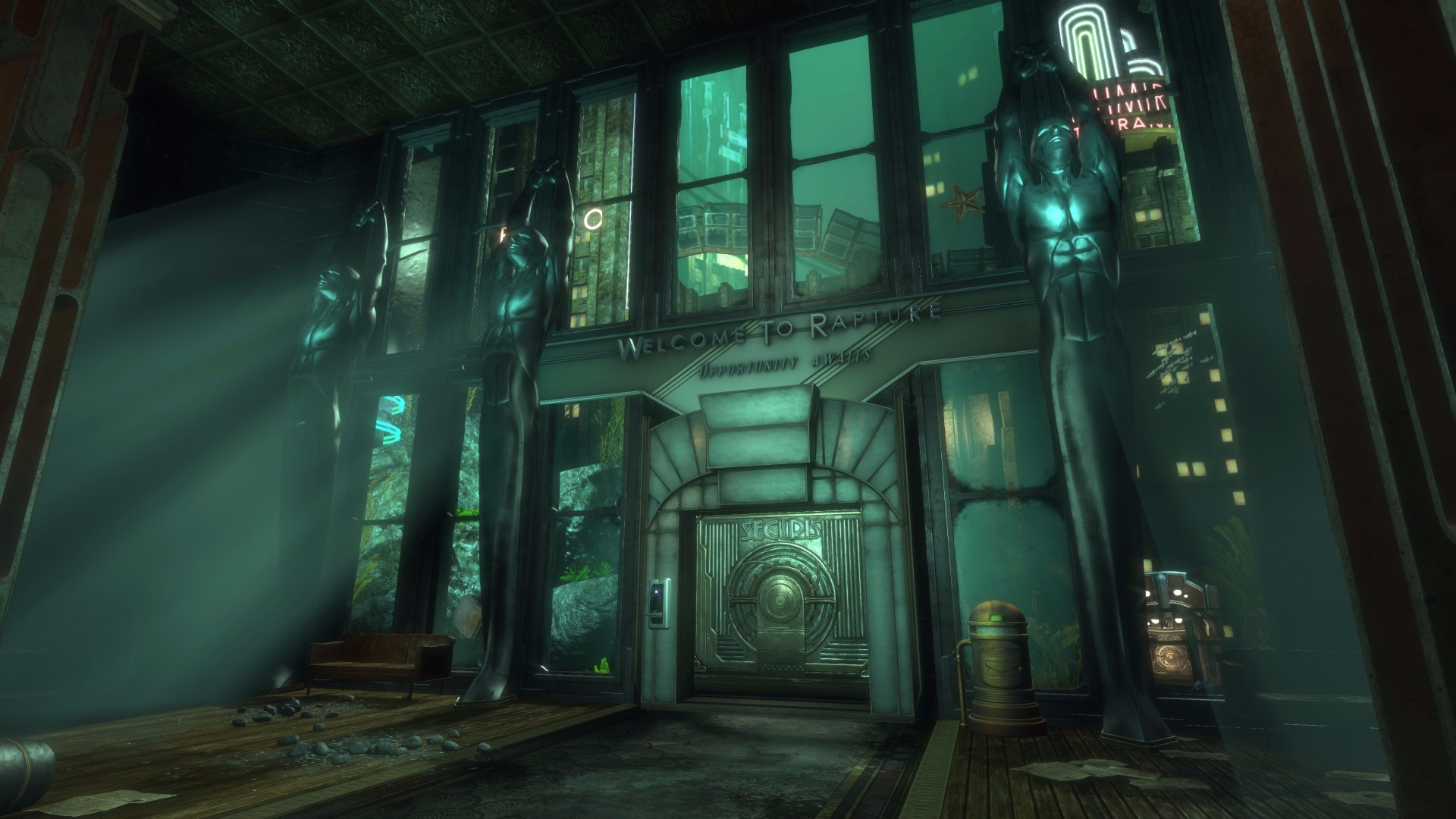 BioShock's utopian city of Rapture was built in 1946 by Andrew Ryan (an anagram of Ayn Rand), a character loosely based on the first US billionaire, noted philanthropist John D Rockefeller. Add in Atlas (who guides you via radio), plus the central tension to act either selfishly or for the good of others, and the links become clear. That's because Rand (infamously dubbed 'Big Sister' by one critic…) says selfishness is a virtue, capitalism should run unchecked and that morally you should be driven purely by self-interest. The ruined Rapture of 1960, which you as mid-Atlantic air crash survivor Jack discover, is the result.
It's clever stuff, and never dull thanks to these ideas being baked right into the entire world, from the very first brick of Rapture to the last Plasmid fireball. You can bake underwater, right? Anyway whatever.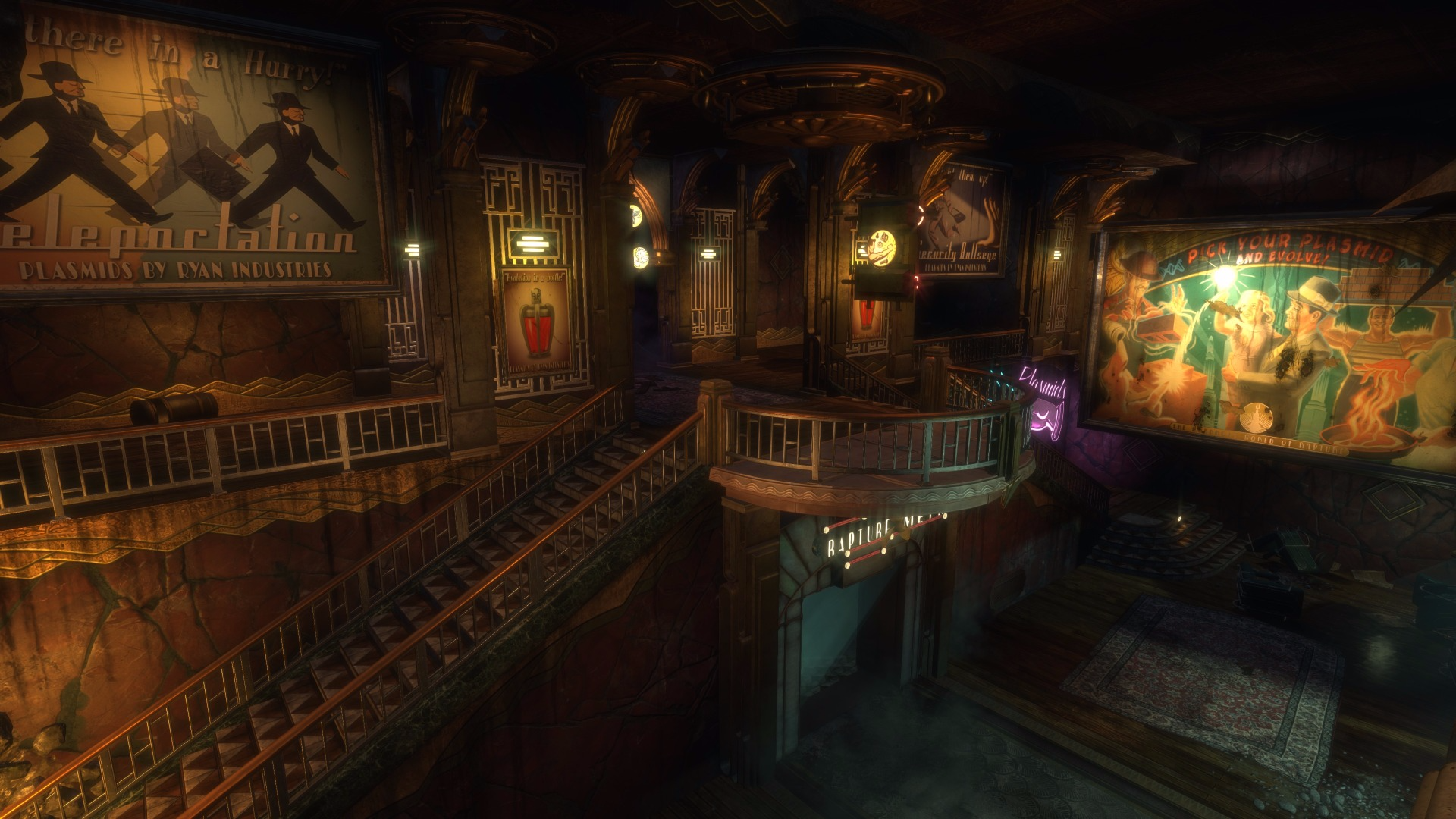 That gorgeous undersea setting
It's no coincidence that nitrogen narcosis, which causes everything from hallucinations and euphoria to death in deep-sea divers, is also known as 'the rapture of the deep'. And it's no coincidence that Rapture's hallucinatory wonders are so beautiful – developer 2K Boston hired an artist and a programmer just to do water effects. The abyss only looks more stunning now, with updated water and particle effects, on modern systems.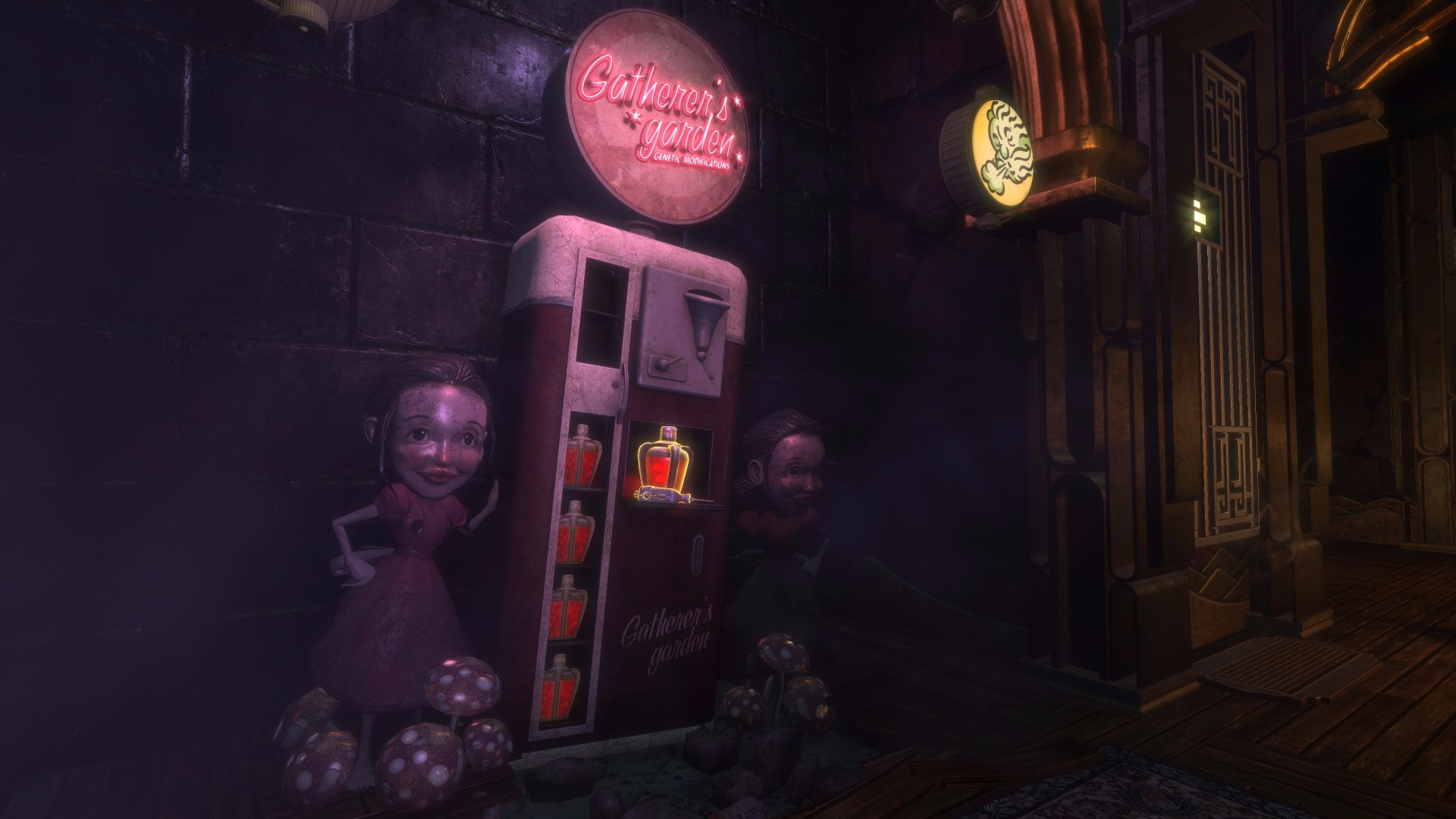 Superpowers that beat all normal guns
With science running 'unchecked by morality,' Rapture's citizens have access to Plasmids. These use a substance called Adam (extracted from sea slugs implanted in little girls) to genetically modify users to shoot fire, electricity, gravity-warping beams and more from their hands. They were supposed to be labor-saving, but funnily enough people started using them as weapons instead… how odd.
The best way to get more Adam is by 'Harvesting' the Little Sisters, though that incurs the wrath of their huge, diver-suited protectors, the Big Daddies. Excessive Adam use has the unfortunate side-effect of sending people crazy: most of those still alive in Rapture are Splicers. These are insane, hostile mutants with powers including teleportation, spider-like climbing and total electrical resistance. You need all your guns, mines and superpowers to convince them of your new economic and social model. Convince them dead.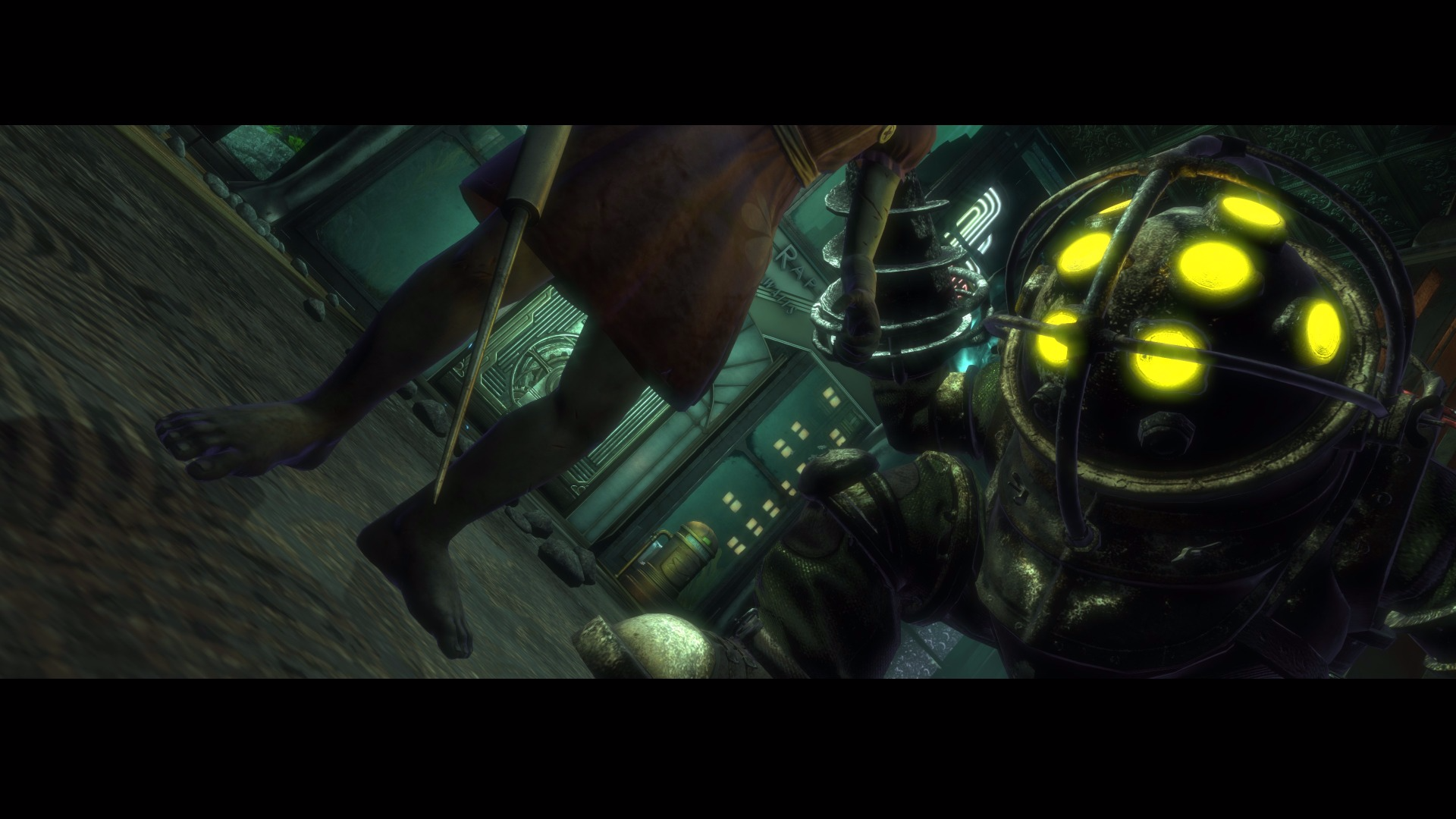 Stealth, hacking and horror
BioShock is far from just run and gun. Rapture's grandiose ruins are dark, the insanity of its remaining citizens is darker still and it's a spooky, survival-horror kind of trip. The hub-like design and three-way fight (Splicers and Big Daddies can fight among themselves) perfectly suits the freedom of open-ended play – you can often choose to sneak past, to provoke fights among your enemies, or to hack security systems, robots, turrets and cameras to your advantage. You can set traps and use decoys. Or you can just blow the hell out of everything.
Alternative endings
Your treatment of the Little Sisters (save them and get some Adam, kill them and get more) changes the ending significantly. Will you be selfish and Randian, or philanthropic and – as Andrew Ryan would see it – weak? Your role in Rapture is not without consequence. Not at all…
BioShock and BioShock 2 are now available on NVIDIA SHIELD via GeForce NOW. A GeForce NOW membership is free to try out for one month, just $7.99 a month after that, with certain premium titles available to purchase separately including BioShock 2.