Greetings Fleetmasters and Admirals!
Today we're releasing version 0.87 of the Sins of the Prophets public alpha!
This update includes balance changes, bug fixes, and some art asset overhauls. A full changelog will be available at the bottom of the post, but I'll quickly go over some of the more eye-catching updates here.
Balance
Balance tweaks you'll notice include things like changes to cloaking as well as the Artemis and DOS gaining the ability to decloak*. Ships added to gravity wells via the Outlaw Sectors DLC are now faction specific. Titans have a fixed level for balance reasons. Ship abilities no longer cost antimatter in preparation for the upcoming strikecraft overhaul. Marathons now have an ability called "Falchion AP Missiles" that debuff enemy shield regeneration and armor*. The Valiant now has an ability called "Indra EMP Missile" the debuffs a single target's damage and weapon cooldowns. CRS and Charon classes can now reinforce friendly planets*. Hornet Mine health has been nerfed*. Sahara mine laying has had its cooldown nerfed. Rear-firing point defense has been added to most ships. The Flood are in the process of being retooled - one should use them at their own risk - be warned! For the full list of balance updates and too see more info about the "*" marked items above, see it at the bottom of the page!

Bug Squashing
Bug fixes are also detailed in the changelog, but include things like fixing instances where the AI could build two titans, or confusion with building titans caused by the previous attempts to balance their very powerful nature and the AI's visceral lust to build them as fast as possible. We've also make attempts to fix an issue where ships would travel outside gravity wells in normal space for vast distances causing issues for players and AI opponents alike. To attempt to fix this we've shortened the distances between planets, which seems to curtail this very odd behavior. We're also going to reach out to Ironclad to see if they know more about what causes this bug and give them our findings.
Art Updates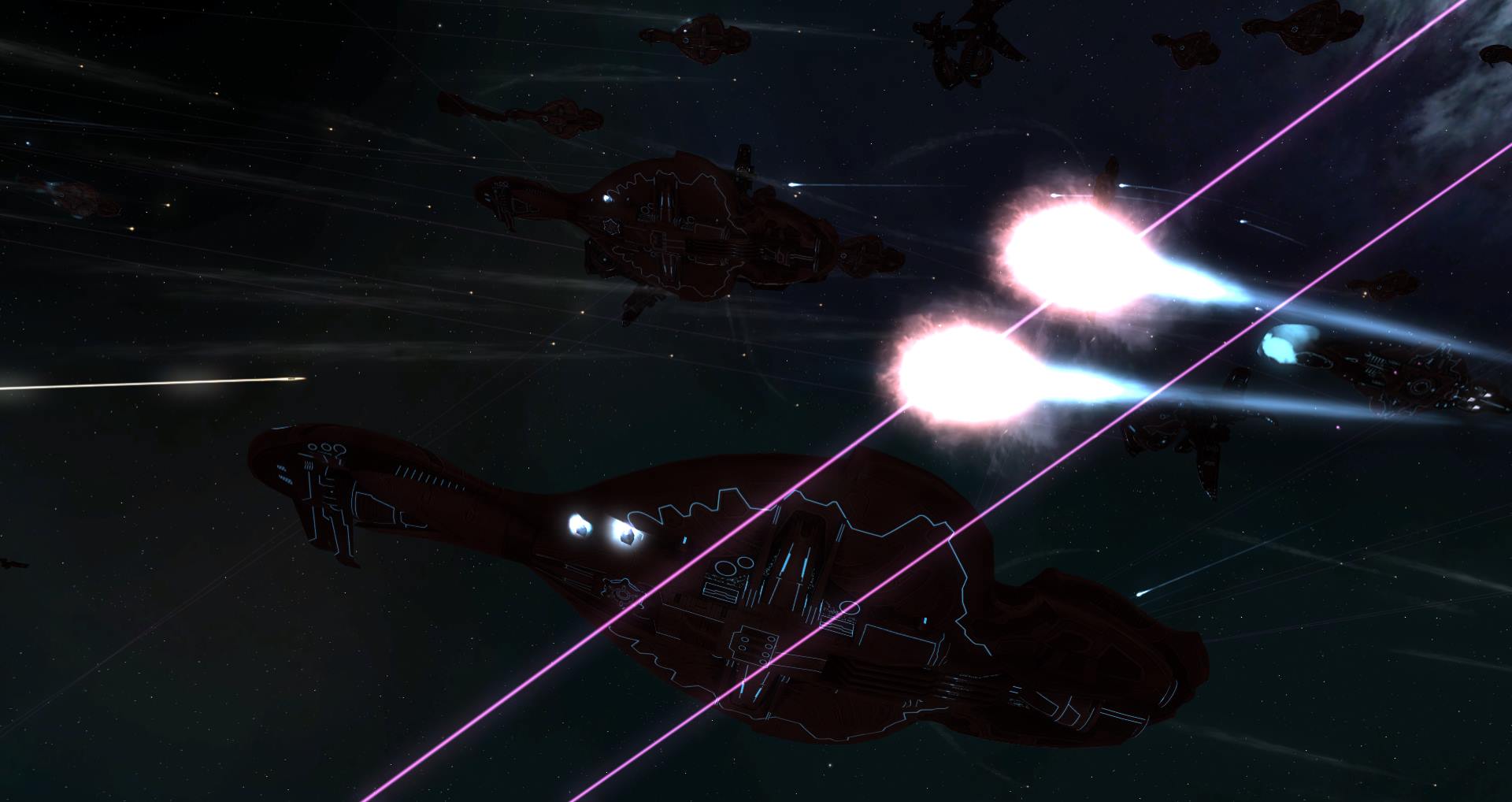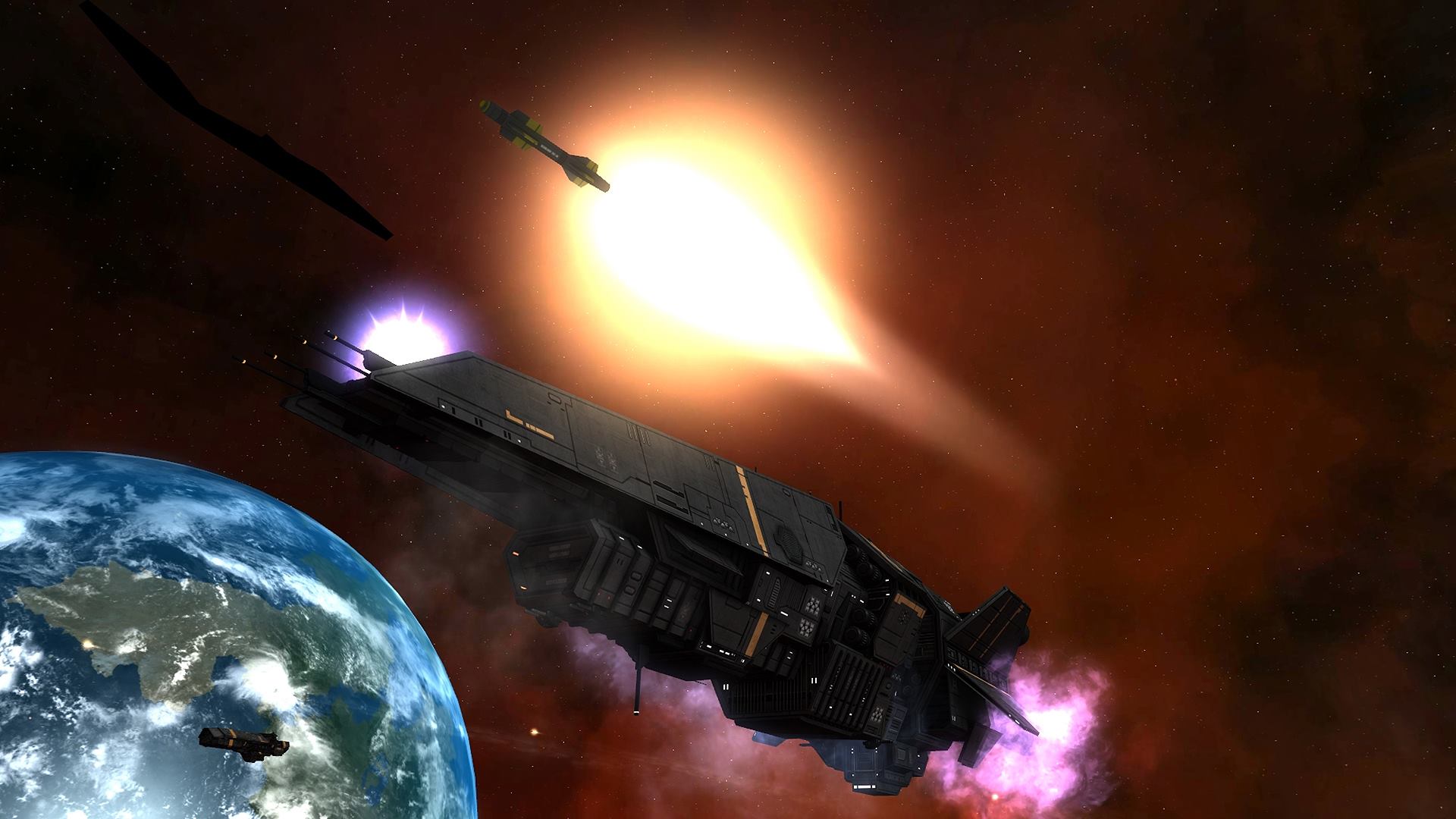 The art portion of this update is pretty juicy! It includes minor things like the addition of Banished, Swords of Sanghelios, and new UNSC player icons, as well as updates to weapon effects, ship ability particle effects, and updated point defense guns based on information shown in Halo Warfleet! Updated ship models include the CPV-class Heavy Destroyer, Halberd-class Destroyer, and the OSS-class Battlecarrier. You can see beautiful renders of those ships below thanks to Malcontent1692!
Click the image to go to a larger version.
UI/UX Improvements
UI work continues - filling in absent ability icons, adding in more loading screens, creating unique launch and dock buttons for strikecraft (as seen below in gif form), info card tweaks, as well as event notification tweaks and fleet icons being given that SotP flair you all love so much (they're numbered too so you can keep track of each fleet as you play). Overall a lot of improvements that we hope you'll find enhances your immersion into our Halo experience.


Download

Every drop of feedback we get goes into the next release, so please engage with us and our community at these locations:
---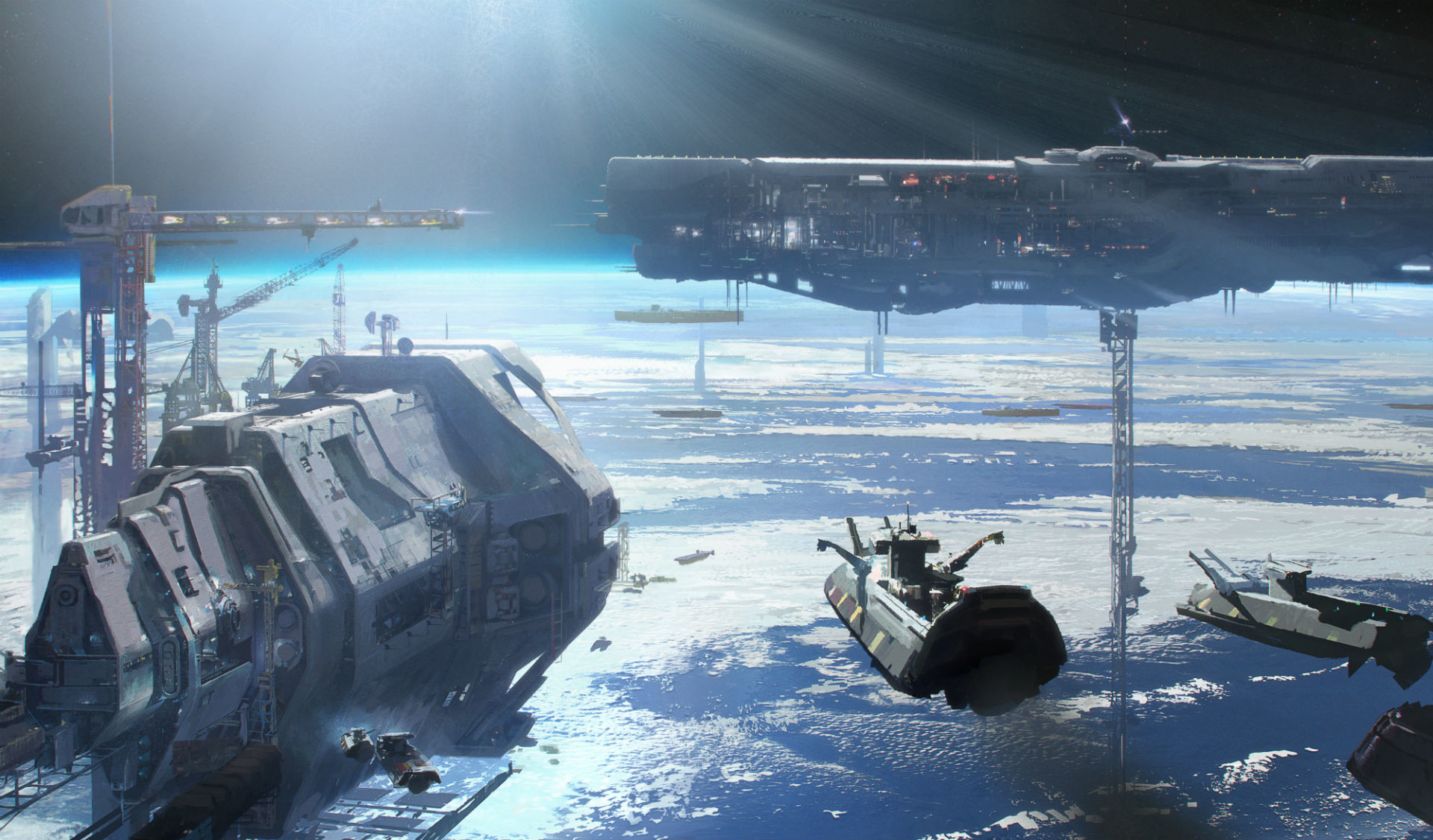 Halo Warfleet
Halo Warfleet has finally released! Here's the official write-up for the book to give you an idea of what's inside:
Halo: Warfleet is the official, authoritative guide to spacecraft in the Halo universe, featuring ten intricately detailed full-color cross-sections of the franchise's most renowned ships--including the Pillar of Autumn, Truth and Reconciliation, Infinity, and Shadow of Intent. Discover encyclopedic information which reveals the secrets of Covenant, UNSC, and Forerunner weapons, sensors, fighters, planets, and more!
The book is currently 40% off ($16.72) over on Amazon and we highly recommend any Halo ship fan gets the book!
---
Changelog
Our full changelog for 0.87.0
Bug Fixes:

-Fixed bug allowing AI to build two titans.
-Fixed Strident debris issues.
-Made final Infinity and OAS research subjects unlock at tech level 8.
-Possible remedy to the infamous darkspace/sublight bug.
-Titan Construction has been changed to be more predictable.

Art:


-Added New Banished, Swords of Sanghelios and UNSC Navy Player Icons.
-New MAC Round model.
-New Halberd model.
-New CPV Model.
-New OSS Model.
-New Plasma Cannon Particle.
-Numerous string fixes.
-New Valiant and Marathon ability particles.
-New point defense guns based on info from Warfleet.
-Replaced SHMAC model with original ODP SMAC to prevent confusion.
-Revamped Plasma Torpedo effects.
-Texture updates to the ORS, Valiant, Halcyon, Epoch, DRP, and DSC.
-Tweaks to battle graveyards.
-Updated Archer texture.

UI:

-Additional ability icons.
-Event notification tweaks.
-General UI updates/fixes.
-Made titan research more intuitive.
-New Covenant CDA-class Battlestation ability Icons.
-New tactical Management Icons.
-New fleet grouping Icons.
-New resource and extractor Icons.
-New icons for docking/launching fighter wings for UNSC and Covenant.
-String tweaks based on new info from Warfleet.
-Traditional Super MAC stations are now called Moncton-class OWPs as per Warfleet.
-Updated loading screens.
-Updates to quick market menus.
-Usability updates to info cards.
-Updates to empire tree selection and notification icons.

Balance:

-Additional Outlaw Sectors tweaks.
-DOS and Artemis now have a passive de-cloak ability for uncovering stealth ships within a 10km proximity.
-Scouts now have 20 minutes of cloak time.
-Scouts must also leave a gravity well before re-cloaking once effected by the DOS/Artemis.
-Titans now have a fixed level as opposed to keeping their old levels or losing them all upon death.
-Removed antimatter capacity increases gained from artifacts and antimatter costs on all abilities.
-Capital ship colonization ability now gives you additional constructors for a time with the number and duration, respectfully, depending on the level of ability.
-OSS Micro-slipspace jump ability tweaks, now has an increased turning rate directly after jump and a decreased jump range making it equal to infinity.
-Infinity Micro-slipspace jump ability tweak, now has an increased turning rate directly after jump
-New Marathon ability : Falchion AP missiles- De-buffs shield regeneration by up to 21% and armour by -3 at maximum buff stacking; buffs applied to a given number of ships within the Marathon's radius and the number of times the buff is fired changes with level.
-New Valiant ability: Indra EMP Missile - Can only be casted on single enemy capital ship, star base, or titan. This ability reduces enemy damage by 15% per shot and gives -25% to ability cooldown rates.
-CRS and Charon-class ships can now reinforce planets, healing them a small bit as long as they are out of combat and near the planet to encourage larger use of the ships (This ability must first be enabled to be used).
-Hornet Mines now have 5 HP to allow for detonation from point defense weapons.
-Sahara mine laying ability now has a 60 second cooldown up from the previous 30.
-All combat frigates and capital ships now have rear firing point defence weapons when applicable, save for the CAS.
-Changed up how Flood mode works; they are currently in an alpha state, use at your own risk.

Possible issues:

-Winter Edict. (No Display Image, Very long Phase Lanes)
-Alert Icons all turn into each other rather than a proper hover icon.
-Rare gravity well overlap.