It's taking a bit longer than expected, but we need our core pillars to shine in this demo in order to understand what players enjoy most and least. It's all about three facets:
Exploration: gather resources, make your way across the island, find new places, find secrets and species/critters;
Diplomacy: work with species in villages to trade items and get Ideas to craft, to attack other villages or just talk about the weather to make friends;
Combat: fight stray species looking for trouble in the fields, or attack a nearby village (with or without some befriended species) to quickly shift the balances in the ecology
Here are some highlights of what we did in October to make those facets fun!
We polished the structure of the demo and made exploration more clear
A few weeks ago we shared this early video of some exploration and trading gameplay, which might give you a good glimpse at the state of that! Check it out on Twitter:
First tests showed that exploration is fun, but lacked a bit of context and clarity – hence we're adding a compass to guide you to the right location.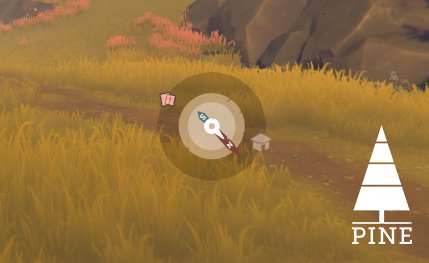 Put the life back in villages
With a whole new and improved system called Goal Oriented Action Planning, widely used in a variety of games, we put back in domestic behaviors to make sure species also have lives in their homes. They walk around, talk to each other, take naps, sit down, hand things to each other, go to the food location to eat something, and more.
We also setdressed the villages more with these new assets: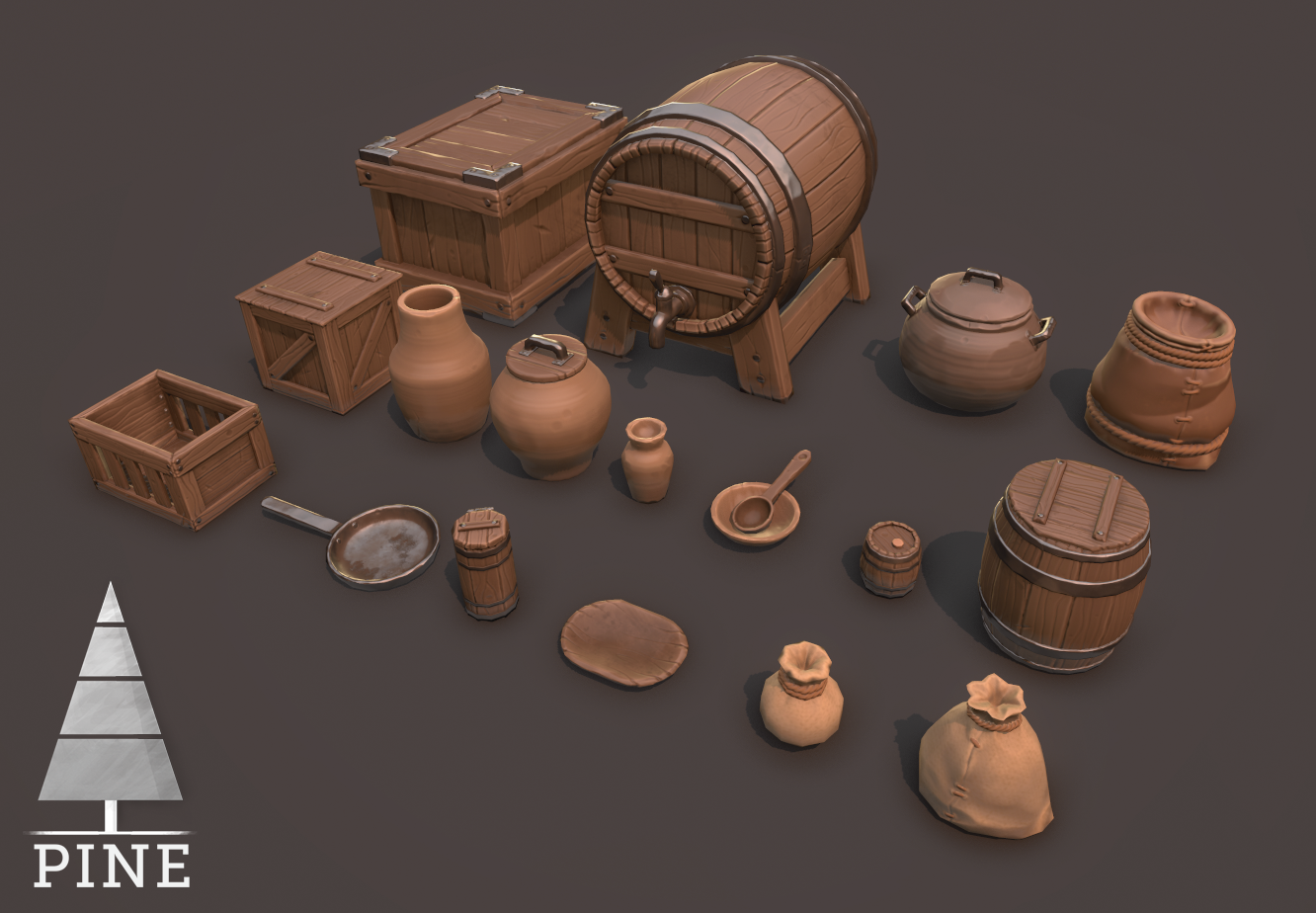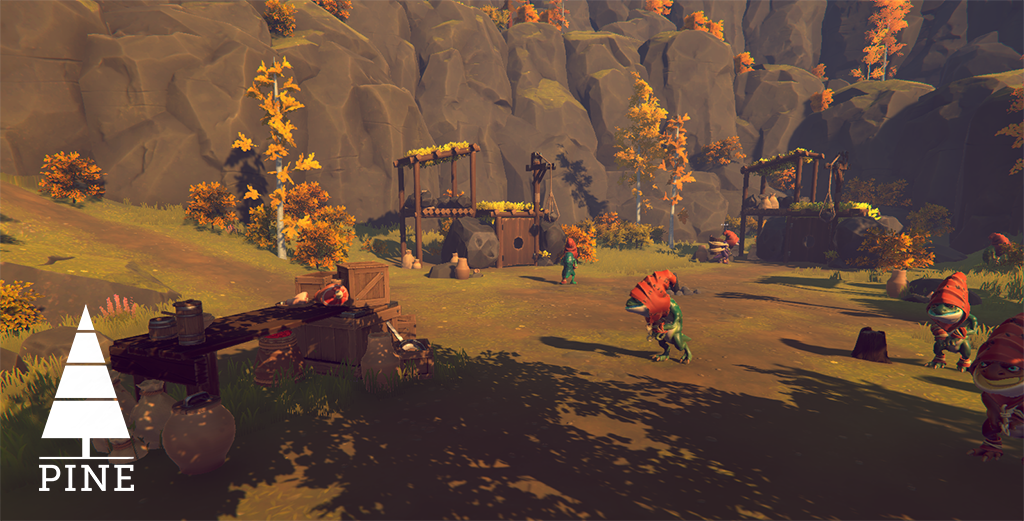 Combat, combat, combat!
It's been a long time of developing and tweaking the combat in Pine. It's been a much-requested feature to have a good look at too, and we now feel comfortable with doing so. In the game, we give you a range of weapons to use: swords, spears, bows, slingshots, maces and more. For now we focus on a basic arsenal to test the waters: Amam's Sword, the Hunter's Shield and the Wedgewood Bow.
We want Pine's combat to be like a dance. Instead of focusing on fast, snappy hack and slash action, it's important to us that fights matter. To this end, we made things a bit slower and a bit more personal. This makes the focus is much less on killing enemies, and more on fighting organisms with a brain – because the neural network systems powering their behavior becomes a lot more apparent when both Hue and the organism have time to think and decide. Each species is very different in combat. This makes it important to choose your enemies wisely, but also your friends. The Fexel and Litter are ranged creatures, while the Cariblin and Krocker are slower, heavier and focus on melee combat. To be more specific:
The Cariblin is a bit like Hue - they can shield, light attack and heavy attack. They're relatively fast but think well and can counter easily.
The Krocker is definitely a lot slower - but make sure they don't hit you. Every hit does heavy damage, so make your way around them.
The Litter spits at you, which is blockable - but if you want to hit them, you'll have to get closer. You shouldn't step in their acid on the floor.
The Fexel is very evasive and fast, but doesn't have amazing aim. Their bombs have quite a low range, so make sure you keep moving!
The combat design is counter-based – each species has a response to all moves, to that the neural network specialization of behavior is always balanced. Here's what that looks like in a little graph: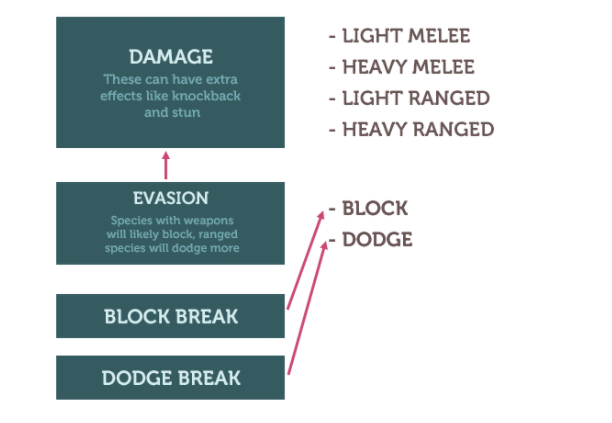 Each organism needs to have at least one move in all these categories. For example, the Cariblin can use his club as a light melee, and do a double-handed attack as a heavy melee. He can block with this club and mace, and can kick to blockbreak. He uses a short or long charge as a dodge break (also sometimes called a gap closer). Our combat system even allows for distinction in culture. We can make some species not fight you all at once, or we can decide they absolutely hate you and will smash you to bits if they get the chance. We can also make chief fights more important, by making those 1v1, while other tribe members cheer you on with taunts in the background, like these: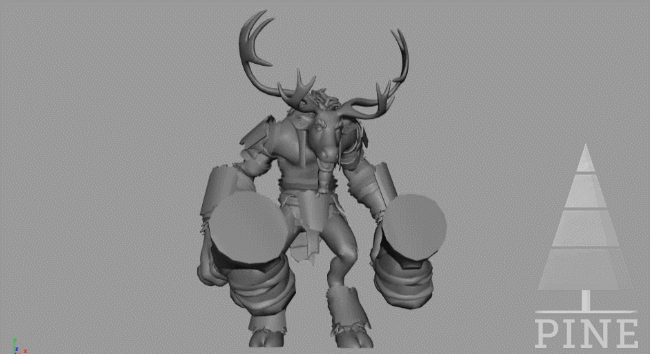 Combat is something that constantly needs tweaking and polishing, but we feel like we're getting to a point where it's unique and fun.
Lastly, we're super excited to announce that we'll be showing Pine at Day of the Devs in San Fransisco on the 11th of November! The Double Fine-powered showcase day has an insane amount of good games, check it out and feel free to stop by (it's free):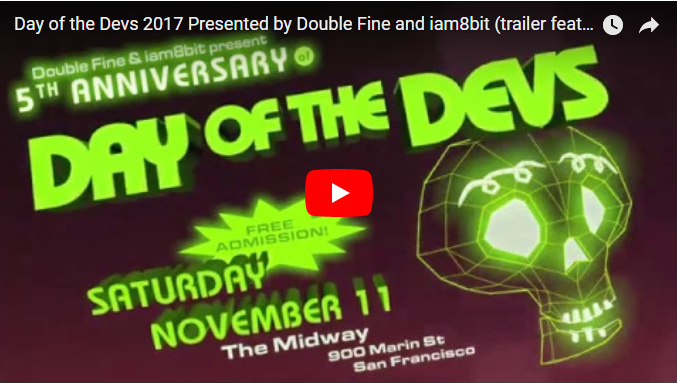 As always, all feedback, questions and comments are welcome. Feel free to reach out through pine[at]twirlbound.com, on Reddit, on our Discord server, Facebook or Twitter.