Hello, Martians!
We have sent invitations to first aspiring astronauts who will start their adventure on Mars. ✉️
If you haven't received an email, it means you weren't chosen… yet. For now, we have invited a small group of players, but we want to invite more and more Martians over time. To make sure the process is clear, we'll keep you updated in this article.
4 April 2022: Invitations to first playtesters have been sent.
1 July 2022: Beta version 0.83.3 released; more invitations sent.
Important reminder for our playtesters: remember to fill out BETA SURVEY after finishing your playthrough and remember that you're not yet allowed to share any footage from the first Beta version.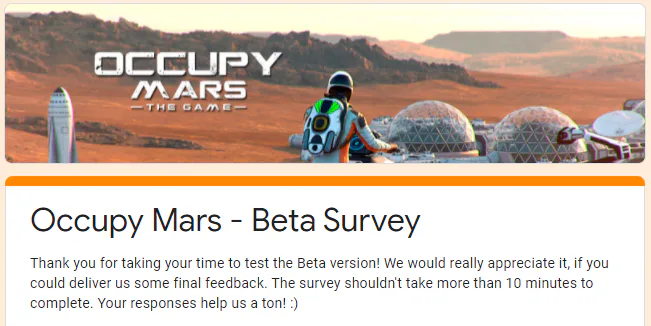 With that, Request Access button has been disabled – we hope that with that extra time between initial deadline and this announcement, all of you who want to participate have managed to sign up. 🙂 We've received a lot of applications and we thank you for such a big interest in the game!
If you'd like to hang out with other players outside of Steam forums, we have dedicated servers on our Discord channel!
Stay tuned for upcoming updates!
Best Regards,
Occupy Mars Team