Greetings all! Thanks to you who keep tracking this mod so far.
Many things happened since the latest NProject Mod release (version 2.7.1). The NProject Mod is becoming nearer to the completion of the "Version 2.Final" phase. Hopefully all new features such as units will be released on the next version 2.8, including the new Tech Structures and new Infantry General challenge mission. After that, it will be focusing on reimplementing the campaigns, adding this mod's first game mode the "Classic Mode", and also bring new maps. Hopefully the version 2.9 will be the version "2.Final", so the "Version 3.0" phase can be started soon after that.
Anyway, let's review the updates done since the last release. In case you've missed some of them. And as you can see, I'm working mostly on Chinese factions lately.
Click on each pictures for more detailed description of the unit.
Check NProject Mod image gallery to see more pics and ingame screenshots.
And here's a little teaser for NPM 3.0: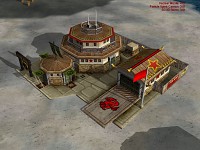 Cheers!
PS: if you have problem with the launcher, read this comment on the main page.