It's being more busy lately. Exams come near, so does holiday. :P
There's much changes applied in my current mod build from the last release. As the time for Version 2.7 come closer, it's now being cooked and just wait for it being prepared. :)
Well, now it's time for another update. You might noticed there's no much visual updates lately. That's because most changes are minor bug fixes or balance related. Okay, here's the updates that I can show you from the last update article.
1. Stealth General GLA Sniper
I've changed Kassad's GLA Sniper skin from green to brown, makes them blend better in desert maps like Pathfinders in grassy maps. I also make the grass camo-net better with semi-transparent skin.
2. Internet Center Scaffolding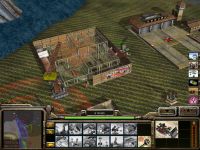 Another thing that EA missed. You should know that Internet Center uses Supply Center construction scaffolding. Now I made the new construction scaffoldings for Internet Center. They're no longer use the wrong one.
3. Microwave Tank
Some updates and improvements on Microwave Tank model. Nothing much changed, eh? Look closer.
Due to many complaints from our consumers about our microwave product which have dangerous microwave leakings to any nearby infantry including the users, we are offering a solution to prevent this problem.

Img412.imageshack.us
Now the new Microwave Tank lid can be closed. While it's not necessary to irradiate the surrounding areas, just close the lid to prevent the leaks.

Trade your old Microwave Tank with the new one now! And if you preorder now, you will get the special edition with turnable turret and a vehicle disabler beam gun.
Img405.imageshack.us

So, what are you waiting for?
The Microwave Tank model is now somehow improved. The shadow b0ug issue also have been removed. It also support closeable lid, turning turret, and hideable unused vehicle disabler turret via map.ini codings.
4. GLA Fake Buildings
GLA factions now have wider variation of fake buildings. There's Fake Tunnel Network, Fake Stinger Site, and even Fake SCUD Storm. Now only Palace that not have fake counterpart, for some obvious reason. :P
Well, sit back and relax, take a quick tour of these buildings in this video: