Check out the difference below!
Its a major difference! We are still working on getting all the textures updated though... If anyone can help create the rest of the textures upgrades that would be great! Go here and read the details to see what needs updated still: MOTS Texture Pack
Anyways below is the download for Jedi Knight: Mysteries of the Sith Remastered!
Installation
Just run the installer and select your Star Wars Jedi Knight: Mysteries of the Sith game directory and configure using the config shortcut and launch the mod! If you have issues please change config settings trial and error will help you get this mod going.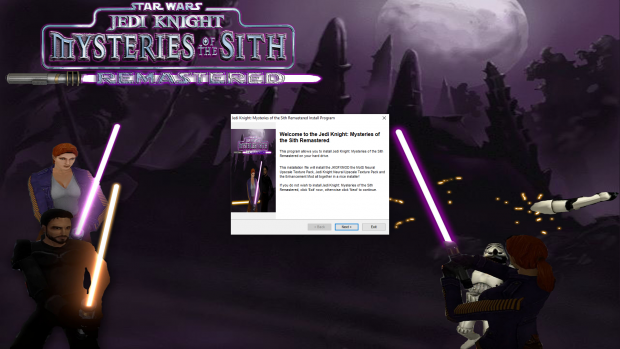 Configuration
Before you launch the mod you might need to change the configuration. To do this just open up the configuration shortcut. To configure right please refer to configuration guide shortcut.

Check out this video that shows how the installer works and shows some gameplay.
You can also get alternative Icons here:
As always please give your thanks to everyone who has put the work into this!
Credits
Jonathan Clark -- jdmclark Creator of the JKGFXMOD without this it would not be possible to have the amazing graphics. This mod pushes this old Game into full 32 bit performance! It is the root of making this mod a reality.
FastGamerr and TreeMarmot creators of the amazing textures and upgraded effects! Without your help we would not have Jedi Knight Remastered! check out there development group: The Secret Order of Sisyphus
Max Thomas -- Made the FOV mod
And this is it guys I created the installer of course which was a lot of work but it was not to bad! I used the Install Creator Program and its a very simple very easy installer that made it easy to make!
Happy Easter my Friends and enjoy Jedi Knight Remastered!
--- GeneralTantor