---
There will be more additions to the Forces of Darkness in our next update besides the new faction of Dol Guldur… most notably as part of our rework of Mordor. We have retooled stats, added new unit abilities, changed and added heroes, a new Spellbook power, and a new Fortress power.
---
Better defined unit roles
"Across the narrow valley, now almost on a level with his eyes, the walls of the evil city stood, and its cavernous gate, shaped like an open mouth with gleaming teeth, was gaping wide. And out of the gate an army came."
Mordor has always had the largest roster of available units in AotR. However, over the past few releases, we have noticed that not all of their options saw use in competitive play. Morgul Orcs and Black Uruks were mostly ignored in favor of Easterlings, Variags and Trolls. One of our goals for 5.0 was to address this, and give each of Mordor's infantry units a more defined role within the faction.

Black Uruk Marauders have been reworked into an anti-structure unit with the new Despoiler ability which will temporarily increase their damage by +25% against structures and allow them to leech resources from the structures they strike. They have also received the Brawl ability, which we'll get into further in this article.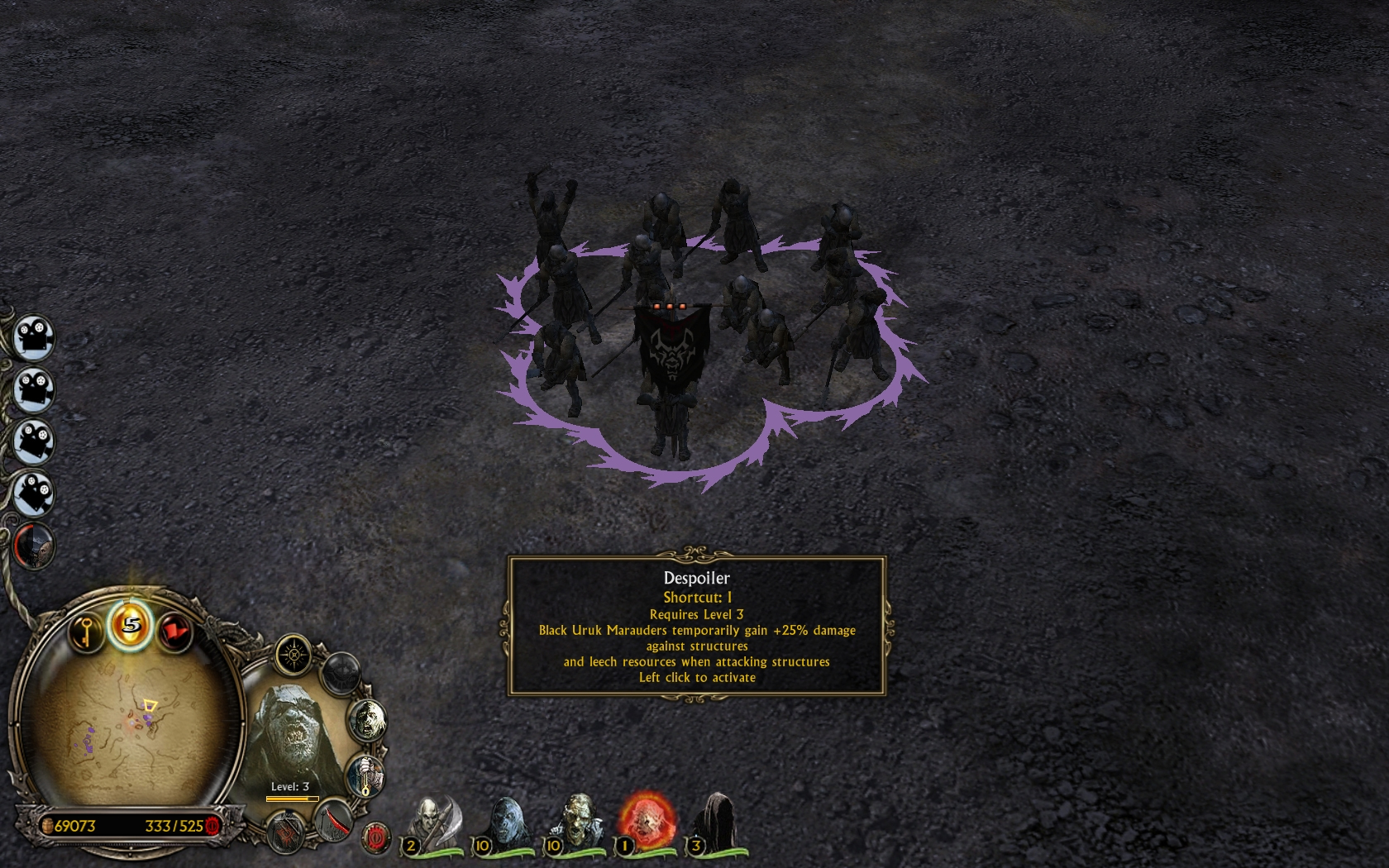 The Legions of Morgul came from the City of the Ringwraiths. Their equipment was exposed to the fell magic that lingered in this place. As such, Sorcerous Steel is their new passive ability that will reduce enemy armour by 5% with each attack (up to a maximum of -25%). This allows the faction to counter the elite units of other factions and support basic Orc Warriors by leaving them more vulnerable to attack.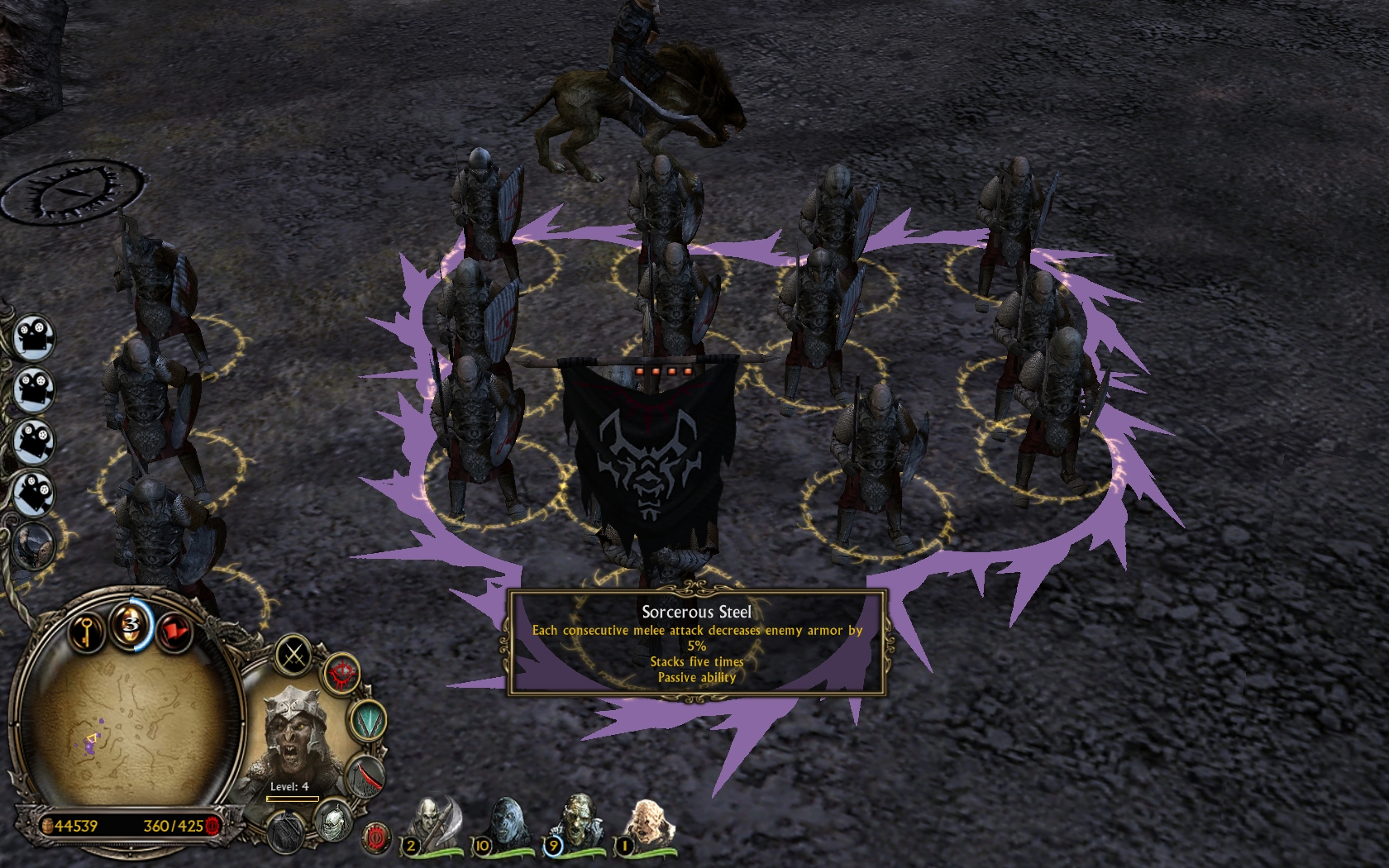 The Variags of Khand still have the same ability they currently have, but their stats have been reworked to focus them into glass-cannon swordsmen, capable of dealing high damage in a short space of time but unable to withstand much punishment in return. The various Easterling units have been altered into powerful anti-spam units. All Easterlings will now gain the Serrated Armour ability at level 3. This will allow them to passively redirect a small portion of received melee damage onto the attackers.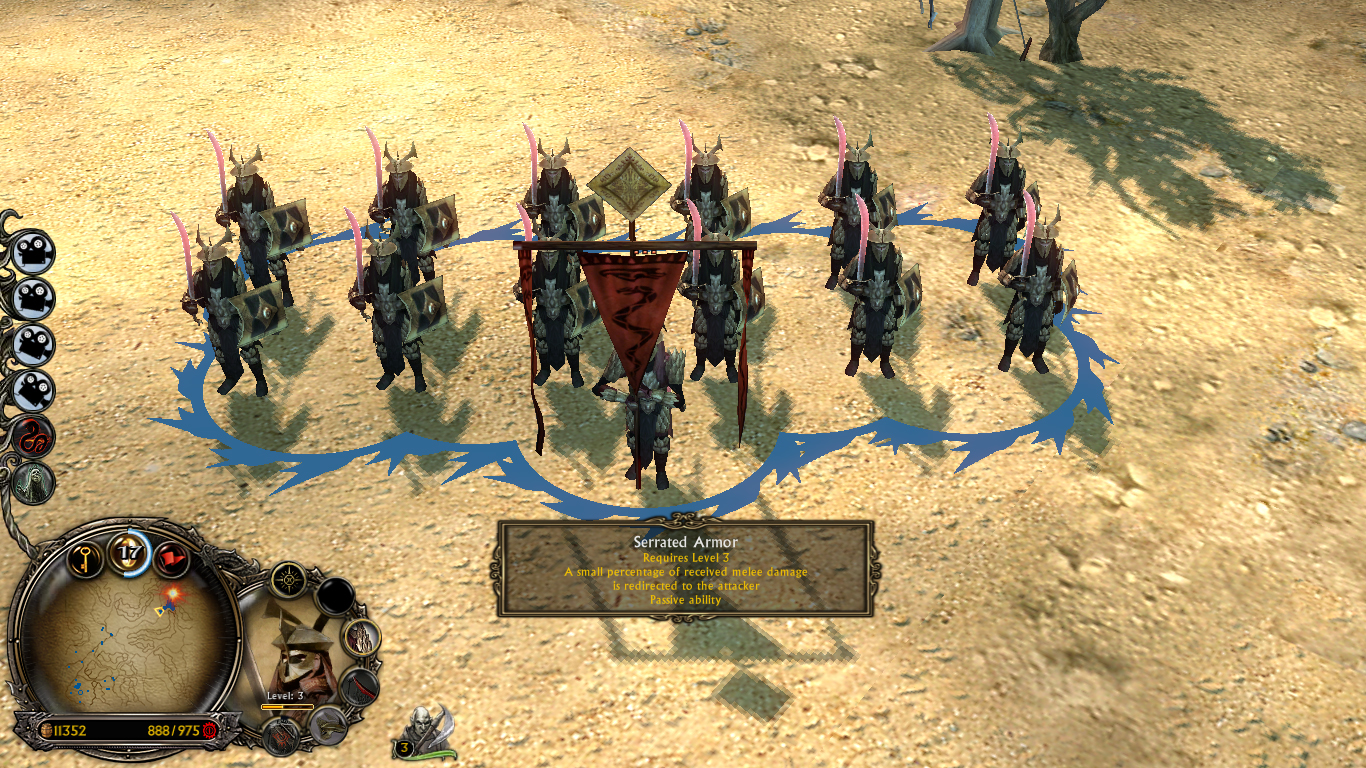 New and reworked heroes
"... new strength came now streaming to the field out of Osgiliath. There they had been mustered for the sack of the City and the rape of Gondor, waiting on the call of their Captain. He now was destroyed; but Gothmog the lieutenant of Morgul had flung them into the fray…"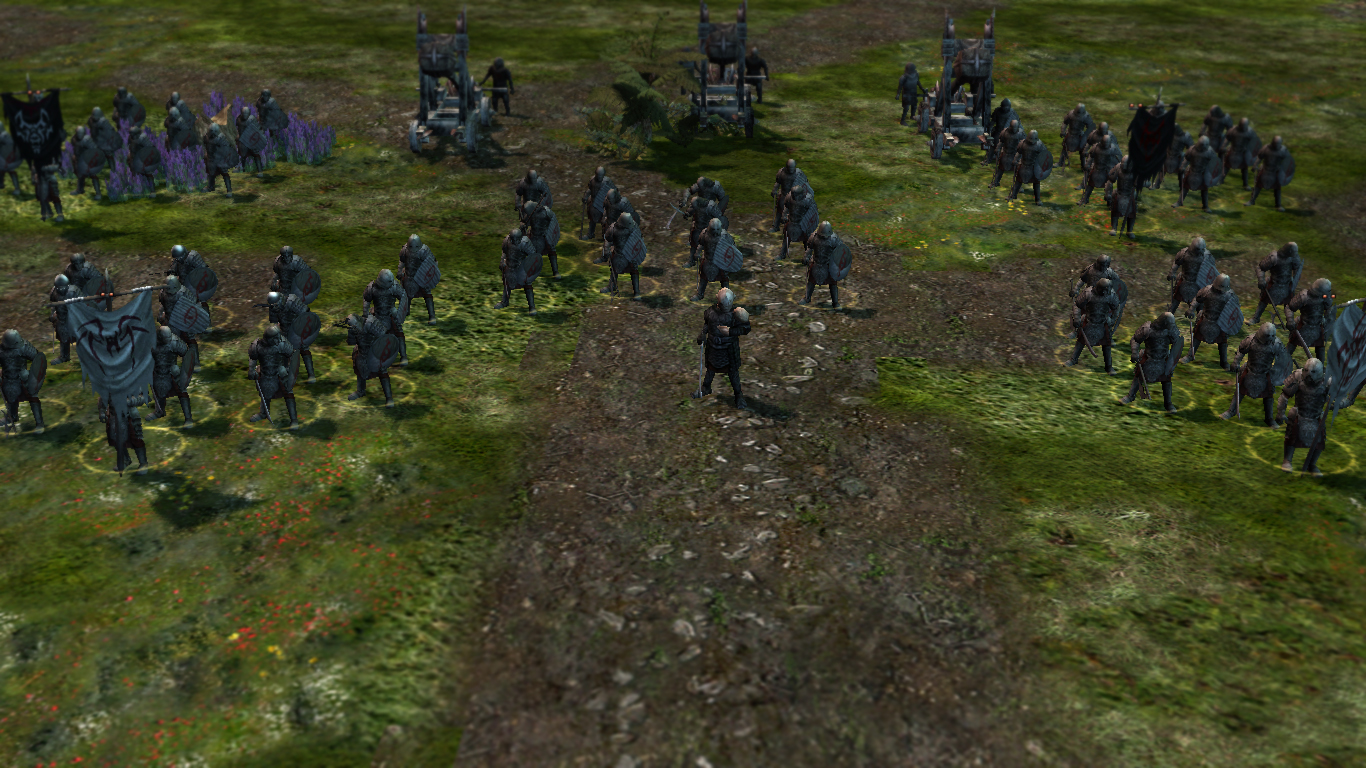 We have reworked Gothmog's abilities for 5.0. Previously his kit was aimed at countering and killing enemy heroes, which didn't quite fit his profile as a physically handicapped army leader. He also had quite a number of passive abilities that we wanted to replace with active ones to make him more fun to use. With the removal of Khamûl from Mordor to Dol Guldur, there was a need for a late-game support hero. As such, Gothmog is now locked behind the Morgul Sorcery fortress upgrade, being the Lieutenant of Morgul.
Mount/Dismount
Left click to Mount/Dismount Gothmog's Warg
Rank 1: Time of the Orc
Nearby Orcs gain increased armor, damage, experience gain and fear resistance. Passive.
At rank 5, can be activated to call down a barrage of severed heads into a targeted area, dealing poison damage
Gothmog's leadership is now available from level 1, instantly making him more useful as a supportive hero. This ability is improved at high levels and allows him to deal AOE damage in an area, letting him disrupt enemy forces and deal with weak spam.
Rank 3: Form Ranks, Maggots!
Summons a horde of Morgul Orc Pikemen around Gothmog. Morgul Orc Pikemen grant a small damage boost to nearby archers. At rank 7, summons an additional horde of Morgul Orc Pikemen
This ability will allow Gothmog to reinforce orc lines against cavalry which can be their greatest weakness. Morgul Orc Pikemen are more powerful than standard Orc Pikemen but are temporary. Their damage boost to archers can allow allies to finish off any cavalry trapped by the pikemen.
Rank 6: Master of Siege
Grants a targeted Catapult a permanent increase in damage and reload speed
It was Gothmog who led the ground forces during the Siege of Minas Tirith. This power allows Gothmog to aid in a siege of an enemy base. While the previous version of the power was a simple passive, this version allows for more flexibility in how it can be used and ensures that it is not limited to just Gothmog's location.
Rank 10: Into the Fray
Allied units in a wide radius gain +15% movement speed and +33% damage
During the Battle of Pelennor Fields, Gothmog unleashed all of Mordor's forces against the Rohirrim. This spell can be used in both open battle and in a siege to improve the damage of your allies. It will also affect Easterlings, allowing Gothmog to fill the hole left behind by Khamûl.
---
"'They would.' grunted Gorbag. 'We'll see. But anyway, if it does go well, there should be a lot more room. What d'you say? - if we get a chance, you and me'll slip off and set up somewhere on our own with a few trusty lads, somewhere where there's good loot nice and handy, and no big bosses.'

'Ah!' said Shagrat. 'Like old times.'"
With the change of Gothmog from early to late-game hero, Mordor needs new leaders in the early game. Enter Gorbag and Shagrat.
Shagrat will act as a tanky, support hero for the early game. He will be able to support Mordor's defences, as well as helping the basic orc and Black Uruk units.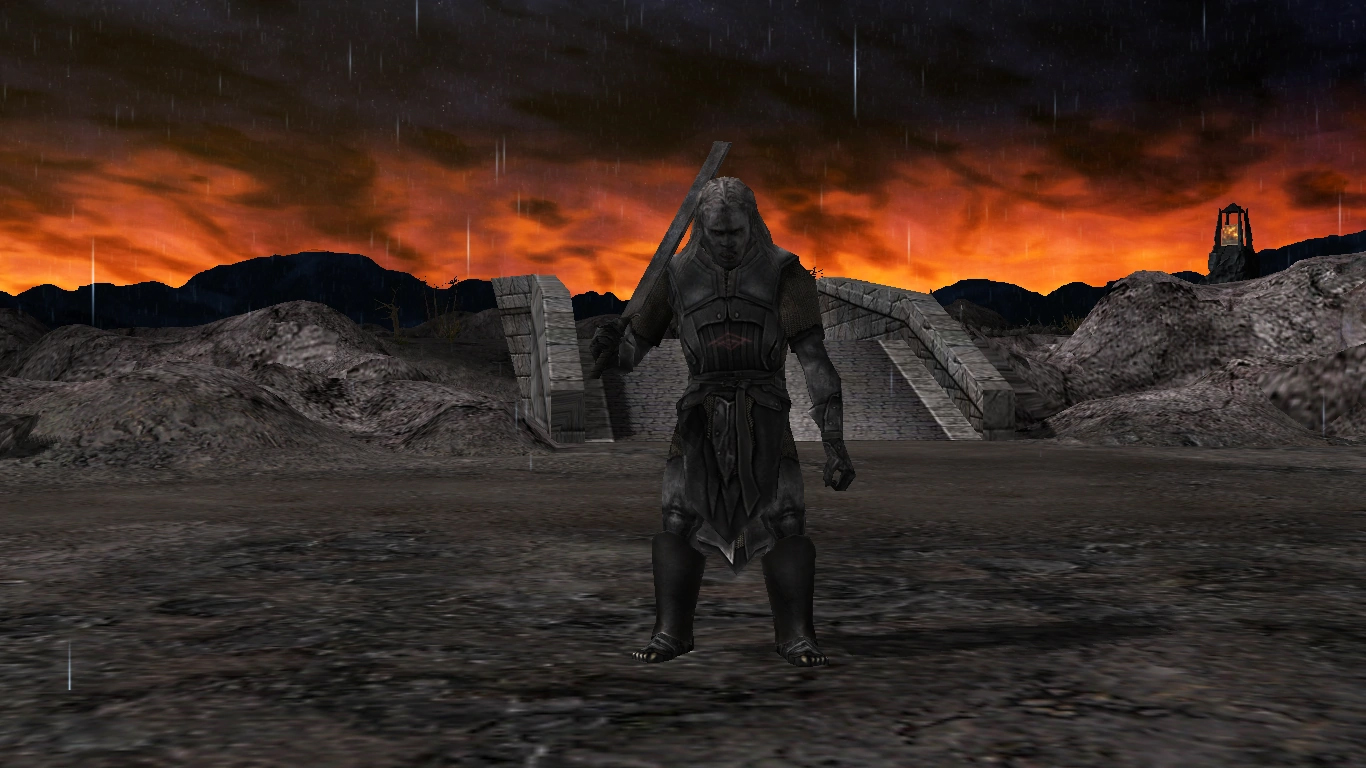 Rank 1: Fierce Rivalry
When near Gorbag, Shagrat slowly takes damage over time. Unlocks Brawl ability for Black Uruk Marauders allowing them to kill friendly Orc Warriors or Legions of Morgul to gain combat experience. Passive ability.
As an Uruk-captain of Cirith Ungol, Shagrat and his boys had a rivalry with Gorbag and the Morgul Orcs. By unlocking the Brawl ability, Black Uruk Marauders can level up faster at the expense of their allies, allowing them to gain access to Despoiler faster.
Rank 1: Captain of the Tower
Mordor Towers and Orc Archers near Shagrat gain +15% vision, +15% range, and +15% damage. Passive ability. At rank 3, spawns a temporary horde of Black Uruk Marauders when used on a friendly building. Left click icon then left click on target building.
The Tower of Cirith Ungol was built to watch over one of the passages in and out of Mordor, and its orcs would capture those lucky enough to escape the webs of Shelob. This leadership can be used to great effect to improve the masses of Orc Archers available to the player, as well as improving defences. Being able to summon a horde of Marauders can help to stave off harassment and reinforce a defending army.
Rank 5: Captain of Lugbúrz
Nearby Black Uruk Marauders gain +25% armor. Passive ability. Can be activated to temporarily grant +25% damage to nearby Orc Warriors and Black Uruk Marauders as well as knockback damage to Shagrat. Left click to activate.
This power allows Shagrat to lead the Black Uruks into battle. By activating the ability, this damage boost can heavily improve their harassment potential (especially when combined with Despoiler) and can also help the standard Orc Warriors hold their ground in battle.
Rank 8: Covetous Uruk
Shagrat and nearby Black Uruk Marauders steal resources from slain foes. Passive ability.
This ability completes the set with Shagrat's supportive skills, allowing him and Black Uruks to boost your economy in battle.
Gorbag will act as an early game hero killer that can sneak through your orc hordes and deal great damage to single targets.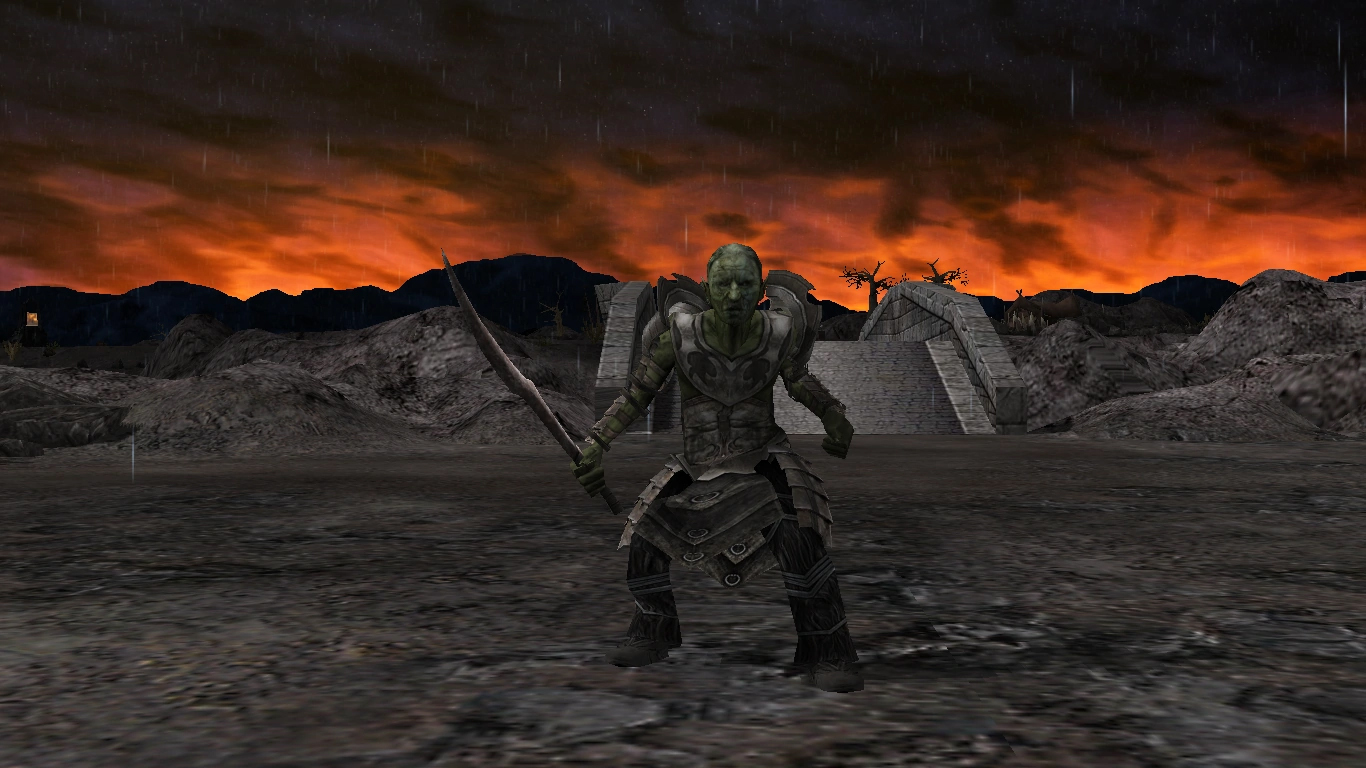 Rank 1: Fierce Rivalry
When near Shagrat, Gorbag slowly takes damage over time. Passive ability.
As a Morgul Orc, Gorbag wasn't fond of Shagrat and his boys, thinking they're all superior. When Gorbag gets near Shagrat, he'll give him what for.
Rank 1: Morgul Cunning
Grows in power as Gorbag levels
At Rank 1 Gorbag's ranged avoidance is increased
At Rank 3 Gorbag is able to stealth for a short time, which breaks if Gorbag attacks
At Rank 5, +25% damage for a short time plus prior effects
At Rank 7, passively gains +25% damage
At Rank 10, passively gains +25% armor
A cunning scout and tracker, Gorbag's bag of vile tricks is deep, and grows deeper as he ranks up. Morgul Cunning allows a ranked up Gorbag to compete with late-game heroes, if only temporarily - especially when combined with his other abilities.
Rank 3: Dropkick
Knocks down and stuns nearby units and heroes. Can be used in conjunction with Morgul Cunning
You can't implement Gorbag without implementing his iconic dropkick. Though only performed on Shagrat in the films, Gorbag is perfectly happy to dropkick any of your opponents if instructed. This ability is useful for temporarily taking an enemy hero out of the equation, or to allow Gorbag to make a quick escape.
Rank 5: I'll Bleed You
Targeted enemy hero takes heavy damage over time.
Furthering Gorbag's theme of being a nasty, sneaky assassin, he is able to temporarily bleed an enemy hero to deal damage over time. This too can be used in combination with Morgul Cunning, as well as with Dropkick.
Rank 7: Loyalty to the Red Eye
Gorbag passively gains +15% speed. Targeted enemy hero loses 50% armor for a short time.
The crescendo to Gorbag's kit and purpose. When used in combination with his various other hero-killing abilities, Loyalty to the Red Eye makes Gorbag an extremely dangerous hero to encounter on the battlefield, able to severely damage or kill even the strongest of your heroes.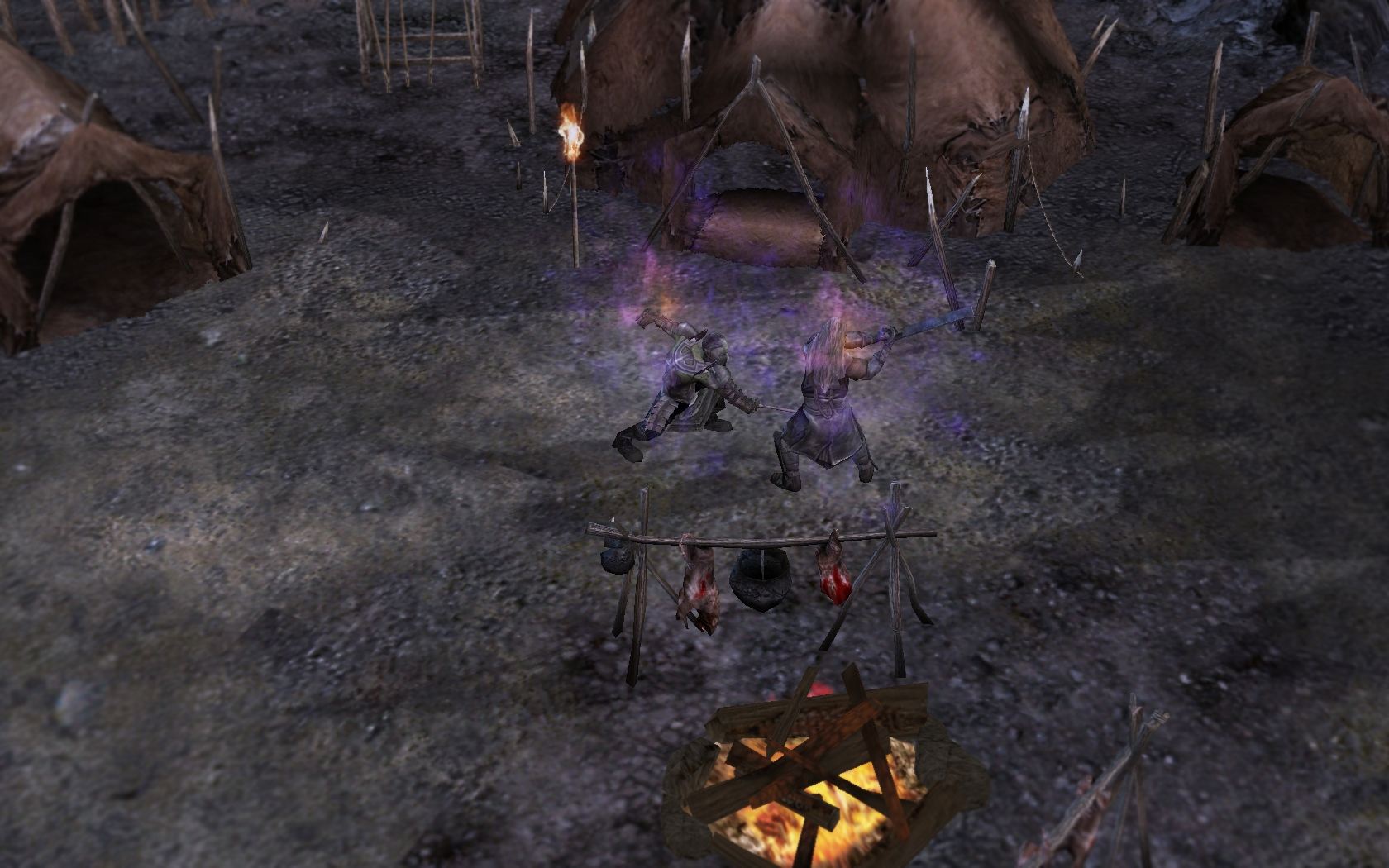 New spellbook power
"But still she was there, who was there before Sauron, and before the first stone of Barad-dûr; and she served none but herself, drinking the blood of Elves and Men, bloated and grown fat with endless brooding on her feasts, weaving webs of shadow; for all living things were her food.."
Many games have been played and won using Mordor's Dungeon of Dol Guldur spellbook power. Summoning a fortified Dungeon that could recruit Giant Spiders, Castellans of Dol Guldur and Khamûl, it was perhaps most notorious for its Necromancy ability, which could be used to deal damage to units in its vicinity and turn them into Wraiths.
Now that Dol Guldur has been made into a faction of its own, this legacy spell has been replaced by Terror of Cirith Ungol, which summons Shelob and 3 battalions of her offspring. In accordance with her new role, Shelob has received a new set of powers and is able to trample enemy units.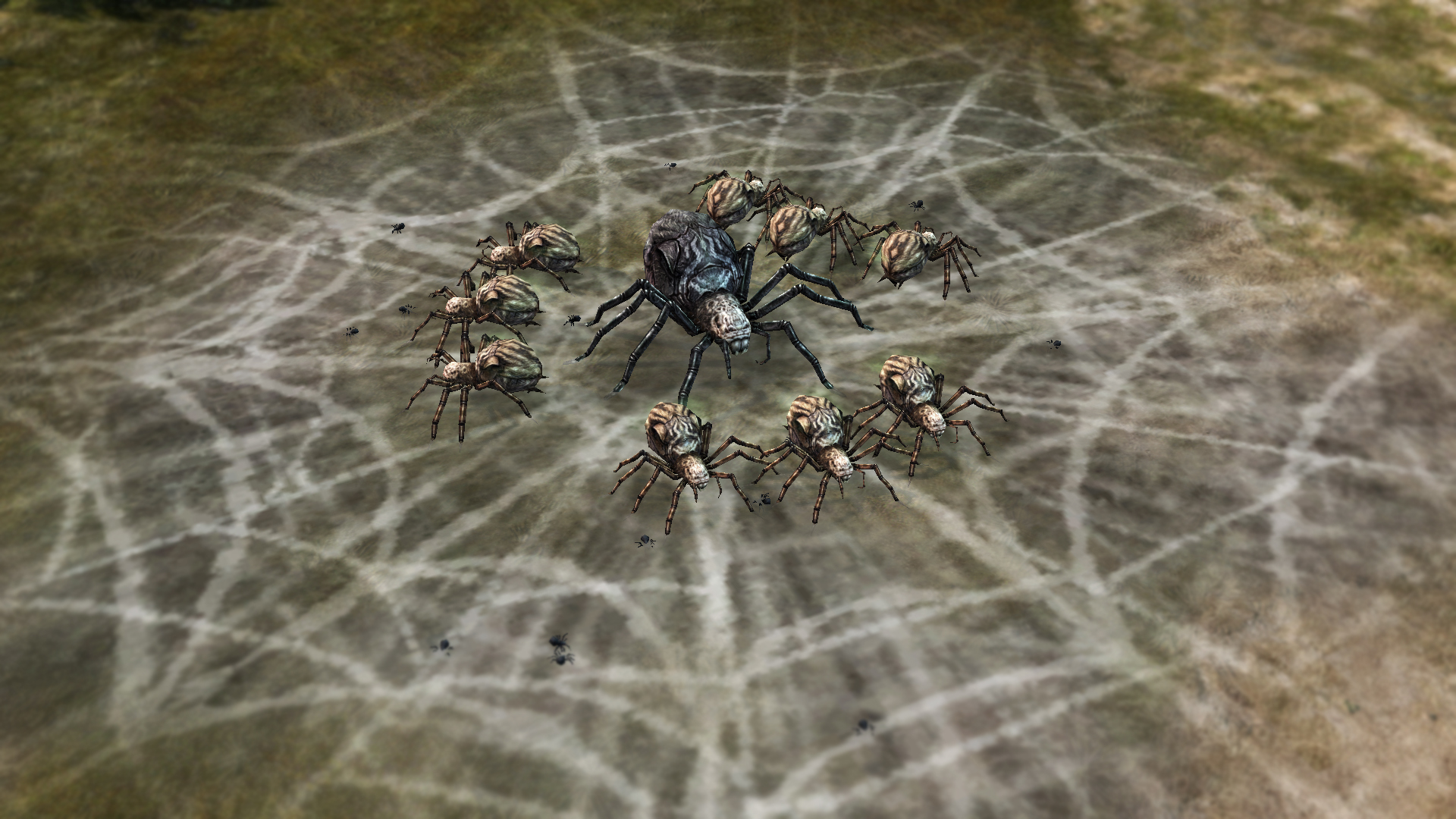 Rank 1: Spawn of Ungoliant
Shelob continuously spawns tiny spiders that deal damage to enemies nearby
This power allows Shelob to deal damage even when she's not directly attacking a target. The tiny spiders are permanent, making Shelob a vortex of arachnid death.
Rank 1: Dark Deterrent
Enemies within the radius are stunned and receive poison damage
Shelob was a natural deterrent for those brave enough to scale the Pass of Cirith Ungol in an attempt to cross into Mordor. Not formally aligned with Sauron's forces, Shelob was left well enough by her orcish neighbors, who were glad, to various degrees, to have her guard the pass. In congruence with this, Dark Deterrent prevents the advance of enemy units and deals damage to boot.
Rank 1: Fell Stinger
Shelob deals strong damage to an enemy hero and regains a portion of her health
Similar to the old Dungeon of Dol Guldur, Terror of Cirith Ungol is very much a disruption power. Fell Stinger allows Shelob to stay around for longer, therefore extending the disruption.
New Fortress upgrade
"And Minas Morgul answered. There was a flare of livid lightnings: forks of blue flame springing up from the tower and from the encircling hills into sullen clouds. The earth groaned; and out of the city there came a cry. Mingled with harsh high voices as of birds of prey, and the shrill neighing of horses wild with rage and fear, there came a rending screech, shivering, rising swiftly to a piercing pitch beyond the range of hearing."
Now that Shelob is moving to replace the Dungeon of Dol Guldur Spellbook power, an opportunity has arisen to give Mordor a new final Fortress upgrade: the Morgul Spire.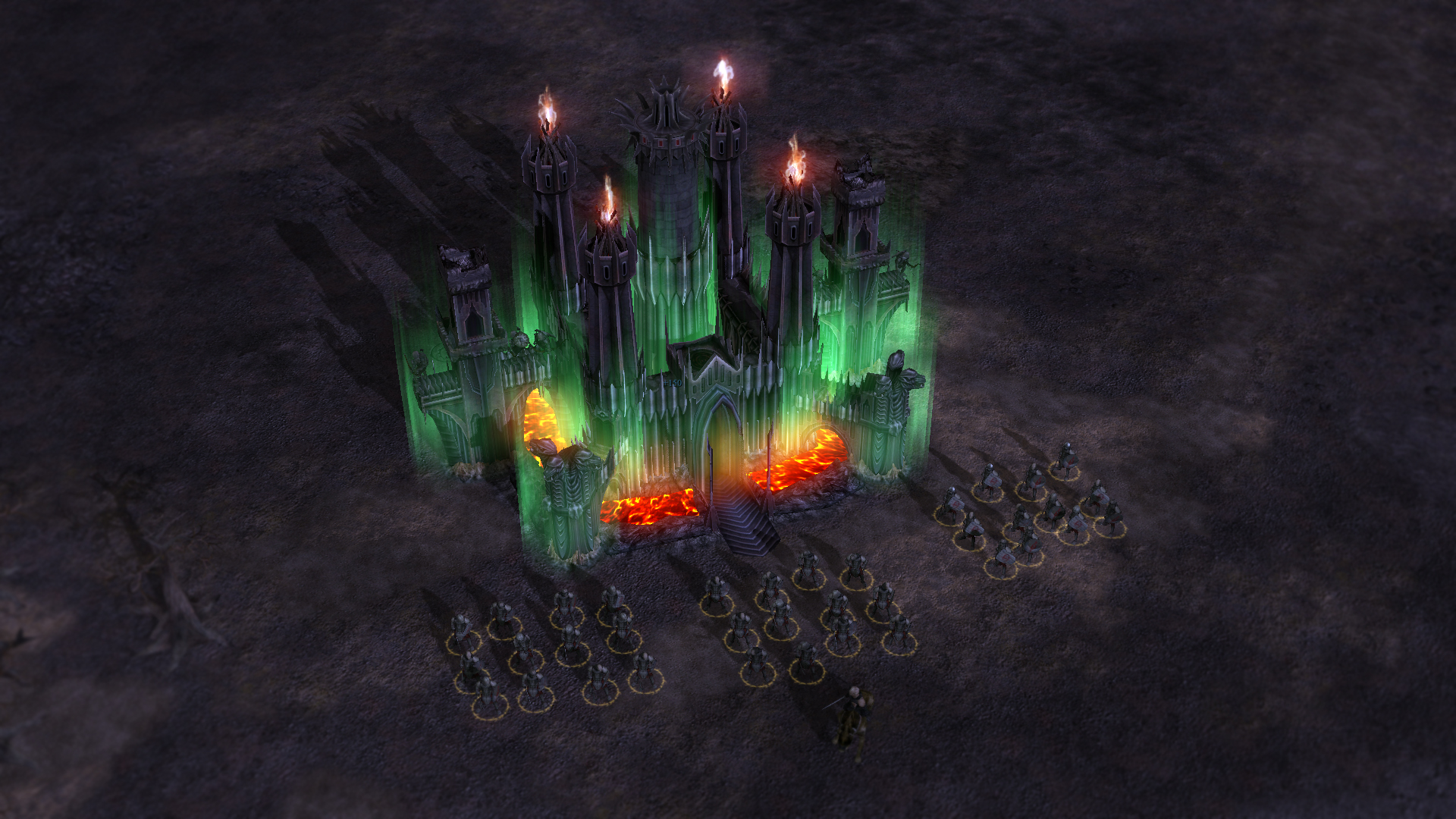 It requires the Morgul Sorcery upgrade to be purchased. When constructed, the Morgul Spire passively grants +33% armor and +33% damage to all Nazgûl on the map. It also unlocks the Beacon of Morgul ability, which grants +25% armor and +15% speed to all Orcs on the map, at the cost of temporarily shutting down your resource structures. What with all the various Easterling units taking up elite functions in the faction, we thought that it would be a good idea to implement something that would help catapult Orcs back to the forefront in the late game. It will also allow the normally fragile Nazgul to withstand enemy forces better in the late game.
---
Finally, we've got a little sneak peek of an upcoming map...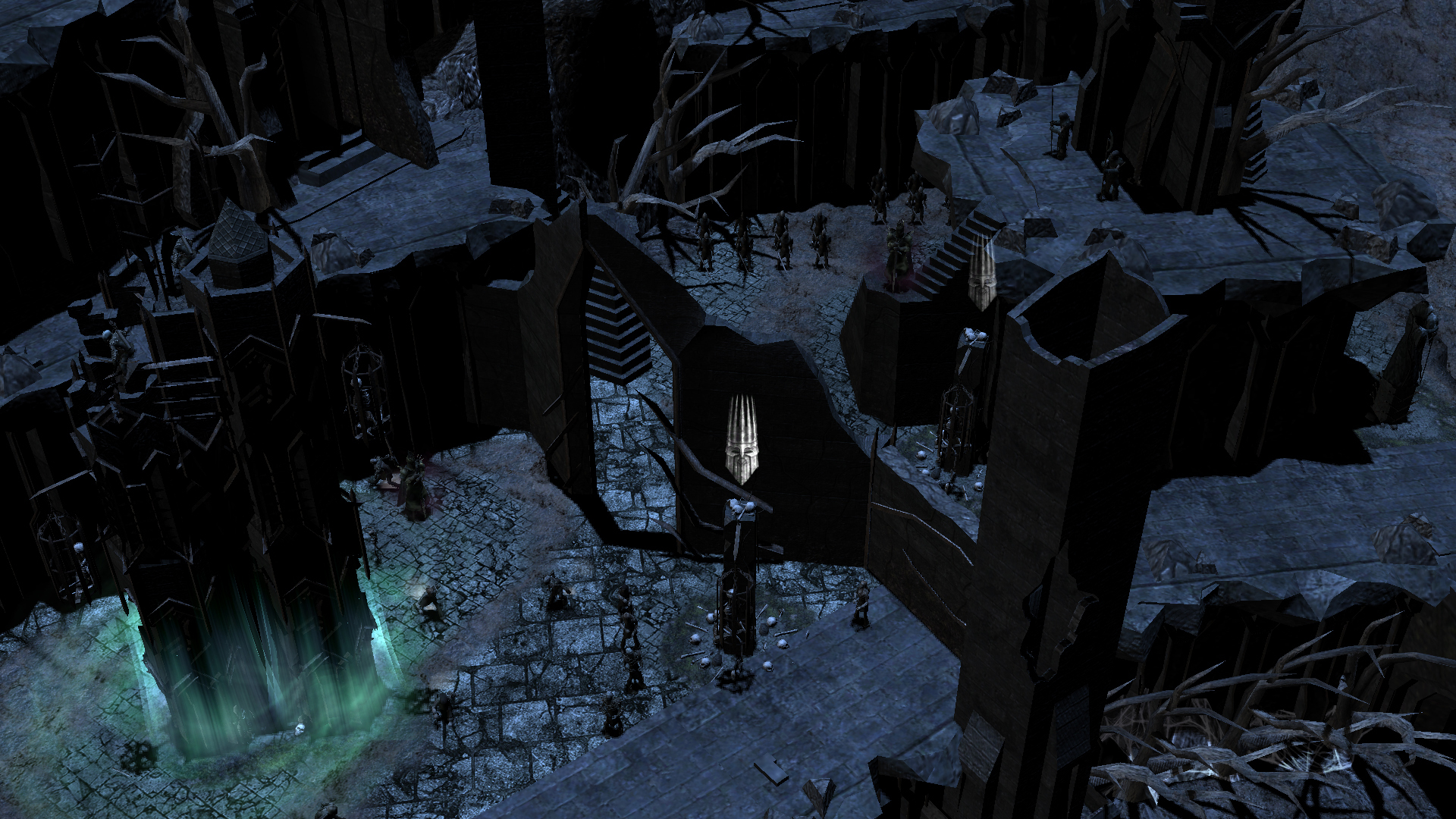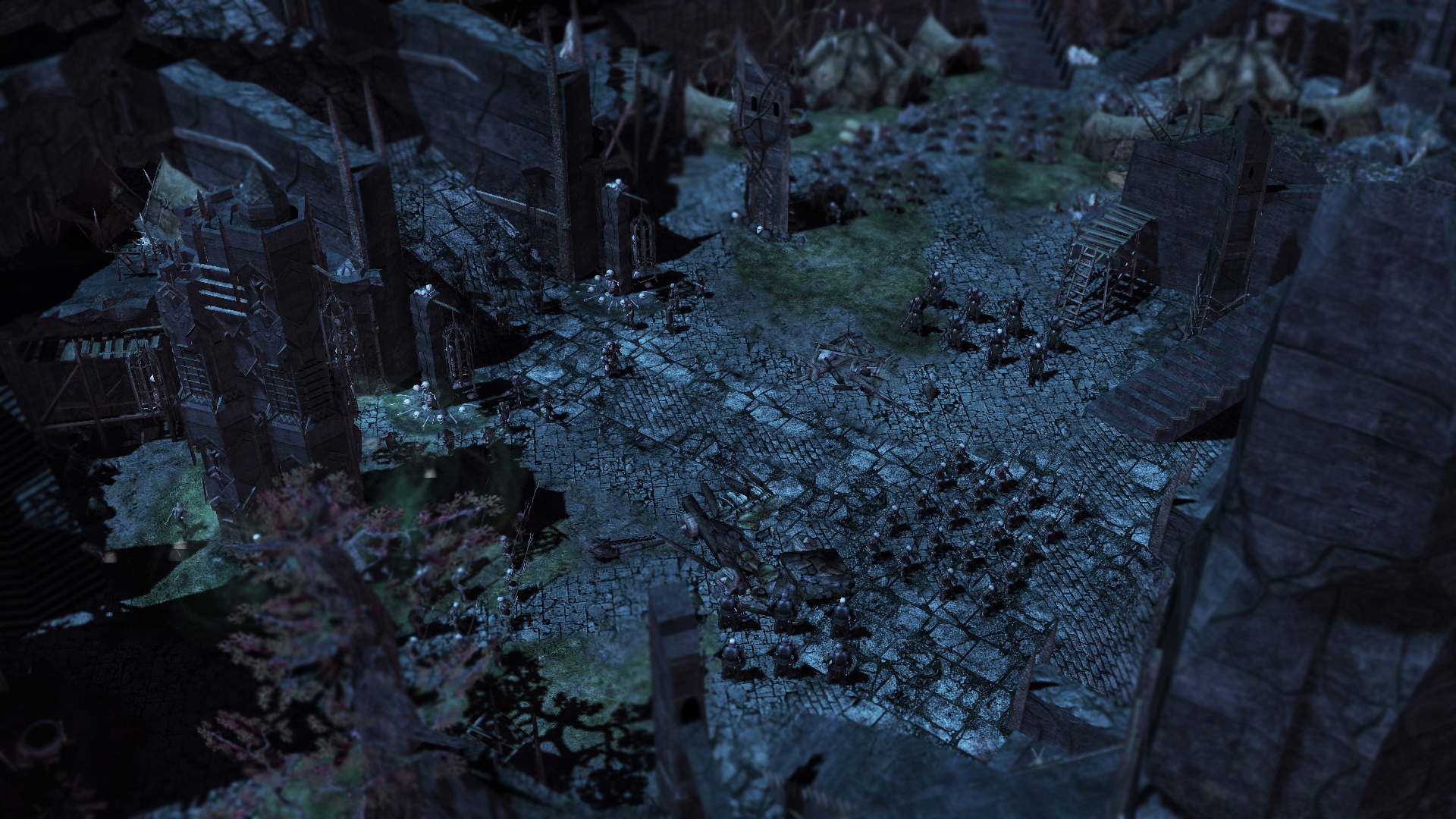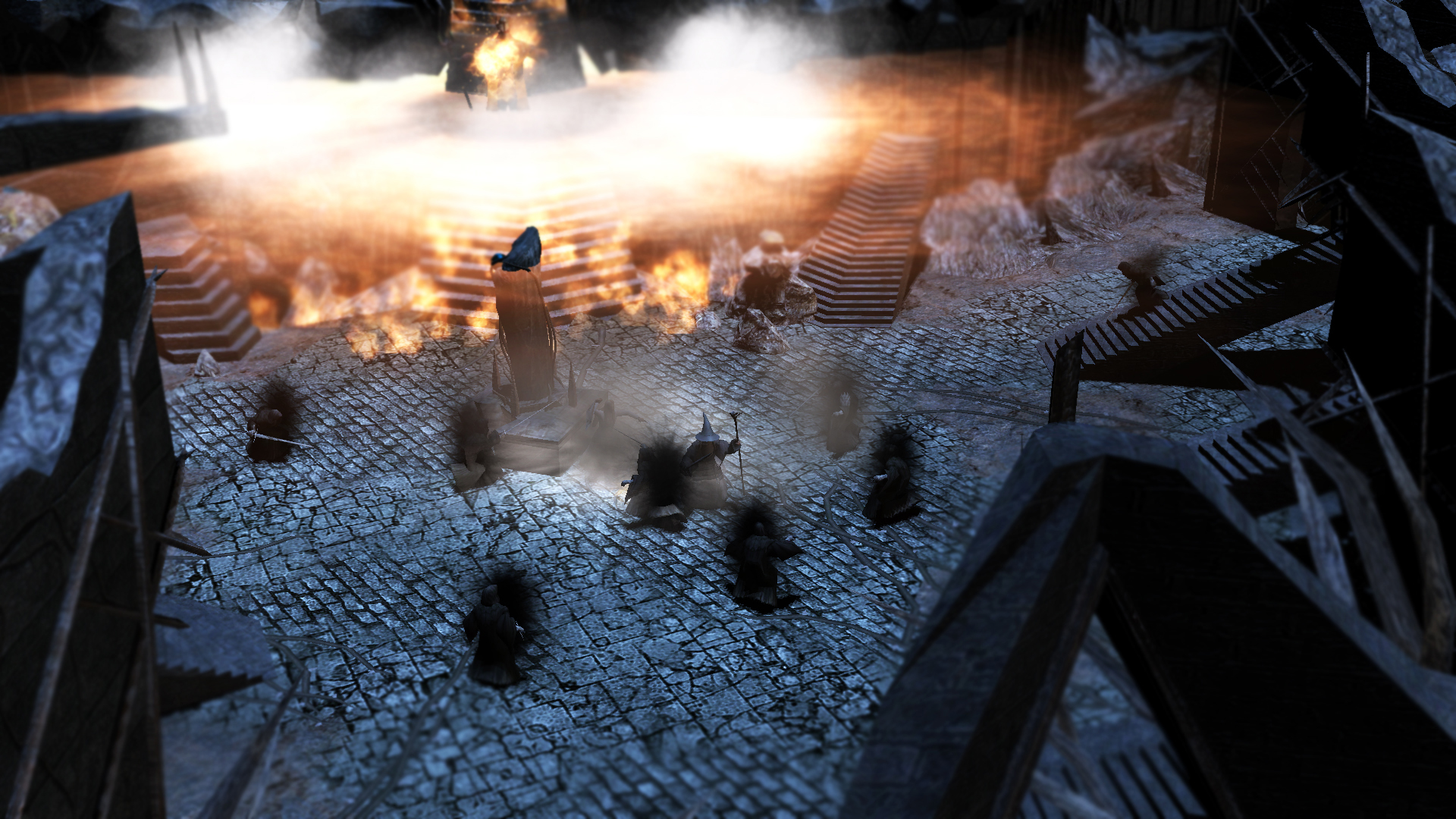 ---
That's all for now! We'll be doing a stream tomorrow, so make sure to follow us on Twitch.tv to know when we go live. It'll be around 19:00 Paris Time.
Yours,
The AotR Team