It's taken long enough, but via lots of nagging and prompting from fellow Valve employees I've finally got round to getting MINERVA, the Half-Life 2 mod which got me a job at Valve, up on to Steam. It was originally released in late 2007 to pretty much universal acclaim, but now there's a super-fancy Director's Cut edition with tweaked visuals, bug fixes, better puzzles and all kinds of subtle improvements. Nothing hugely new, just old stuff tidied and polished for this re-release.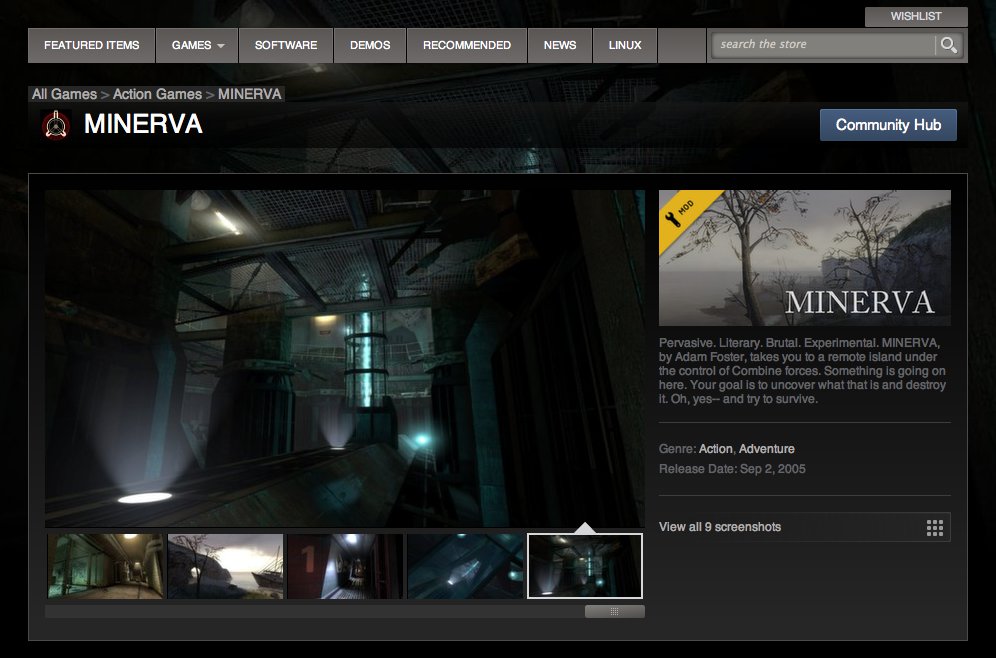 Expect the usual single-player shooting and puzzles, a healthy dose of mystery and plenty of on-screen dialogue from the unseen Minerva, who guides (and insults) you on your journey through a vast Combine underground facility.
It requires Half-Life 2: Episode One as a base - but once you've got that, the mod adds quite a few hours of free, arguably Valve-quality gaming.
MINERVA: Metastasis on Steam - download and install here!
This version officially replaces any previous versions you might have lying around - huge thanks to Tom Edwards for his Officially Unofficial patch which was used as a base for this updated edition. This release also includes the French, German, Italian, Polish, Russian and Spanish language packs kindly provided by LocWorks - just have your Steam client's language set to whichever you prefer and you will automatically get a fully localised version of MINERVA to play through. While I'm at it, I'll also thank Joseph Toscano for the fantastic MINERVA soundtrack, as well as the many and varied Valve employees who helped me out with this slightly unexpected re-release.
Thanks for playing!