Exclusive new in-game screenshots, new concept art for level 03 and the new dream gun are going to be published in this article. In addition, there are new information about our development progress and our new talents.
---

There are currently positions open for the following jobs:
• Programmer
• Texture Artist
• 3D Artist
• 3D Character Artist
• VFX Artist
• Concept Artist (Weapon Design)
• Concept Artist (Character Design)
• Concept Artist (Environment Art)
• Sound Designer
• Male Voice Actor
---
In the last article we presented you our interview at TechZwn.com and gave you a very early first look at level 03. In this article, we are going to present you new in-game screenshots of level 02, the fully reworked dream gun and new artwork, which shows the first step of the metamorphosis of the protagonist Katherine Evans.
---
Brand new in-game Screenshots!
Many of you have seen the concept art, which we published a while back. You could already see how we imagined the second level of Mindworld: Shattered Dreams. Also, people didn't want to believe that we could realize those concepts in Source, but we want to prove you wrong on that part, sorry about that!
Just like with level 01, Hugh Riegel was responsible for the realization of the levels. Keep in mind that they're not fully finished yet, as we always go back and polish a little bit in earlier parts. Try to understand those as alpha material.
Changes to the team roster!
As always, game development is full of ups and downs and the word development always comes with the word change. Some people have stopped their work with us and other people joined us. One of our biggest additions to the team yet is Charvel Saligumba. He is currently responsible for the visual style of the metamorphosis of Katherine Evans and also for all of the artwork in level 03.
In addition, we had to cut lose a few programmers and exchanged the full programming department with higher motivated people, who already contributed to the project.
There were a few more minor changes, but another bigger update is that we are going to work with Matt O' Connor, who is going to voice the narrator of the story. Yep, that's news, because including a narrator in the game adds a whole new dimension. We are going to publish an example in the next media update.
Entering the dream world ... comes with a price!
One idea, which has origin in the earliest days of Mindworld was to make the protagonist's visual style change in the course of events. This means that the longer the player is going to stay in the dreamworld, the more the visual style of the character is going to change.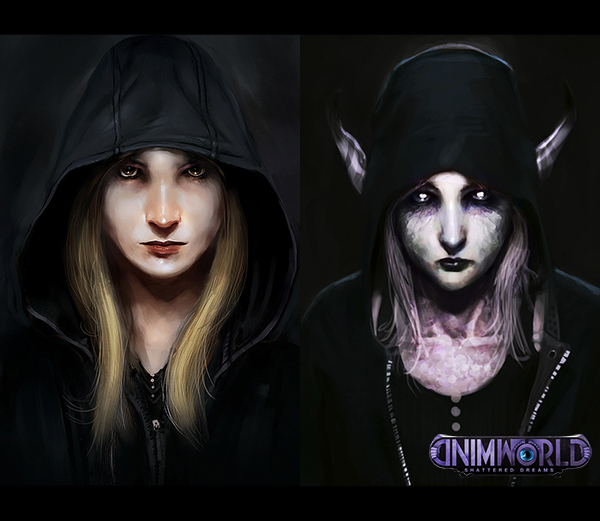 We are going to talk about shadow creatures in level 03 in a later update, though. However, you can already have a glimpse at the first step of the metamorphosis of Katherine Evans. You can clearly see that the dream world is having a big influence on her.
Controversial topic: The Gravity Gun!
We have been discussing the concept of the gravity gun quite some time and decided not to include it in the game. However, we are still going to use a gun ... sort of. We have been redesigning the old gun and improved it in quite some areas. While I don't want to spoiler too much, there's a sense in the design, which relates to the story context.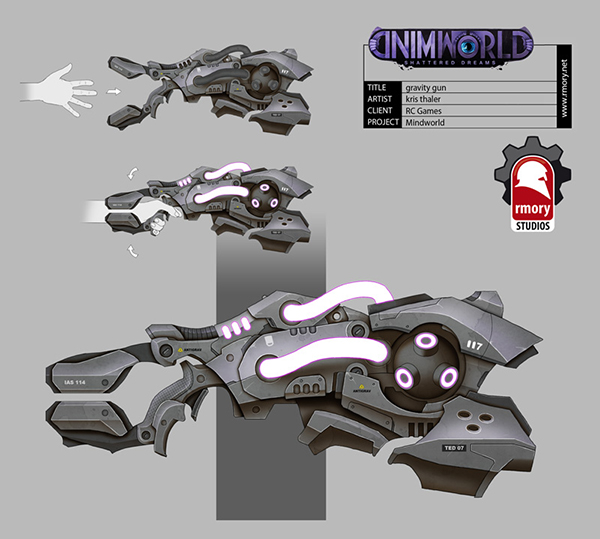 What features this gun is going to have and why it's only sort of a gun is not yet revealed. However, you can already have a look at how this gun is going to look like and what I might be talking about in here. Keep in mind that the title "gravity gun" was just a working title, there is much more to it. Also, we are currently looking for one highskilled 3D Artist, who would like to realize this gun ;)
---
Level 03 ... sweet icey dreams - Sneak peek!
We already want to give you a little sneak peek on level 03. And let me tell you, it's going to be a great level with many cool things to see and experience. It is planned to introduce the shadow creatures in this part of the game and those give a great feel of atmoshphere. However, that special part is planned for the next media update.
---
Special tribute to Charvel Saligumba
I wanted to use this chance and honor one of our members especially. The guy I'm talking about now has been pushing the limits and has always done more than we expected from him. Therefor it's the logical consequence that he earns a special thank you. Charvel has been with us for quite a while now and started at the normal concept artist position, but was promoted to lead concept artist quite fast. The reason for that is his unique art style, his vision for the game and the amount of effort he puts into this game. We have to keep in mind that he is doing that for free and the pure fun of it. In that time he could have been working on paid projects, but he doesn't. People like him make this project realizable, people who see potential in an idea and contribute to it. However, it's not only the quality of his work that astonishes me, but also the love into detail he puts into his ideas and paintings. It's great to have him on board and he keeps pushing the quality of the game further and further with each concept he finished. You should give him a big round of applause to praise and motivate this guy.
A big thank you from my side to you, Charvel!
---
We hope you have enjoyed this article and all of the presented art.
- Kjell 'iQew' Bunjes
(Team Leader and Art Director)