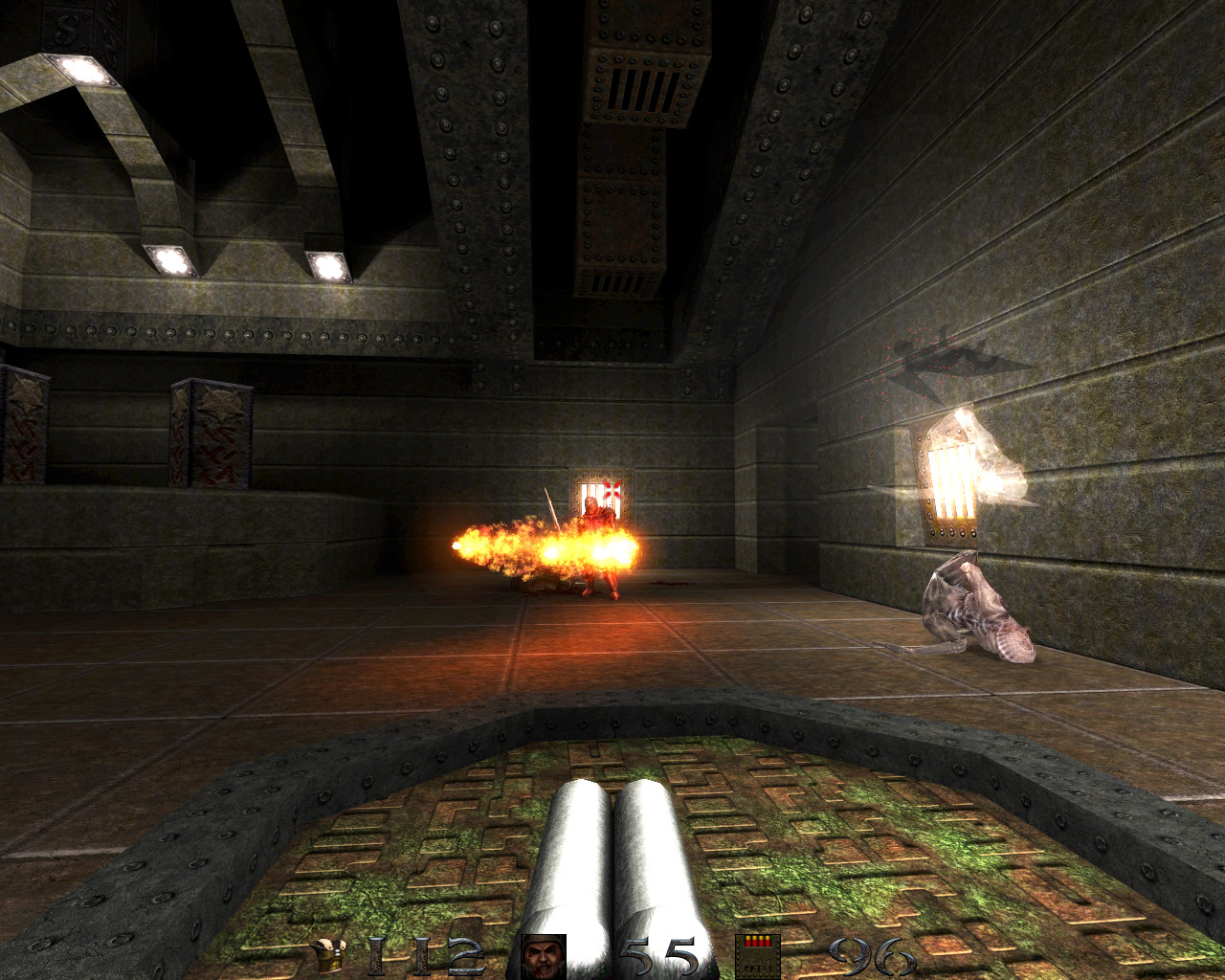 Well, it's that time of year again and 2016 being what it was, I was feeling the need to shoot something.
Enter DOPA (Dimensions of the Past), MachineGame's 20th-anniversary celebratory quake episode release.
But of course the path to getting these things running well is never smooth; so I made an expansion, ie suffered so that you don't have to (as per usual), figured it out, gave it it's own soundtrack, tied it up in a pretty blue ribbon, cast spells on it, etcetera.

The soundtrack is Nine Inch Nails, which I feel is appropriate given he did the original game's soundtrack, and is a composite of his two free releases, Ghosts I and The Slip (both of which were released under a non-commercial, attribution, sharealike creative commons license). I just selected the appropriate tracks for each level, mixed/looped/volumed them properly together, and set up each level so it had an individual pair of songs - the result is a 1.5-hour soundtrack.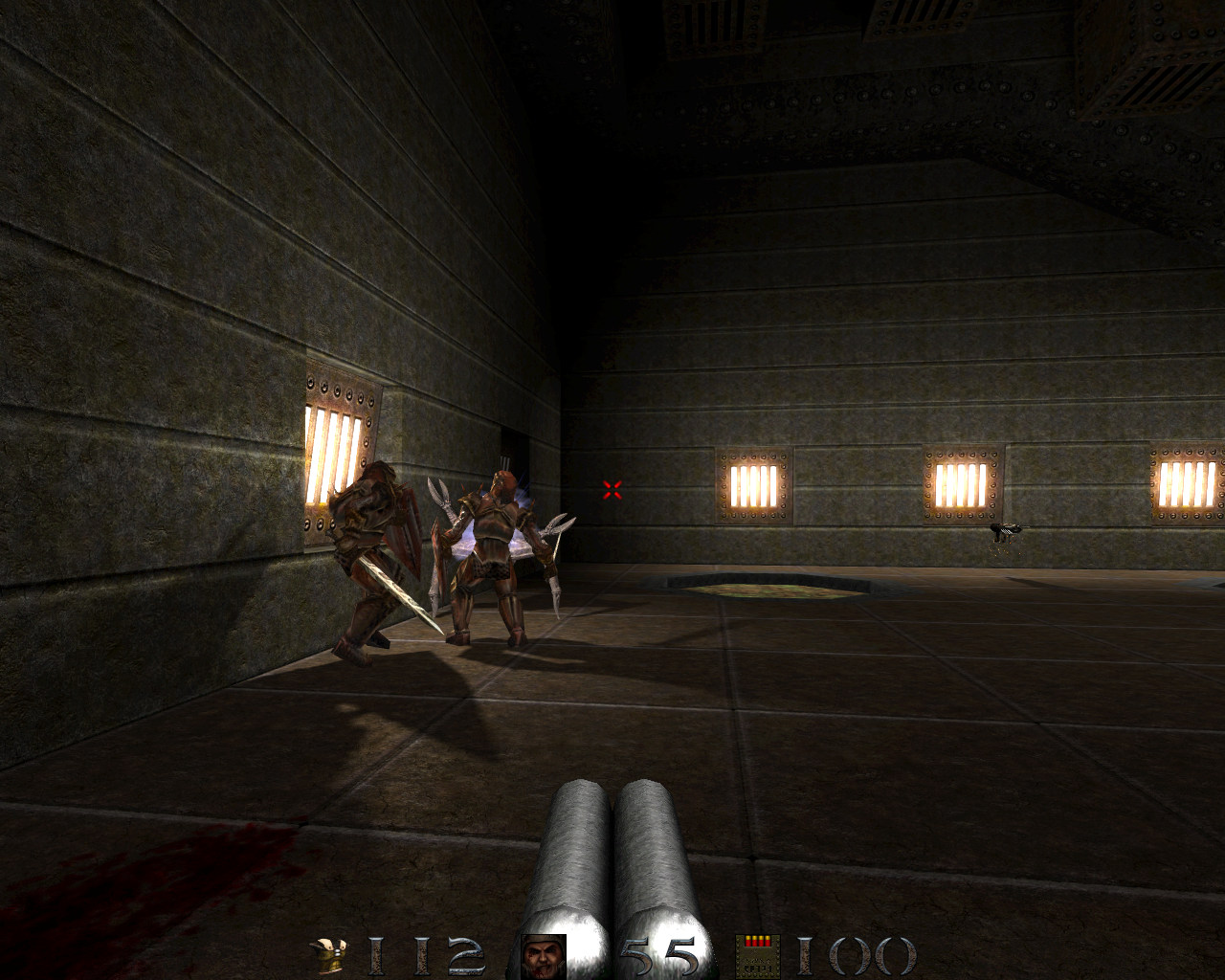 So now in the time I take away from constructing voodoo dolls of certain presidents, I release this into the wild, where it belongs. Run free, little lamb:
Moddb.com

Also I did some updates for the other packages, of minor and major degrees dependent on the package in question: new versions can be found in the downloads section, with additional options on the epsilon website. Summary of changes:
v2.54
DOPA - improvements over original:
1.5-hour soundtrack based on NiN's free albums 'Ghosts I' and 'The Slip'
the usual high-quality texturing, models, effects via epsilon build
better lighting courtesy of BloodVengeance (with some corrections by myself)

Travail:
Massive improvement to lighting
Corrected laser bolts on enforcers
Corrected lumas for enforcers, grunts, knights, hellknights
Corrected some lightmaps
Changed water type for better performance in some areas

Abyss (mission pack 3):
Improved lighting, texturing, blood and flame effects.
Ammo icon corrections.
Improved hellknight skin
Correction to missing hires skins if MP2 not installed

Quake original, mission pack 1 and mission pack 2:
Incorporation of changes from 2.53 into main build (Corrections to linux bash scripts)
MP2: Updated to v1.0 release QRP DOE textures and normal maps

Beyond Belief:
Map6 fix
Map1 fix
Improved textures
Some lighting improvements

The Myths:
Update to lighting on map 3
Improved fiend skin

Lastly, I just wanted to mention that as of the v3.2 (sometime in 2015) Nvidia graphics drivers, Ultra mode in epsilon experiences texture glitches on an nvidia graphics card, due to a bug relating to bump-mapping.
To fix this, rename "darkplaces.exe" to "GLQuake.exe" and edit your .bat files accordingly.
The other long-term solution is to complain to nvidia - be my guest:
Nvidia.com

You can also work around this by using 'High' quality mode. Or a really old driver version.
Also the epsilon website has moved.

And now, I bid you adieu; there are many things to do before the new year is upon us.
Peace.