Merry Christmas!
On behalf of the crew here at Tiberian Sun Rising, like to wish everyone a Merry Christmas and a fantastic New Year! In the Spirit of Christmas and by the powers of the Spirit Hand of Kane we present yet another update! I'd like to thank everyone who voted us for Mod of the Year 2010 and though we did not win Best Unreleased this year it was just a thrill to be in the Top 100 yet again! Thanks to all our fans for support throughout the year you've driven us forward with a vengeance this year. And a huge thank you to the team here at TS Rising I couldn't have come this far without you guys and the speed & quality of work this year has been amazing so thank you!
-----------------INCOMING TRANSMISSIONG-----------------


The Hand of Nod
Commander I present to you the Hand of Nod, much like the First Tiberium War this is where we train those loyal to the Technology of Peace with the best equipment and facilities the Brotherhood has to offer which is mostly underground. The fallen over Hand reminds us of the loss of the First Tiberium War, but also symbolise's that we are not defeated we are guided by the Spirit Hand of Kane! Kane Lives in Death!
GDI Dropship Bay
Nod Intelligence has confirmed report's of increased usage of GDI Dropship's in GDI's Supply route's. These massive stratospheric supply craft's are used by GDI Commander's to bring reinforcements to the battlefield. The mean's of how these supply routes are being co-ordinated has been revelaed the GDI Dropship Bay. This structure is used by GDI Commander's to place a customised order of vehicle's to a nearby GDI base which is then loaded onto a Dropship and despatched to the location of choice on the battlefield by GDI Commander's. The Dropships flying through the stratosphere have quite fast travel times anywhere around the world, bypass all Anti_Air defence's flying at that height and when dropping off enemy reinforcements coming from that height it is described as "appearing from nowhere".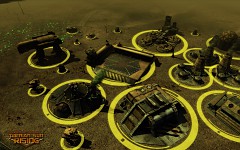 The Cyborg Control Centre

Through much experimentation over the year's since the First Tiberium War such prorams like "Project Regenesis" have finally developed a consistent process for developing Cyborg soldiers far superior in strength to the average human and capable of lifting heavier weapons platforms. The Cyborg Control Centre is used to link all Cyborg's into together and to send orders & receive information back from Cyborg force's. Cyborg's are produced at the Cyborg Control Centre and then are sent via the subterranean tunnels underneath all Nod base's to the Hand of Nod for outfitting with weaponry and loading battle data into each unit. It is also possible in the future Cyborg's may be sent to the War Factory for outfitting with heavier weaponry and augmented with more complex machinery. Due to the sheer amount of data & command decision's being transmitted the CABAL (Computer Assisted Biologically Augmented Lifeform) has been linked to these structure's giving the Cyborg force's an advanced hive mind making them extremely effective on the battlefield. If this structure is destroyed you will loose the ability to produce more Cyborgs, and you will also loose control of your existing Cyborg force's in some test scenario's Cyborg units have gone berserk. So keep this structure well hidden and well protected Commander. Further intelligence of Cyborg models ready for deployment will be forwarded to you when available.
------END TRANSMISSION------
Hope you all have a great Christmas and New Year's! See you all in 2011 with many exciting thing's coming in the new year! :D Also remember we are now on facebook so be sure to add us if you like this project!