It's not often that modders get attention from the developing gods. But when MEC2's very own Bryan Ahonen (aka Smurfbizkit) headed over to one of EA's C&C community summits this past month, they apparently got impressed enough that he got pulled into the Battlecast studio for a 1-minute interview by Apoc on MidEast Crisis 2.
The interview is great. It's also a rare opportunity to see the Smurf meister himself explaining the game in a whole new light--the way only a creator who loves his work can do. It also drops hints to this mod's release being in the very near future.
Head over to EA's battlecast site to view the episode (it's episode 11) by clicking on the banner below:

And just for kicks, here's a screengrab of the Smurfmeister in action: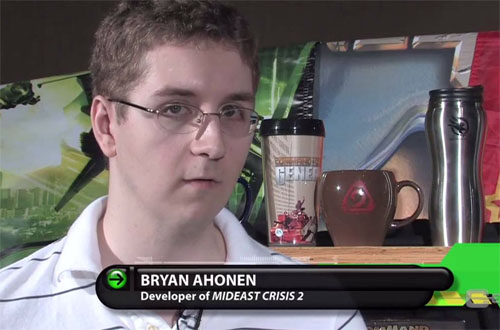 Smurfbizkit was also kind enough to put together an outline of his experience at the summit, which may be read right here.
That's it for now, but stay tuned; there's always more news about MEC2 on its way.