Important Notice:
I am actively looking for female voice actors due to some female concepts currently in progress for the Lost and the Damned race which have no female voice recordings available.
My idea was to make slight adaptations to pre-existent scripts used for units like the militia and the disciples so the only thing lacking is pretty much female candidates.

Male voice recordings come from Forums.revora.net which is a DoW modding community resource and the scripts I intend to adapt for the female variants are these ones Forums.revora.net .
If you are a female and want to help, pm me for additional information.
Now onto the actual news.
My Renegade concepts became so varied that their previous implementation as part of the Chaos race was actually limiting some of the ideas for the group as a whole so I decided to make them a separate race in Veteran Mod and thus the Lost and the Damned race was born.

The race is an early WIP and is still using unmodified Imperial Guard buildings (something which will change in the future) but it utilizes the concepts already developed and some new concepts recently added.

One of the new units is a renegade unit composed of only females which is currently under the codename "devotees" and represents an heavy infantry concept for the race. Their ingame name should be Renegade Pillagers and their close combat attacks will provide an increase on resource income (likely requisition) although they can be equipped with a significant variety of ranged weapons which will often make players choose between more resources or more ranged firepower. Textures for most concepts are still in progress.

Additionally there is an ongoing effort related with vehicle conversions.
For AI testing purposes some vehicles still use unmodified Imperial Guard version while I work on fx and textures for the renegade versions. You can check my image section for some glimpses of what is in the queue ( Moddb.com ).
The "devotees" aka renegade pillagers have some interesting additions in terms of head variation due to some new sisters of battle models created by Leonard ( Moddb.com ).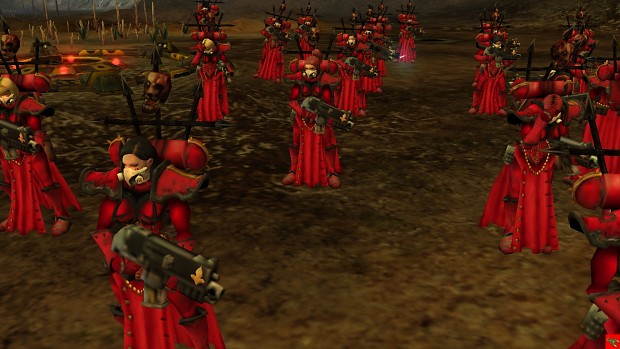 An assault version of this concept is also being worked on to compensate the overall lack of dedicated melee fighters in the faction. They are also capable of jumping over impassable terrain allowing mobile tactics. Once more head come from Leonard's sister models.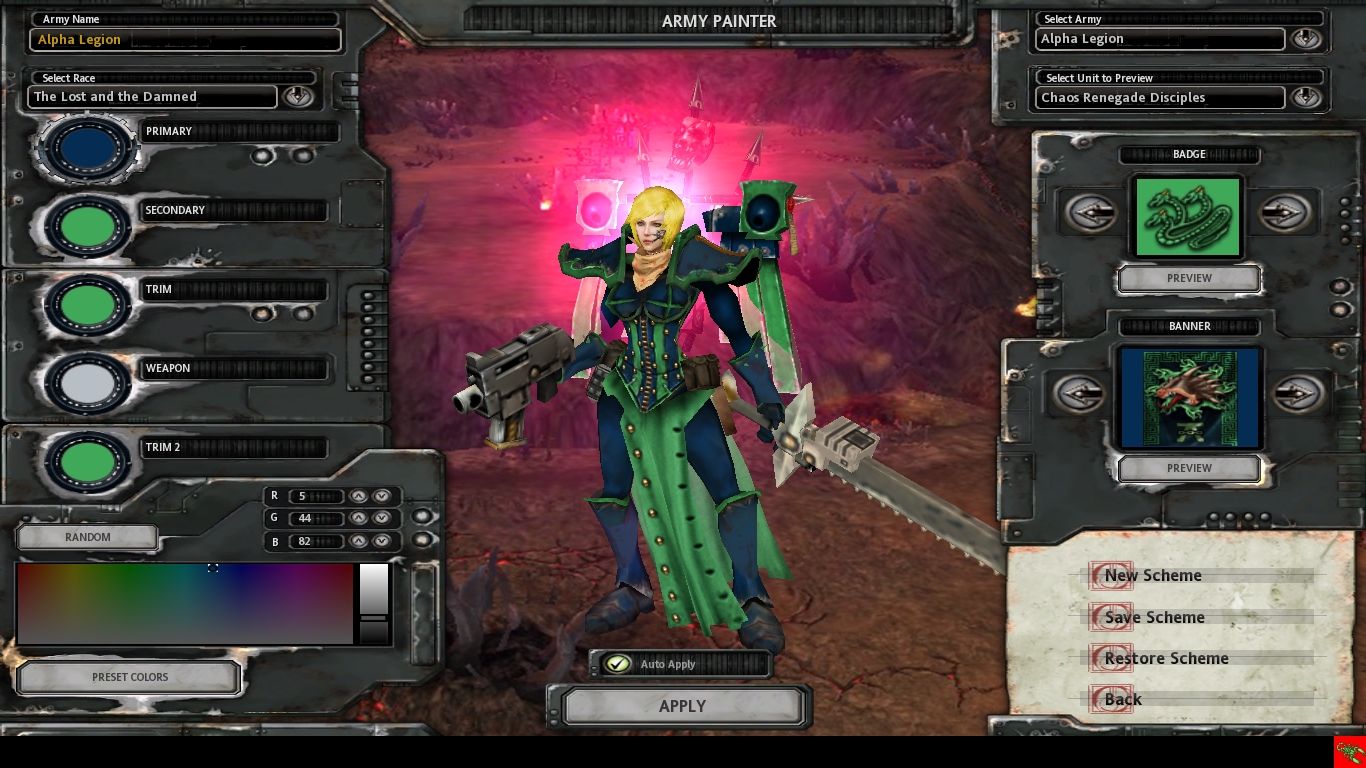 Some specialized commanders are also being worked upon.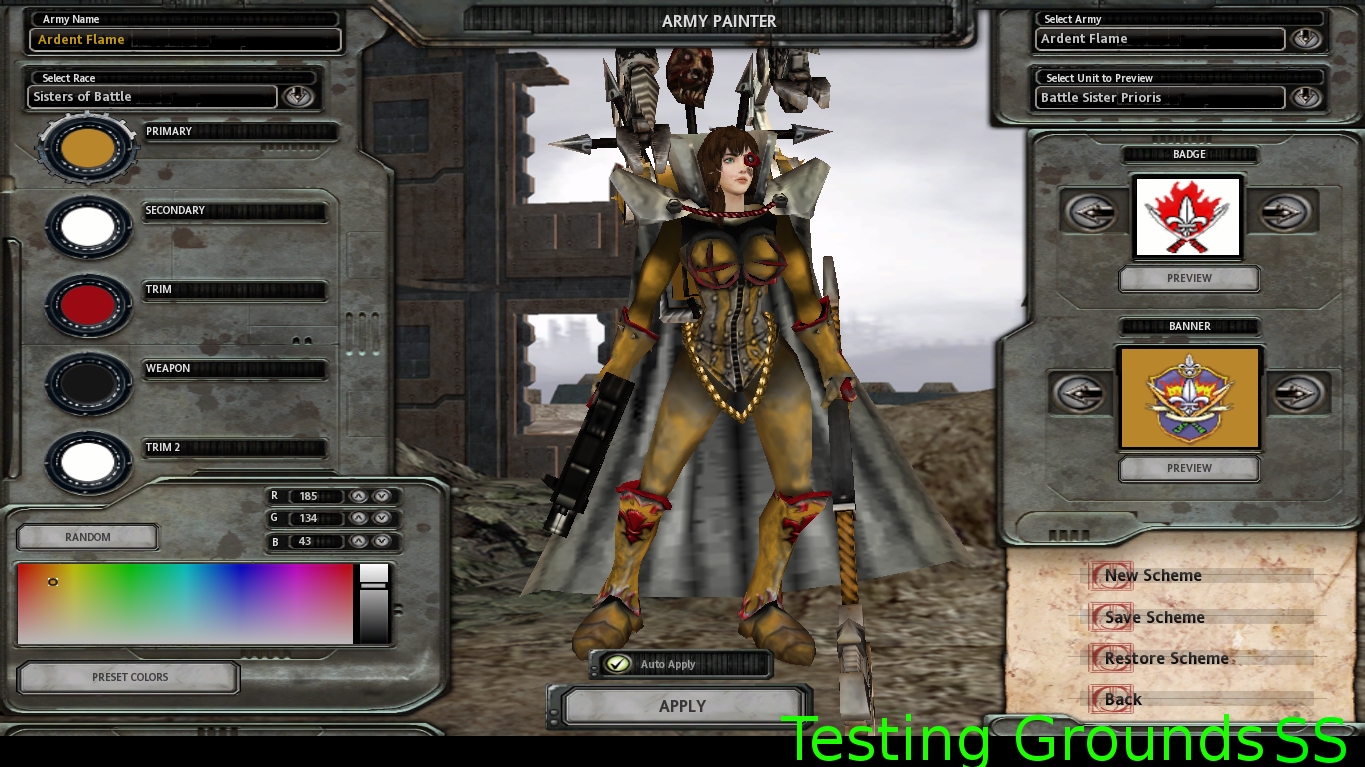 This display of concepts is becoming too female related I know but it is mostly to stress out the need for the voice recordings ;)
Just one more female concept to close the deal. The concept below is related with a series of god dedicated warriors (one for each chaos god) which are intended to serve as bodyguards for a favoured champion of the corresponding chaos god.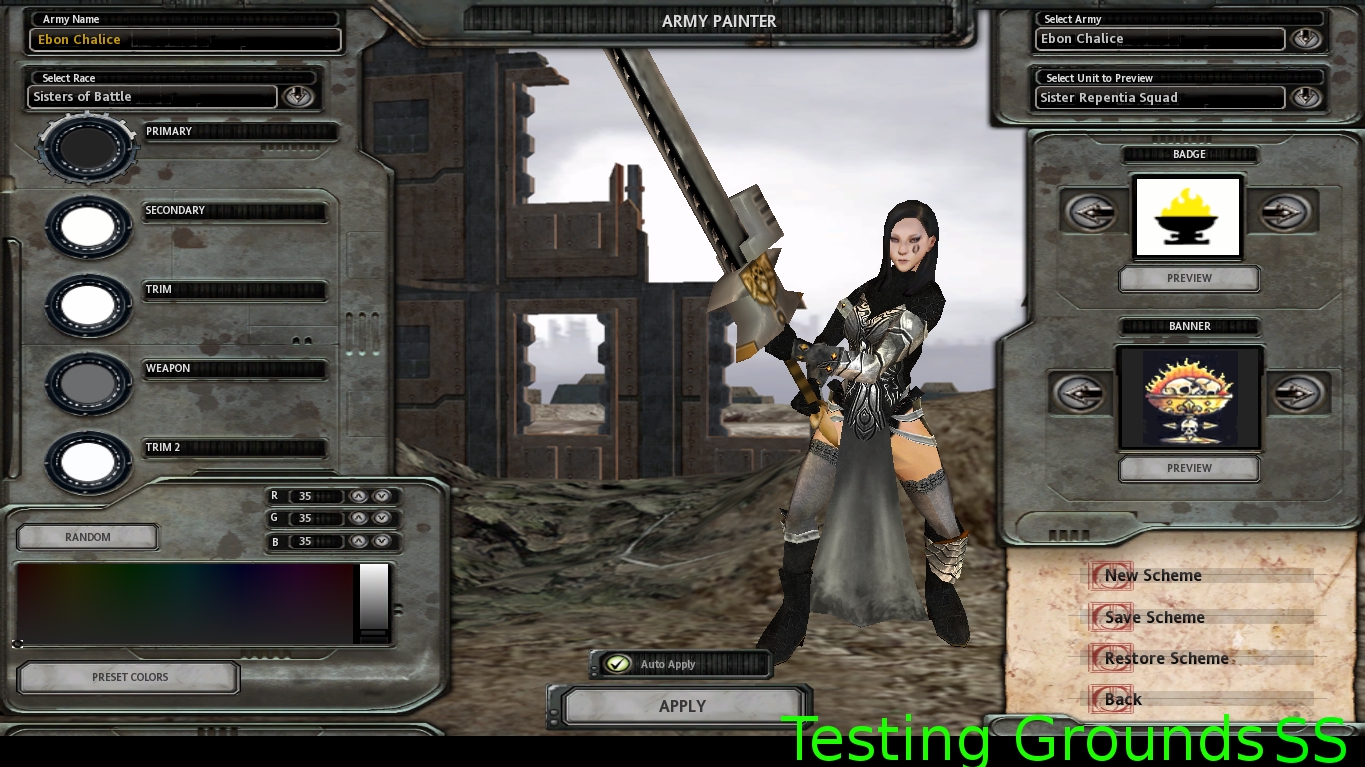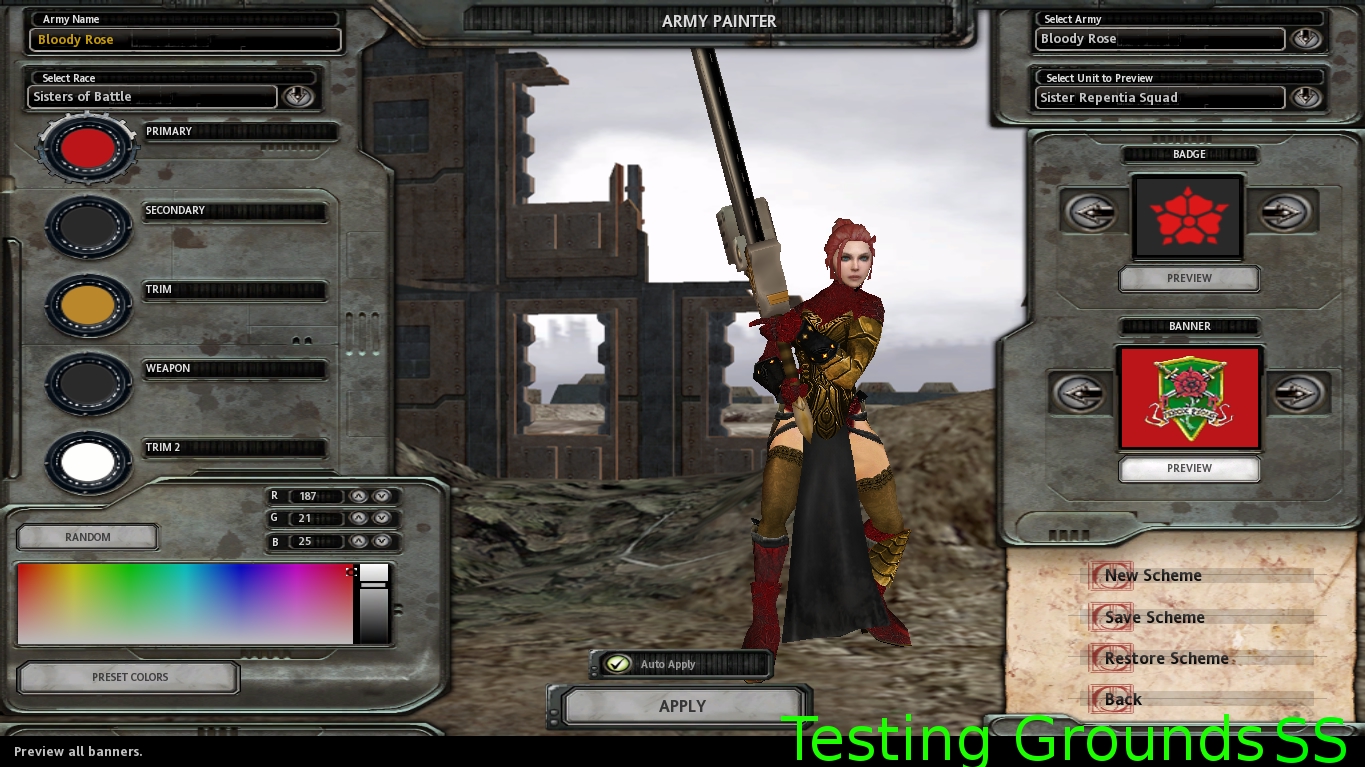 The Chaos gods favour some of their in their ongoing struggle against the Imperium and amongst themselves.
These warriors lead other servants of the gods in their path to glory, mutation or death.
As Favoured Champions they will possess gifts from their respective gods that make them eficient against certain types of enemies.
Only one can be chosen at a time but favour with a god can drop really quick and on the death of a champion a new one can arise to take its place.
Basically, unlike with a full mark system which restricts you to a specific path these champions will only restrict stuff belonging to another god while they live.
Example: if you recruit the khorne favoured champion he will provide some specific bonus to your entire army (while facing LatD go for the unique commanders first or face doom) besides some local benefits and will grant access to a specific bodyguard unit which will be represent the chosen god (melee fighters for khorne for example). While the khorne champion lives you cannot have any other favoured champion nor god specific bodyguard. Once it dies you can choose again a new champion from any god (bodyguards do not survive their favoured champions).
Check below a short video of how these champions look ingame.
The Lost and the Damned race was built from scratch so it completely lacked a functional AI until now. Since this was my first attempt at creating a functional AI, I inspired myself in the IG AI which has some similarities with the intended AI for this race. The race still requires some additions in what relates to abilities and additional units (both on the AI side and the attribute side) and some models/textures currently used are simply placeholders. Balance is not a concern for the moment (since the attribute side is not finished it would be foolish to start balancing before everything is in place) so I hope you enjoy this video of the renegades destroying some eldar forces.
Stay tuned for more :)