Current build: Alpha 1.34.2.3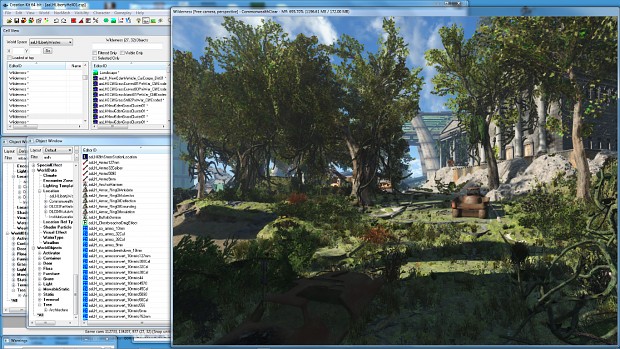 Chipping Away At The Giant Stone
We've now reached 16 months into the tedious task that is worldspace creation. The goal is to have the worldspace (exterior cells)—which consist of somewhere between 4352 to 4864 cells—to be completed by April 2018 with most of the nav mesh finished (fingers crossed). In the course of 6-8 months while the worldspace is in development, newly constructed meshes and textures will be made and incorporated into the mod accordingly.

When that phase is completed, the Liberty Hell mod will go into beta and a handful of modders will start filling in details like additional clutter, creatures, encounter zones, interiors, etc while the rest of us will work on quests, coding and dialogue.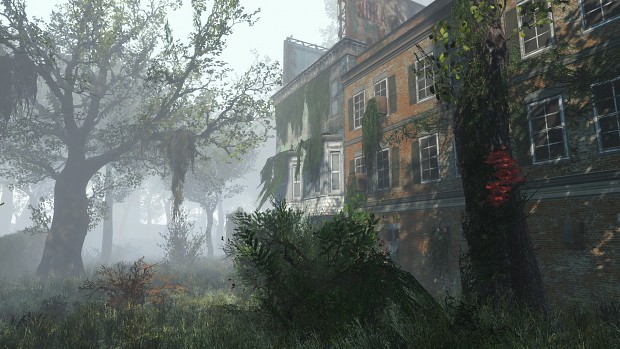 Gaining Ground
As of now, areas completed are as followed: West Philly, Philly Zoo, Caustic Hollow, Delco South and East of Caustic Hollow, Jersey from Crab Point to Billingsport, almost all of Bala Cynwyd and 75% of New Eden.
Approximately half of Center City is done while the area north of Caustic Hollow, South Philly and Ashen Badlands are roughly 15% completed.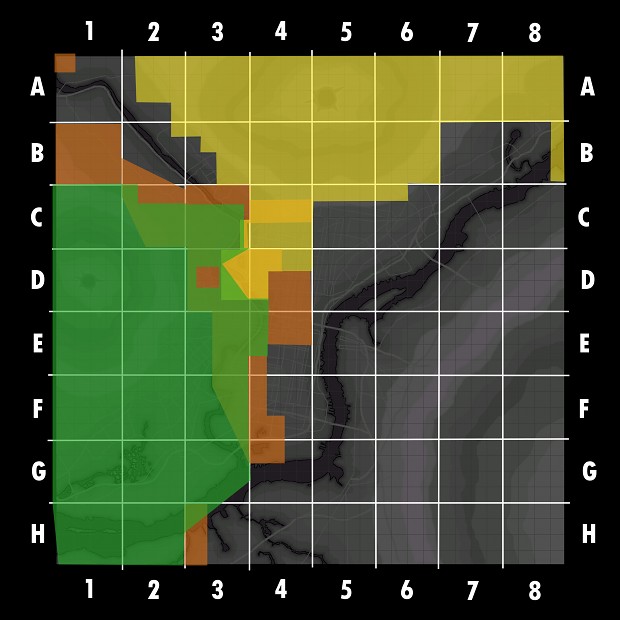 Growing Progress In Color
In case you haven't seen our previously posted grid maps, here's how it works: The green shaded area indicates a workload of 90% completed with the remaining 10% workload consist of Navmesh generation, actor placement, minor detail work and encounter zones (all these are left for later production).
Orange indicates work has started in that area with a workload of 80% or below. Yellow is the area that is currently being worked on.

Compared to previously posted grid maps, this one has an awful amount of yellow on it. This yellow area consist of New Eden and the Ashen Badlands which I hope to have both areas completed within the next two months.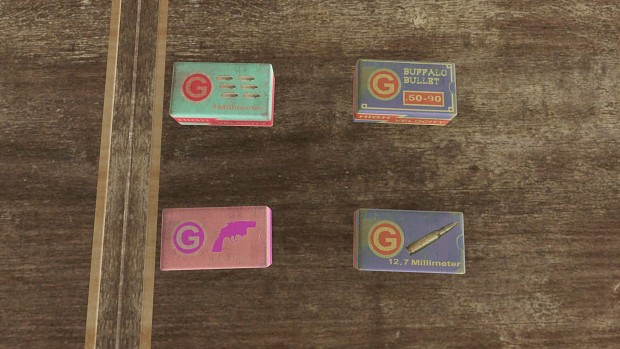 Goodies Galore!
Along with a myriad of various ballistic weaponry included in Liberty Hell, new ammo has been added to accompany some of the weapons. Ammo variants include 9mm, 12.7mm, 32 Caliber and .50-90 Sharps. Other ammo types like the .357, 22LR, FN 5.7x28mm, 40mm grenades and rockets may
be included in later months. Feel free to comment below on an ammo type you would like to see added.
To go with those new ammo types is the Ammo Reloading Bench. Now you'll be able to create ammo, breakdown ammo or convert one type of ammo to another. We're not just biting bullets but also sinking our teeth into a plethora of wasteland cuisine thanks to cookbooks found throughout the Wastes. Also, new cooking types at cooking stations will help organize the newly learned recipes.
Finally, why not wash down those delicious vittles with a cold Sioux Spirit Sarsaparilla. This special sarsaparilla is a hidden gem and if you're lucky to find one, experience it's pep and vitality in just mere
gulps. Drink enough of 'em for a perk to put new sass in future cold ones. (Disclaimer: May contain enough rads to kill a small dog.)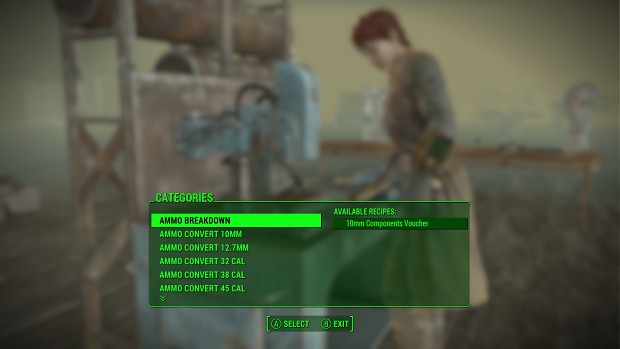 Help Wanted: Looking For Fellow Modders
We're looking for some people with at least moderate experience with mesh creation. Must have already imported their own meshes into any Bethesda Gamebryo/Creation Kit game and meshes are correctly displayed in-game. Knowledge on creating textures is a plus. For inquiries, send us a direct message on ModDB along with links to mesh work.