Every year on ModDB hobbyist, amateur and professional game artists and developers work together to produce some amazing content. While our community grows ever larger, the amount of outstanding indie games and mods also increases—many pushing the bar for quality higher and even introducing a few new ideas along the way. With 2008 in the bag, it's time to look back and choose your favorite mods and indie games that are part of the ModDB community. Welcome to the 7th Annual Mod of the Year Awards.

(thanks to Sebastian Aav for the music)
This year, in addition to grabbing a spot in ModDB's hall of fame, mods and indie games will be competing for over $8000 in prizes. We've teamed up with a whole lineup of sponsors providing tools and services that will help game artists and developers rise to new heights. Picking a winner from over 5000 possible candidates for best released mod, upcoming mod and indie game is not an easy feat. Every vote counts—indie game and mod teams can help their own cause by using the promotional tools provided and reminding all of their fans to vote for their creations.
Whether you're new to the community or a long time member, voting for your top choices of the year is easy. Both members and non-members of ModDB can vote by navigating to a mod or indie game's profile and clicking the vote button located just underneath the summary section (see below). Member votes are more valued so be sure to register if you want your voice to be heard! While your at it, have a look at some of the other mods on the site, there's an endless amount of free entertainment to be had on a variety of game engines, platforms and genres.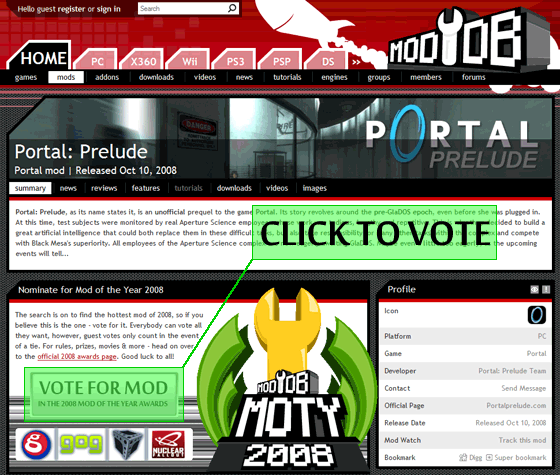 From all the staff here at ModDB, we wish all entrants the best of luck and thank you for creating new gameplay experiences that entertain gamers all over the world. For full details on voting and contest rules, check out the 2008 Mod of the Year profile. Keep on modding!