Hey all,
First things first, the mod isn't dead. I'm in the middle of moving to a new place for my new job and I just haven't had that much time to work on it. That being said, I have been thinking about it, quite a lot actually, and I've come to the conclusion that one mod encompassing all the eras of the Star Wars timeline is quite a bit challenging to say the least. While such a mod would be truly epic indeed, its just not something someone of my skill can pull off, so, I have decided to split the mod up in several "smaller" mods. Each one focusing on it's respective era. The 2 mod's I have chosen to focus my effort on for the time being are the Galactic Civil War Mod, and the Clone Wars Mod. The Galactic Civil War, because I've already began work on it, and the Clone Wars, because I have an abundance of free release models at my disposal. What Will come next? Can't know for sure, but I am leaning towards the Old Republic Era.
Unlike most Clone Wars era EAW mods available for download today, this one will not be based on the smash hit TV show. Like the name suggests, "Legends Mod: The Clone Wars" will focus on purely Legends content (IE media and story material that Lucasfilm no longer considers "canon"). Drawing on inspiration from the Dark Horse Comics, Del Rey Novels and other media from the Clone Wars Multi-Media Project, "Legends Mod: The Clone Wars" will guide you through the turmoil and horrors of war that encompassed this turbulent era of the Star Wars Timeline.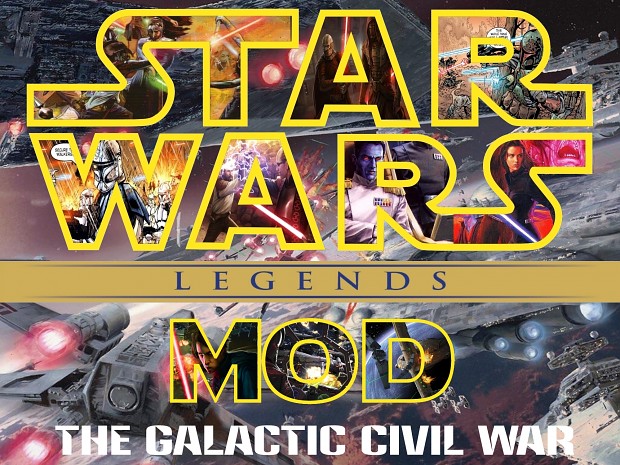 Now this mod, You've already seen a bit of, since I already have units in game as well as Galactic Conquest Scenarios planned out. "Legends Mod: The Galactic Civil War" will take you through this classic era of the Star Wars Timeline and will allow you to assume command of iconic heroes, units, and locations from Star Wars Comics, Novels, and Video Games taking place in this fantastic era of Lucasfilm story telling.
These 2 mod's I will most likely be setting up pages for as soon as I'm finished moving into my new place and getting settled. Thank you all for your patience and continued support through these months of inactivity