Hazardous summer times is the perfect working time. UV beams which tries to kill us by dehydrating, sun burns and skin cancer, requires the most geeks to stay inside with air condition and 1000 liter of cola and beers - lets not forget about those bugs who tries to suck you dry from blood and make you suffer form poison.
It is also good with some vacation for hibernating, however vacation over 3 days seems to be a waste of time (It didn't keep me away from here), So without further ado, i will now get to the actual news, before you rush to find a emergency basement to keep you safe the next 2 months.
Welcoming 2 new animators
We would like to welcome 2 animators from the Ubisoft Campus: Naomi Hunter and Noodlesmcfatty.
It is really nice when skilled people joins the development team, as they provide good info for the team and can accomplish difficult work, which will make it easier for us to progress.
The most recent thing is the rigging of the new Ichigo. Noodlesmcfatty have uploaded a render of ichigo posing with his sword in a unreleased form.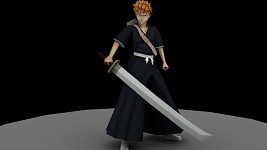 Current development
Right now, we are rewriting the game design, so it gets more detailed, and easier to work from when we get to every feature. Some of the things we came to an agreement on is how the fighting system will work, the kido system and how the dodge will work.
However there are still some stuff which will have to be defined, so hopefully we will have a new meeting soon, and then be able to publish the game design. The coding have been restarted, due to the old code had some anoying bugs and it would be easiere to restart it.
Shira have also created a alternative map of the "Ichigo mind" map.