Hello community,
today we present the first part of the January update to you. There will be overall 2.
Why 2? Well, it's because we have again a lot to show and don't want to make a huge news again like the Christmas special.
This update is mainly about the Aschen. Some ships will be more or less known already, but this time you get the finished stuff! Apart from that we have a very special unit to show to you!
So, let's get it started...
At first we have a brand new unit for you. It is mainly designed for anit-fighter and anti-bomber purposes and will appear in large numbers. It is the Aschen BattleDrone! A fully automated vessel.
As a drone and a fighter are sometimes not enough to counter a bomber attack, the Aschen use their own corvette class ship in their fleet. The model is more or less already known, but here is the finished version.
As an advanced race, the Aschen are capable of producing larger ships. To counter medium-sized ships, they use a cruiser class ship. This model is also already known, but here is the finished version.
Futhermore, they need also a ship, with which they can retaliate attacks of very large ships. Therefore they use a battleship class ship. This model is also completely new.
Last but not least, here comes a nice overview over the complete Aschen fleet: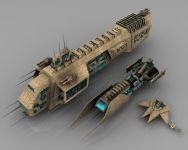 Ok, as a last part of the news, we have a very special ship for you. You know it already and it is even in the Final 1.1 already, but we have decided to revise it completely nad the result speaks for itself.
It is the Asuran Cruiser!
We hope you had fun with the first part of the News! Oh, and please don't forget to vote for us in the Mod-of-the-Year awards! Thank you very much!