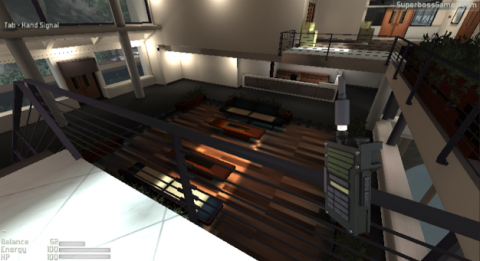 Voice chat in Intruder isn't an after thought. It was designed from the ground up to be an essential tool for team tactics. Missions are completed or failed many times based on how well each team is able to communicate their own positions and the positions of the enemy.
Highlights of the Voice Chat
The voice chat is 3D. Being able to hear a teammate talking to you is dependant on how far away you are. The voice is panned to the right and left based on their realtive position to you.
The voice chat is volume based. If you and I are sneaking through a building, I can whisper to you and if we are quiet enough other players nearby will have difficulty hearing us. On the flip side, if I yell down a hallway at you, you will be able to hear me as opposed if I spoke to you in a normal volume from the other end of the hall.
Everyone can potentially hear you, friend and foe alike.
The radio is a tool for communicating over long distances to your teammates, it is essential for planning assaults, distracting the enemy, communicating about traps that have been set up to stop you.
EDIT: If you haven't yet, make sure to sign up on our new forum at Superbossgames.com Anybody who is interested in testing should sign up there, post some stuff and also join us in the IRC at Superbossgames.com See you there!