We have a new development in our arsenal the Brotherhood's Obelisk of Light is deadlier then ever, with two modes of fire that can be switched between as you can see here from our latest battlefield test of the weapon. More data will be revealed in time we must protect the secrets of the Technology of Peace!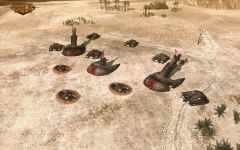 While new battlefield reports show another one of GDI's mechanized unit's it appears to be the most compact form yet effectively its a power suit. reports show its a light scout anti infantry vehicle which also grants its wearer protection from the divine resource Tiberium. GDI is calling this machine the Wolverine.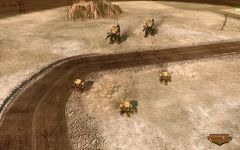 We have new developments of our own since the last war, the replacement of our Light Tank from the first war is the Tick Tank. Having two modes one a burrowed mode where it burrows into the ground, this gives the unit great protection having its body mostly underground. It also gives the unit a lower center of gravity and makes it a much smaller harder to hit target. Making it an ideal defensive weapon in this mode, for offense it can be undeployed into more or less a normal Tank. Armed with a Vulcan Cannon and a 90mm Cannon the Tick Tank is a worthy adversary on the battlefield.
Peace Through Power!
Kane Lives in Death!
--------Transmission End--------