Hey folks, welcome to the official launch for "Half-Life: Dark Matter" =)
First of all I must apologise for how rushed the page has been previously, I was in a hurry because I wanted to get the profile up as soon as possible, due to the fact that I might have less time for a period to be able to effectively do a launch in the near future (although still enough time to work on the mod, of course). I was also a little paranoid that someone may come up with a similar concept, so it was important to get things up and running quickly! As a result there isn't much explanation for images posted, in future I will provide detailed descriptions for all media (more on that below).
Dark Matter aims to be the unofficial final chapter in the original Half-Life saga set in the Black Mesa Research Facility. You've been male and female scientists, a security guard and a soldier of the Hazardous Environment Combat Unit, now finally you are Kovac, an agent of the Special Black Operations unit. Unlike previous occasions where you were either good or neutral, this time you are the bad guy, you seek to carry out your orders successfully no matter what, eliminating all that get in your way. A believe this provides a fresh and different perspective on the Black Mesa saga.
You are deployed to Black Mesa following the successful launch of the Omega Satellite delivery rocket by Gordon Freeman during "On A Rail". Such an event has alarmed the Federal government, since it makes any idea of containment of the situation much harder to accomplish. They become concerned that the HECU cannot handle the cover up effectively, and therefore Black ops should oversee the operation, cooperating and intervening where necessary (this helps to finally explain why there are female assassins present at the end of "Apprehension"). After deployment, the Osprey that you being transported in is sucked into a large portal storm, and after being caught up in the chaos, you finally black out. Waking up almost a day later after the military withdrawal, Soldiers left stranded in the facility have taken you prisoner, angry that your fellow operatives are now wiping out their comrades. You realise that orders have changed, everyone and everything is a target, and the situation is so out of control that the only course of action now is to wipe the facility from the map...
Dark Matter seeks to fit into previous official events in Half-Life and the expansions. It begins roughly when Gordon is battling against the Nihilanth, and Shephard is trying to sink the pitworm- climaxing on the third and final day when Black Mesa is finally destroyed. Because there is no definitive official timeline for Half-Life, it is unknown just how long the Resonance cascade actually lasts. However what we know from Opposing force is that "the package" is activated during sunset of the second day, and goes off at some point during daylight time of the next day (day 3) at the end of the game. This leads me to conclude that the Resonance Cascade lasts approximately two and a half days with the finale being sometime in the morning or afternoon time of the third day. This allows Dark Matter to present all new scenarios and events that haven't been seen before, as well as tie in with previous ones.
New player arms have recently been created for the weapon view models, by Sporkeh and textured by myself: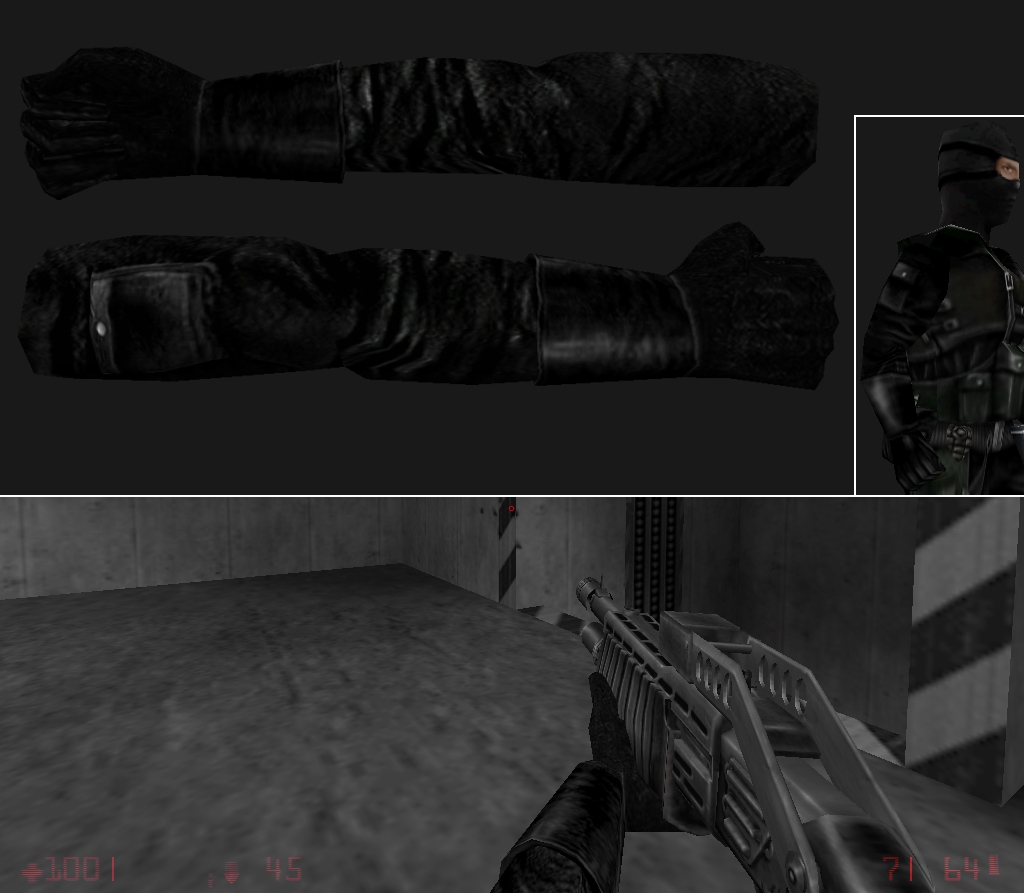 It was important for them to look as close as possible to the original Male Assassin model arms, whilst being HD, I think we nailed it!

Two locations in Black Mesa have been revealed so far, Sector D High Security Storage Facility:
The surface area has been badly scarred by the air-strike bombardment, and an apache gunship has crashed through the electric fence, meaning you'll need to find a way to disable the power to get past. The ventilation shaft is exposed to the outdoors following the damage, but I wouldn't recommend trying to descend, the combination of a burst water pipe and faulty lighting is quite deadly...
Sector F Lambda Complex:
Several hours after Freeman and Shephard were present, everything is now falling apart, and the main reactor core has completely failed. You'll need to navigate your way through the crumbling corridors and labs because it's the only way through to reach the Subsurface Materials Transport System in Sector E where your fellow operatives are waiting for you...
In addition there is also the Black ops Osprey intro sequence too:
All areas are still very much work in progress.
The reason why I have only shown Half-Life locations is because right now I am still coming up with concepts, layouts and ideas for new areas, as I only began work on Dark Matter at the beginning of December. So it is a good idea to recreate the areas from Half-Life I want to use, and make the necessary modifications to those areas, as well as flesh out new parts that you haven't seen before. Both Half-Life locations will feature old areas, and completely new areas that Gordon was previously blocked from accessing, such as collapsed corridors in the Lambda labs. The Half-Life areas are recreated from scratch with fresh brushwork using decompiled sources from the original maps as a base, this ensures that the areas are faithfully recreated with the correct layout, scale and details accurately shown. In addition to areas from Half-Life, you will also revisit familiar places from Opposing Force, Blue-Shift and also Decay. These areas will carefully slot together as faithfully as possible with new places and locations mentioned but not yet seen such as the Area 9 Central Transit Hub. Dark Matter is being designed very much in mind as if it's still early 2000 and Gearbox/Valve are creating yet another expansion. If you ever wanted to know what Black Mesa's main entrance looks like, where Dr Breen's office is, or what's in those tunnels where the forklifts and loaders vanish into, Dark Matter is here to finally answer such questions.
Dark Matter will feature all new enemies, weapons and characters in addition to the regular cast of friend and foe. Kovac will mostly be shooting first without any questions, since barneys are likely to open fire instantly, and scientists will run away as fast as they can in the opposite direction. This doesn't leave much room for NPC interaction, instead you'll need to find key cards in order to access sealed areas, such as disabling a security lockdown in the Black Mesa Central Complex that will allow you to access the Lambda labs. There may also be a somewhat unorthodox method of bypassing a retinal clearance scanner ;) For any scientist and barney scripts, I will use carefully chopped and reorganised audio, all other characters will have new voice work.
There is a lot to unpack in Dark Matter, and I can't wait to share with you all the ideas and concepts that are currently kept in the secret vault that is my head... but over time, I will reveal things little by little. I thank you greatly for your support and hope you will enjoy what you see!
I will also not be alone during development, I have already had help from some of my longtime friends in the HL community, and as well as their assistance I will be looking to work with others on the project in time, which is why I have created the new development group: Pipeline Software. If you are interested in being part of Dark Matter, feel free to send me a PM anytime stating what you want to do and provide me with significant examples of previous work in that particular field.
That's it for now, stay tuned for a special FAQ section, and in time I will record a short audio segment explaining some more about Dark Matter. Until then, follow this page for regular updates and much more coming soon!
Until next time,
-D3ads-