Half Life 2: Raising the Bar REDUX: March 2020 Update
Hi, everyone. Welcome to the March 2020 update. As we said on Twitter, this will be our final update before the demo release! As such, the contents of this update will consist of models that will be in chapter one that we've yet to reveal. There'll be no new map progress shown here as although lots has been made, we feel saving the maps now until the demo will give people a better experience when they play it. For now, enjoy the very content-filled update we have to offer!
New Members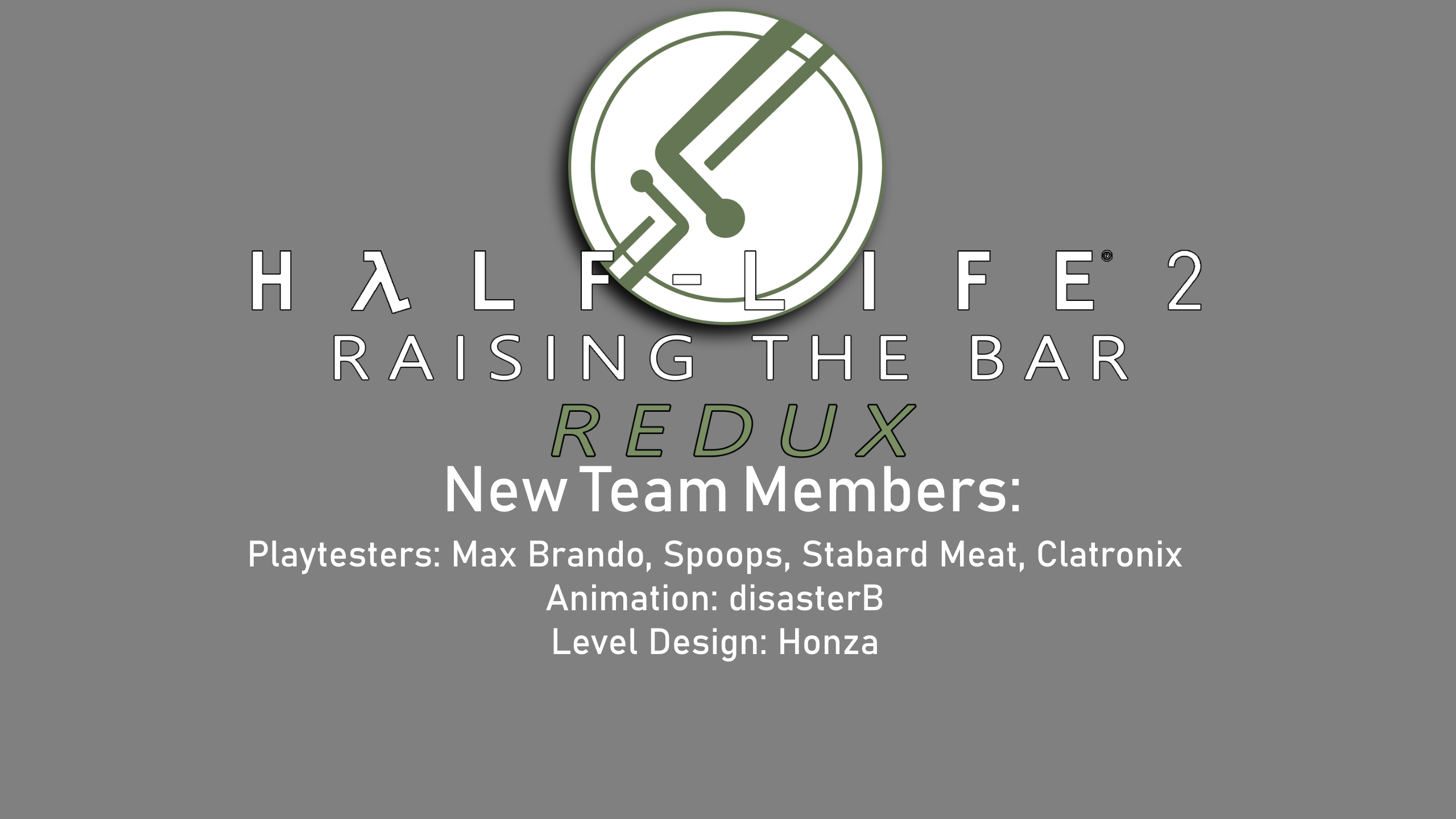 Entity: Firstly, the RTBR team has once again grown with a number of new members as we approach the demo release. disasterB is here for animation. Max Brando, Spoops, Stabard Meat, and Clatronix are our hard-working playtesters. Finally, Honza has returned to the team after an extended absence to continue working on the mod. With these new faces and some familiar ones, we hope to ship a very refined and polished chapter one demo, and make good progress on the second chapter after that.
Combine Light - Concept Recreation
Entity: Retro Boy, a modeller we took on before the previous update, made a great contribution to the team with his remake of the Combine Light's concept art. On Twitter we showed a stylised render of this prop in the style of the concept art. We feel this'll be a subtle detail that really helps make levels pop, and add some visual variety to the Combine props you've seen a hundred times before.
Combine Light - Remake
Entity: However, Retro also felt he could do the original light prop some justice, and we thought – why not? With this faithful remake of the original light prop, our mappers have extra tools to make old Combine architecture seem new again.
G-Man Concept Art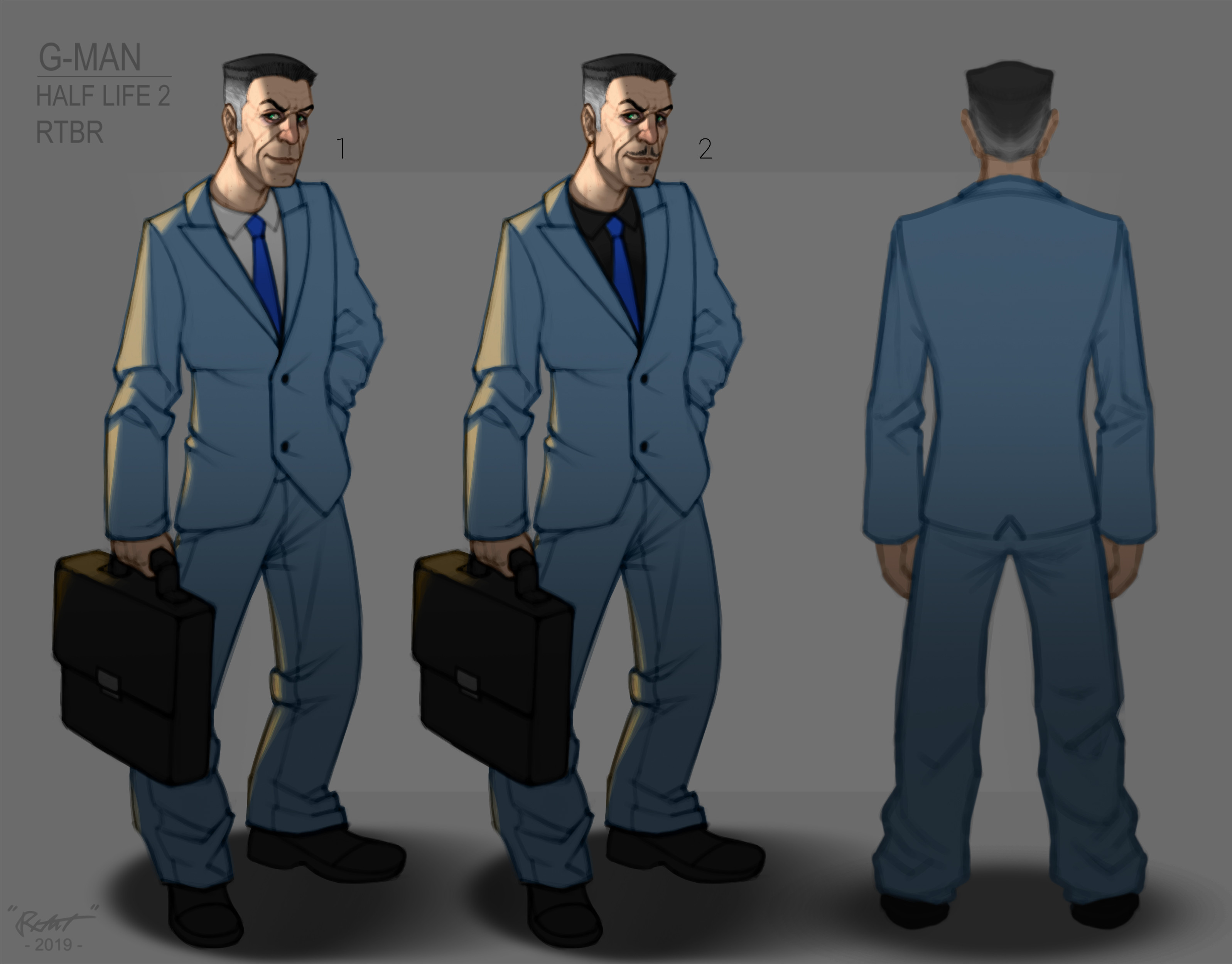 Entity: When it came to creating concept art for the G-Man, we knew it was important to stay faithful whilst reimagining his look, with our own style, and taking inspiration from cut versions of the G-Man. To that end, we refreshed his look, and tied his colour scheme back to his beta incarnation (particularly his tie). Some ideas were drawn up for possible facial changes, but in the end we decided it would be better to remain faithful to Half-Life 2 and not to change his face.
G-Man Character Model
Entity: Realising concept art is something Mohamed has proven very capable of, and his modelling of the G-Man proves he understood the design philosophy behind him. The new look for his suitcase, inspired from our concept art, helps bring a little more of our own personality into his look without changing any of the core elements.
Fire Extinguisher
Entity: Alexander was given the fire extinguisher and did a simple prop good justice. Whilst it may or may not feature as an actual weapon in RTBR – we've yet to decide on its functionality – it sees use in chapter one already as a nice detail prop, something Alexander has proven very capable of providing.
Magnum Ammo
Entity: Once again, Alexander was given some of the finer details to refine, and with our new bullet ejection system, we wanted to spruce up some of the older shell ejections to make them more enticing to players.
Recon Scanner Gibs
Entity: Modelling the gibs for the scanners is a little complicated, given they have to fit together to form the overall model, but also need to look good on their own. Some models will receive dedicated gibs whilst others will simply adapt the existing model, but we felt the recon scanner was a significant enough entity to warrant unique gibs, and so you'll be able to enjoy blasting scanners apart throughout chapter one.
Item Crate
Entity: Whilst Alexander was remaking other item pickups in the game, he was given the idea to remake the item crate, and the end result is a faithful reimagining of an iconic prop. Given its prevalence throughout the game, you'll be seeing it plenty!
Elena Mossman Concept Art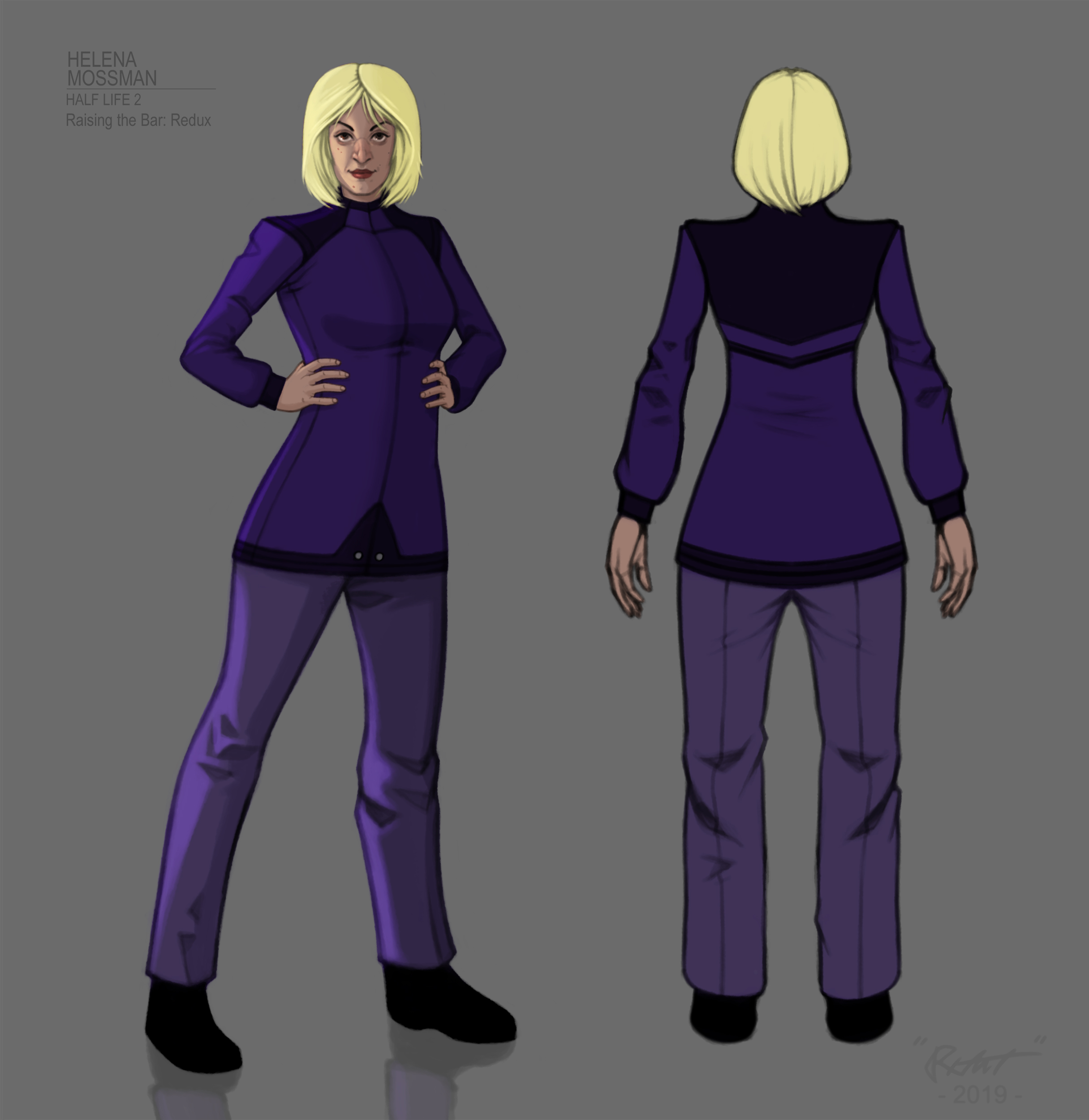 Entity: An iconic character from the cut content years, Mossman's predecessor seemed crucial to remodel given her important role in Kleiner's Lab, and whilst we still have ideas for refinements to her overall look, Robert's concept art nailed the initial design and was more than enough for Mohamed to develop.
Elena Mossman Character Model
Entity: Speaking of, Mossman was the first character model modelled by Mohamed for the mod, and a lot of work was spent refining the workflow for the model. We have ideas to maybe go back and refine it at some point, given Mohamed has learned a lot about working with Source and we've learned how best to make use of his creations – but for now, we're happy with this result for the demo.
Manhack Model
Entity: Andy's presence in RTBR updates is a given, and his contributions to chapter one have been immense. Manhacks were another contribution of his and relied heavily upon the cut textures for old manhack models. A recreation made by a developer on the team helped him further visualise its look, and we think it came out very well. An alternate skin can be used by mappers to add visual variety to these buzzy Combine nuisances.
Lamp Light Prop
Entity: Some of the mappers expressed a desire for a new light prop and, after running through some ideas, we decided on a look similar to what Alexander modelled himself. Although a small detail, it's another tool in the mapping team's arsenal to add detail to maps and improve upon them.
Cold Drinks Machine
Entity: With our remakes of the old Beta vending machines from almost two years ago, it was time to add to them again with a model-based remake of the iconic Cold Drinks machine seen prevalently in early HL2 maps. We'll be sprinkling this prop throughout the game, and it'll be a nice reminder that even in the dystopian future of HL2, cold drinks are always available.
Health Charger
Entity: Retro took on the health charger as one of his first tasks on the team. With this, he was tasked with melding the cut model from the HL2 beta files, and the finalised design from HL2. Rigged and then animated from scratch, the end result is a refreshing take on the health charger that, to dedicated beta fans, will be a welcome sight after a long fight.
Suit Charger
Entity: Finally, Retro's other early task on the team was the suit charger. This one was more complicated due to no cut model existing, but we decided to meld some of the ideas from the Beta Health Charger model with the retail suit charger, and made the metal subtly green as a nod to one of the first ever versions of the suit charger from Half-Life 1. We considered ditching the combine aesthetic outright and using one of these older designs but felt it'd clash with the health charger, so settled on the colour as a reference instead.
Finishing Up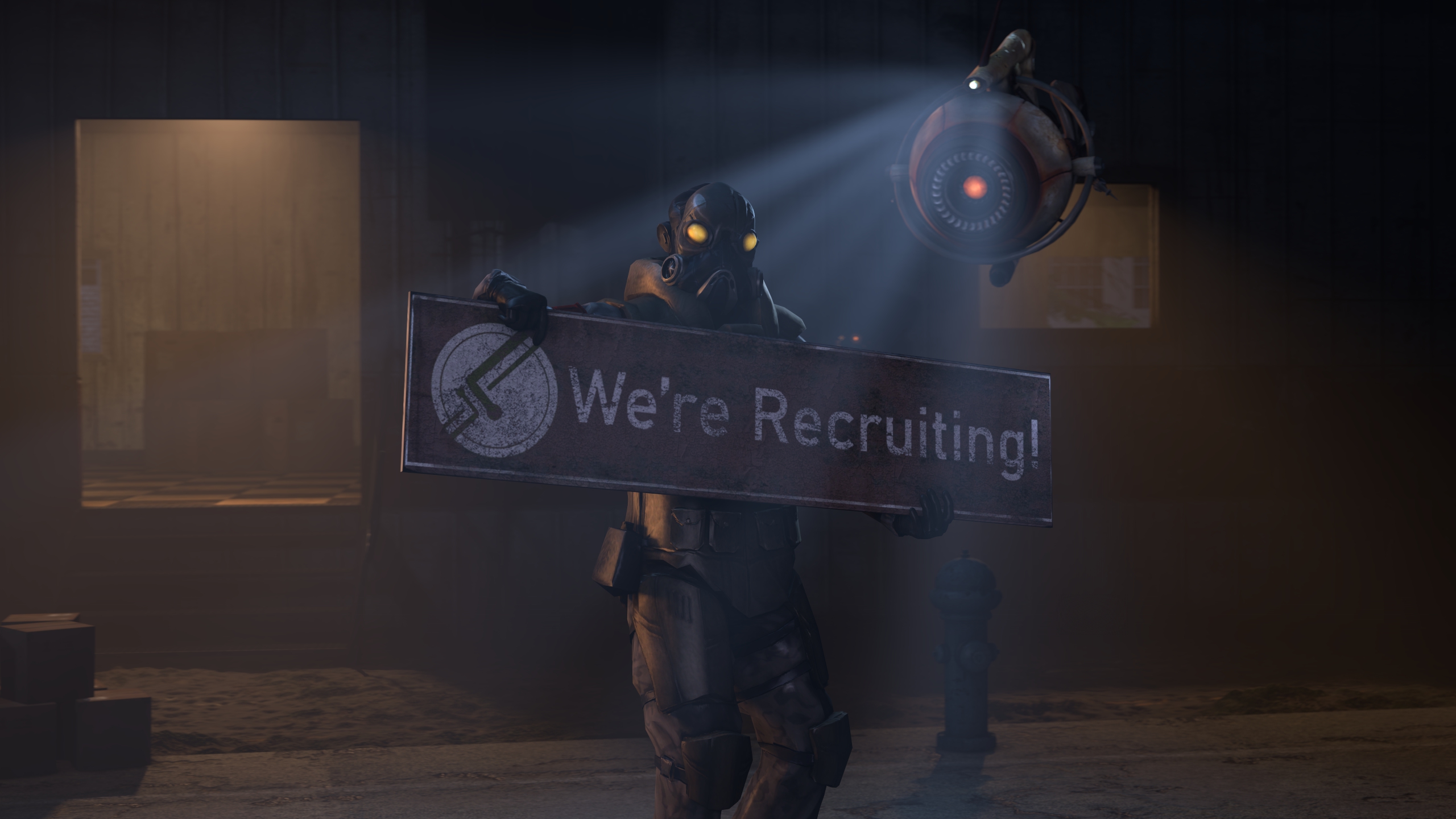 That's all for this update. Before ending, there's three more roles we're looking for right now:
Competent level designers, to help push progress elsewhere in the mod
Female voice actors for the purposes of voicing Alyx and Elena Mossman
Male voice actors for The Consul, Kleiner, Eli Maxwell, and Grigori
If these roles interest you, feel free to add me on Discord at Kralich#0901. Thanks for listening, and we'll see you soon for the first official release of Raising the Bar: Redux!