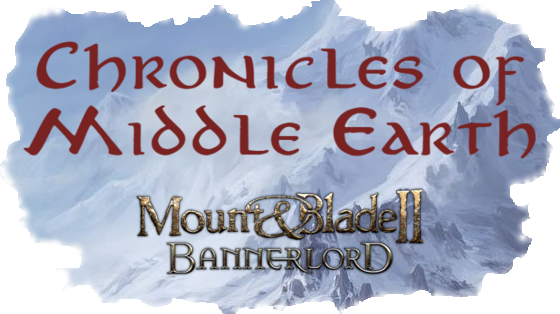 Warband departure
After some months of low activity, you probably thought that the development of Chronicles of Middle Earth was stopped or even died. But, that was not really the case. During the last months COME has met a lot of difficulties and issues with its development progress. During the development there has been moments of activity, but these never really endure. In the interest of transparency, we can say that the development of COME on Warband was not an easy thing. Without entering in the details here, a huge part of the problem came from of the huge difference of mentality between COME creators and the Modding community of Warband. Our vision, our unique concept and what we wanted to offer on Warband was totally different from the standards expected and realized by the modders on Warband. This reality affected us during all our development process, and has been resulted from lack of interest from Warband modders.
Chronicles of Middle Earth arrives on Bannerlord!
But all these difficulties are now behind us! We are proud to officially announce that COME will on Bannerlord, and therefore stops its development on Mount & Blade: Warband!
Don't worry, all the features which are planned since the beginning will stay exactly the same for Bannerlord. Of course, you have to expect some changes in the manner of doing/offering these features; there are changes which will be improved on Bannerlord and technically better for you in a playable perspective.
Why have we chosen to move onto Mount & Blade II: Bannerlord?
Our interest to transfer COME on Bannerlord was considered a long time ago. This is kind of a "plan B" that we have kept in mind for several months. Of course, our first goal while creating this mod was to offer COME on Warband. But like most of you know, open world features and some features proposed in COME has been never totally adapted to Warband. We always found solutions to make our general features playable on Warband in the best way as possible.
However, all things will be different now on Bannerlord. This game is perfectly designed and optimised for what we want to offer in COME. Here are the four main reasons that pushed us to move on Bannerlord:
The first and probably most important reason which attracted us to move onto Bannerlord is linked to mapping features. As we know, Bannerlord will put forward huge immersive maps (maximum of 225 km2 has been announced). For us, this is a really big opportunity, which will allow us to reproduce the main important places/locations of the whole Middle Earth. We already thought to create 4 official maps which could constitute the whole open world, so the Middle Earth territories. Of course, like the original concept, all maps would be linked by our server travelling system (maybe with the addition of automatic travelling, who knows!).

The second main reason is the optimisation. Warband has been always a game with very poor optimization, which result lags and low FPS, especially when a multiplayer server is really populated. The best example to illustrate is the mod Persistent World. On PW, a map cannot contain too many props and be detailed, because that could result in lack of performances from the server. This is a kind of issue that we will not see in the new opus of Mount & Blade. It is a very huge advantage, because we will have the possibility to construct a detailed immersive universe without limitations, without have the fear to meet the lack of performances on the servers.

The third main reason is certainly all the new features that Bannerlord will bring! These features are especially siege ameliorations, weaponry customizations and all new elements offered in the combat/melee system. More exciting features will of course be coming later!

The fourth and last reason is simply linked to the potential of Bannerlord, as much in terms of interest/popularity from the players than in terms of gameplay. A high interest towards a video game means more large population of players from the release. A gameplay of quality means on the other hand the opening of multiple possibilities for the modding process. These are two points which certainly had an impact on our decision to move onto Bannerlord.
The LOTR Modding Collaboration Project
We are proud to announce that we will work in total collaboration with the Bannerlord mod: Kingdoms of Arda. We have been in touch with the KoA development team since last year, and have already collaborated together in the past, even when our mods were located in different games. We had, during the last months, many discussions about an eventual collaboration on Bannerlord. Our plans finally become reality!
But, what concretely implies this "collaboration" between our mods. This is very simple; this collaboration has been created with a sharing perspective. Our main aim is to gather all our resources, codes and assets in a common way. Then, we will be able to offer a high quality result to our both communities, a result which will perfectly reflect the amazing universe of Lord of the Rings. Do not get the wrong impression, every mod will keep its independence in their development and their decision makings. COME and KoA will simply participate in a inter-help process aiming to make the development easier for both teams and offer to the community of Bannerlord the greatest LOTR mods ever seen in a video game. In a more precise way, this collaboration will also put forwards some awesome advantages to the LOTR fanbase community of Bannerlord. There eventually may be a community website including a community forum, with direct access to mods. In the future, the collaboration may also be open to other LOTR developers. We have seen many mods with the same theme work in parallel, recreating assets many times over. If we can somehow organize developers to work together despite having separate mod goals, we can all benefit. This collaboration offers both parties many possibilities…
More information about this project will come through announcement on the ModDB pages of both mods soon. Stay tuned!
We Want You!
Since we have left Warband, it is obvious that our development team has been significantly reduced. So, we can announce to you that we are now recruiting new members. We are currently looking for coders, 3D modelers, mappers and 2D designers. If one of these roles interest you, feel free to contact LeGenD on Steam.