Good Evening,This week on the battlefield, the Devil's Tongue subterranean flame tank was tested in the field whilst maybe not the most technologically advanced weapon within the Brotherhood. The Devil's Tongue is a very deadly and sneaky vehicle with the ability to travel in both a land and burrowed mode (allowing it to travel under any and all obstacles except it cannot surface over pavement).The Devil's Tongue can also burrow whilst stationary to hide pockets of force's to be unleashed at a later time although they can be detected by enemy sensors so deploy your forces accordingly.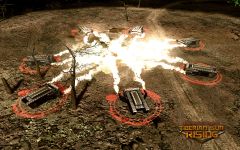 Next up is the Brotherhood's Construction Yard, this concept (by our talented Dr][ft) is a visualisation of a Nod Construction Yard during the Second Tiberium war being a unique Construction Yard design from any other in C&C but still distinctly styled after Nod during the 2nd Tiberium War. This Construction Yard is a subterranean structure most of the core structure is buried underground whilst the surface structure brings materials up from underground via a Crane to be used for constructing new buildings within a base.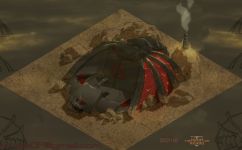 Please feedback is welcome, we want to know what you think of it ;). All of our concept artists have been working very hard this week I choose to highlight Dri][ft's piece you'll be seeing more concepts for Tiberian Sun Rising in coming weeks.
In other news I'll be going to CommandCOM this week, so if anyone has any questions about Command & Conquer 4 let me know and I'll chase them up. Also if you happen to be at the GameConvention and bump into me you might just get to play a live demo of Tiberian Sun Rising ;) maybe.
Lastly for those who missed it I uploaded the Tiberian Sun Teaser video that was aired in Battlecast Primetime a couple of weeks ago so watch it now! if you haven't already :). Peace Through Power!