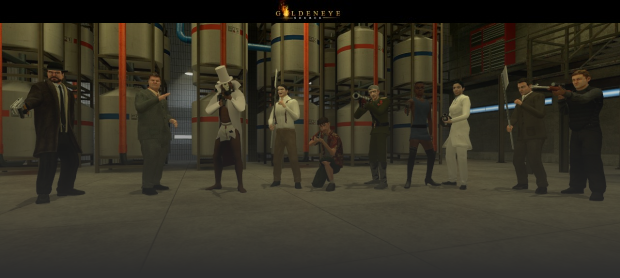 Beta 4, the long awaited latest build, is upon us all! Be sure to read all of this update but then hurry so you can be among the first in one of our dozens of servers pre-installed with GoldenEye: Source Beta 4 epic-ness!
EXE| CLIENT recommended [888MB]
GESource.org Install EXE | Mirror#1
Clan LTK Install EXE | Mirror#2
Ryan Lobbins Install EXE | mirror#3
ZIP | SERVER [893MB]
GESource.org Server ZIP | Mirror#1
Clan LTK Server ZIP | Mirror#2
Ryan Lobbins ZIP | mirror#3
SERVER | hotfix 4.02 | NEW 22nd (servers only) [11MB]
GESource.org Server HOTFIX
ModDB.com Server HOTFIX
Clients should download the top category!
Servers
need to download the LARGE server zip, and then patch the HOTFIX right after. This is a hot fix designed for SERVER HOSTS ONLY. This fixes a bug where players drop weapons on round restart. This was causing oddities to occur, and is completely taken care of by serverhosts downloading the normal ZIP then using the HOTFIX over the directory after you install.
We encourage all serverhosts to install this hotfix for the smooth playability of the entire playerbase!
JestServers.com, who since Beta 3 has carried GoldenEye: Source in their server package, is continuing to expand their support with a pledge of some official GES servers across many locations during the launch period of Beta 4. Their rent option is exciting for dedicated players/communities, giving the ability to rent GoldenEye: Source mod servers themselves for fair prices per slot!
We encourage ALL serverhosts willing to supply us with multiple free servers, to send us an email to show your interest and commitment, and for every company that supports the mod like JestServers has, will also get linkbacks and promotion via the news posts from the team. Both the players, and Team GoldenEye: Source appreciate these shows of support!


We are posting this again, since it is an encouraged listen for anyone who loves GoldenEye: Source. It details a 10 month gap in release, what is new in this release you are downloading, and the work we each put in. It sums up so many of the reasons why 5 years of development is so worth all the sleepless nights of toil, and every memory treasured along the way. Its about the present, the future and the past. Why we consistently band together for this common goal, and drive others to attaining the height of their skills, for the end result all goldeneye fans will appreciate.

JcFerggy, overhauled the entire theme, and Killermonkey has helped him organize some great changes to the usability of pages. They are dedicated to giving the pages more depth and interesting information than previously.
The bulk of the wiki will be slowly updated over the coming month or so, but the main pages and the custom theme is done and active right now! Be sure to check out the developer Q&A to hear JcFerggy go over what he has done in greater detail.
To help you nagivate our mod, with either gameplay or options, here are some key links. However, we recommend you check it all out too!
Wiki.goldeneyesource.net
Wiki.goldeneyesource.net
Wiki.goldeneyesource.net
---
Thanks again for your continued support! Dont forget to check out our youtube page, and any site you see us featured on! Subscriptions, watching and page views all help spread the word of for this release! The more we get noticed, the more players for you to enjoy the mod with! If you think you see a news article on the web we may not be aware of, you are encouraged to post the link on our forums, and feel free to email them about our release date!
Spread the word beta 4 has hit the modding shores!
Our forums are where you get all the coded info, dev blogs and hints from developers as to whats going on daily. Enjoy the mod everyone!
Forums.goldeneyesource.net
Beta 4 Changelist
Developer Q&A Download [right click to save]
Sincerely,
Team GoldenEye: Source