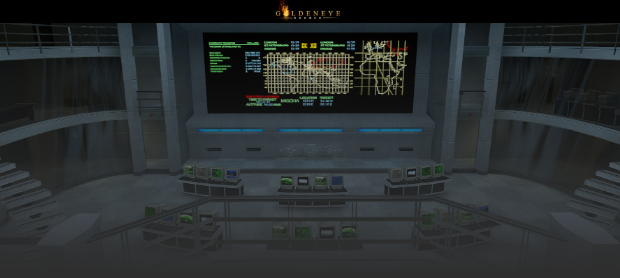 The latest version of GoldenEye: Source is out there (unless you were living under a rock), and kicking some major heiny! With a successful launch netting us downloads in the vicinity of 20,000+ in just 5 days ; 5000+ on moddb alone, we are humbled and thankful the playerbase continues to get behind us and is appreciative of our weekly and yearly efforts!
Right now we are still rank #1 for the 6th day running on moddb, and this is a testament to our resolve for making a quality experience for fans of goldeneye and fresh players to enjoy! If you are trying out GoldenEye: Source for the first time, now is the best opportunity we have given to get hooked on our many and varying gameplays. Is there a downside? Right off the bat you may feel overwhelmed. If you learn the crucial aspects and apply that knowledge consistently map-to-map you can overcome the first day syndrome!. So with that in mind...

Radar

The GE:S radar is your friend! Use of it is vital in normal gameplay (when server has enabled it) and in many team gameplays like Capture the Key, Living Daylights and Live and Let Die it becomes forced on automatically. And understanding the icons and symbols can be the difference between a fair crack at victory and a frustrated rage quit! We'd prefer the former, and have put in place many visual displays to help you achieve the goals of each gameplay. Key things to understand :
Circles [Solid]
Green is an enemy on all modes
Red is a camping enemy
White is friends in team modes
Gold is the constant radar tracking of the goldengun holder in MWTGG and Live and Let Die
Circles [Hollow]
Blue is the Mi6 Capture point for the Intelligence Briefcase
Red is the Janus Capture point for the GoldenEye Key
Squares [Solid]
Light Blue is the grounded Flag in Living Daylights
Dark Yellow is a dynamically fresh spawned Flag for Living Daylights
Red is the GoldenEye Key in game-mode Capture The Key [Team Janus objective]
Darker Blue is the Intelligence Briefcase in Capture The Key [Team Mi6 objective]
The filled shapes which are radar indicators of physical players, become triangles when they are higher or lower than you in vertical space. GoldenEye: Source often has "levels" to the layouts. Basically, a triangle pointing down means a player is below you, and pointing up means a player is above you!
Other Symbols
GoldenGun on ground, is a small icon of the weapon on radar, for MWTGG and Live and Let Die
Running man icon is for flag carriers in Living Daylights
Black/White Mask is Baron Samedi's constant radar tracking in Live and Let Die
Teams
Mi6 [Blue]
Bond, who has several colored suit outfits
Valentin who is the stocky Ex-KGB from the GoldenEye movie
Mishkin is the russian Defense Minister
006 is the good side of Alec Trevelyan, before he turns to "Janus" the villian
Female Scientist is the generic character, which is the first in GE:S and using a developer head
Janus [Red]
Boris is the russian programmer in severnaya
Jaws is the assasin from The Spy Who Loved Me, with stainless steel teeth
MayDay is the henchman and lover of chief villain Max Zorin in A View To a Kill
Ourumov is the russian General in GoldenEye
Baron Samedi is the voodoo wielding villian from Live and Let Die. Special character in the mode of same name, for GE:S
Oddjob is the silent asian henchman with metal rimmed hat in Goldfinger
When you are in a team-based gameplay, you need to become instinctually aware of which character you have selected, and this will help you be aware of the enemy as being on the opposite team to yours!
=======================
Stay tuned for more education topics for the next update! IMPORTANT links for anyone confused having only played once or twice. A lot of effort has been put into informing our playing public, please do us the service of learning our mod with help of our wiki!
Playing GoldenEye: Source
Beta 4 Release Documentation
GoldenEye: Source Game-mode Scenario Summary

William, and his band of brothers had us on their Saturday podcast episode #71. Thanks to Wake, SSL, and Enzo for representing GE:S on the most informative and prominent HL2 Universe podcast seen on MobDB. Cheers to William, Emanuel and Thomas, who asked us some great questions.
Some big topics including the present release, and its impact and details ; As well as talk of the future with distribution and the subject of campaign. And of the team's past, while covering much about general modding's hurdles and positives.
Podcast 17 Website for downloads of the episode, interview and to check out the agenda of the whole episode. Worth a look and a listen!
======================
Next update we will have embedded, the "cutting room floor" audio of the post show game session which was naturally, GoldenEye: Source! Stay tuned for that goodness.

[Click on image for moddb mirror]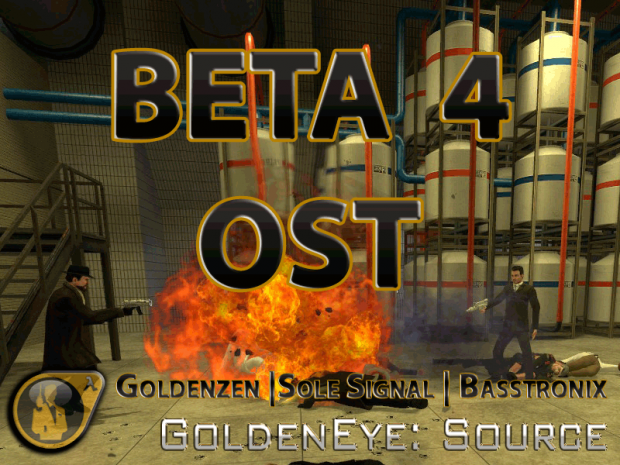 Trent Robertson (Basstronix)
www.soundclick.com/bands/basstronix
Greg Michalec (Sole Signal)
Site: www.solesignalmusic.com
Artist Facebook page: Facebook.com
Yannick Zenhäusern (Goldenzen)
Site: www.yanzen-solutions.ch
Artist Facebook page: Facebook.com
GoldenEye: Source boasts a large body of high quality remakes of those iconic and amazing goldeneye64 tracks, as well as a dozen or so original works so far by our three talented artists. Definitely a must even if you don't love playing our mod daily. iTunes will love you for it!
**Download at bottom of news**

In the commitment to give the playing public quality crash and bug free conditions, we have already worked up a HOTFIX to address the tiny handful of bugs that dealt with certain limited gameplays. Right now over half the servers that have moved to Beta 4 have installed this hotfix through it's GoldenEye: Source forum distribution. However, please if you are certain a game-mode is not working right you could join another server that has the fix on it. This fix was released the 22nd. So servers, if you have not gotten the additional 4.02 Server files to be used over the top of the Beta 4 FULL ZIP, here you go :
SERVER | hotfix 4.02 | NEW 22nd (servers only) [11MB]
GESource.org Server HOTFIX
ModDB.com Server HOTFIX
---
Thanks again for your continued support! Dont forget to check out our youtube page, and any site you see us featured on! Subscriptions, watching and page views all help spread the word of our release. The more we get noticed, the more players for you to enjoy the mod with! If you think you see a news article on the web we may not be aware of, you are encouraged to post the link on our forums, and feel free to email them about our release date!
And dont forget to keep playing! Sleep is for the week. GoldenEye: Source is for the weekend...And the week..
Our forums are where you get all the coded info, dev blogs and hints from developers as to whats going on daily.
GoldenEye: Source WIKI
Beta 4 Changelist
Beta 4 OST Download [right click to save]
Sincerely,
Team GoldenEye: Source