Hello everyone! Welcome to our 10TH devlog!!!
Since November last year we have been sharing regular updates about the development of Farmwand through our devlogs, and we are very happy to see that the game is progressing faster in the past 4 months as well as for all the attention and feedback about Farmwand that we've been receiving from all of you.
We appreciate all of your support and hope you would keep following the growth of Farmwand. Let's start!
A new video series
In this 10th devlog, we've prepared some extra content to share with you, a new video series : We are making Farmwand!.
For its first episode, we are showing a brand new and polished UI that includes a new inventory as well as many improvements to the whole farming process, from planting the seeds and have them grow to tons of little animations and sounds to make everything more dynamic. On top of everything, this is also the first video where you can hear some of the official & original soundtrack of Farmwand, composed by Sean McRoberts. Hurry and check it out!
Howling from the forest
So far you have already seen all kinds of animals in the game, some are very furry companions, some are essential to the farm, some are found at little water puddles and some even come from the beach.
However, while exploring the endless forests and mountains in Farmwand, you shall also beware some other more aggressive creatures, especially when you hear that long and distant howling up to the sky.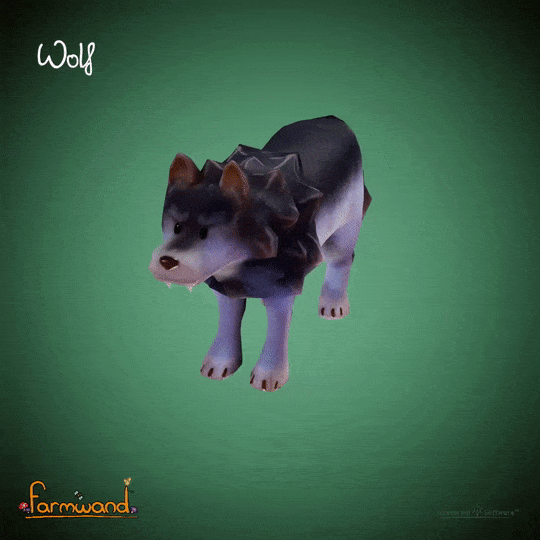 Besides the mountain wolf you can see here, there are different breeds of wolf packs you may encounter in all kinds of habitats, some more dangerous than others. However, be extra careful around the magical dire-wolf, and don't look straight into its eyes...
Colors in the wind
Something that hasn't appeared yet in this world are the colorful insects, but don't worry, we have not forgotten these flying mini-beasts, dear bug lovers.
Any farmer knows that the honey bees are not only cute but also super helpful for cultivating crops and of course for harvesting honey. So to help your farm grow well, it's possible to catch some of them in the wild and bring them back to your land, but be aware that these tiny flying creatures will not settle unless you set up a cozy little home for them first.
Have you ever seen these beautiful butterflies in real? If you have never chased them when you were a kid, take your chance in Farmwand, if you are nice they may even fly to you ;)
And finally, we also have some other critters wandering around in the deep forests of Farmwand. Don't let its appearance fool you however...this is not the usual ladybug you find in your garden!
The "prototype room"
As you could see in some of the videos and gifs above, Farmwand is sporting a remarkably blue look. As we are moving ahead with more and more gameplay tests and improvements, we are working inside a smaller area rather than having to load the whole game's world every single time a change is needed.
In this room we are testing and working on small details, such as the movements of the character, the AI for the enemies and other creatures of the game, the combat system and very very soon the whole magic system! :)
One of the first improvements we have made is to the way the character controls with mouse and keyboard, as well as the addition of a silhouette effect for when the players (and some enemies) go behind buildings or other objects.
While controlling the character with a mouse and keyboard is much easier and smoother now, a gamepad will be the recommended way to play Farmwand (and required to play in local co-op!)


Thank you for reading this dev log and for accompanying us in the development of Farmwand. Soon we will bring you even more updates and news about our game but for now, have a great weekend!
J & D