The American Confederacy is famed for the strength of it's tank battalions. But nobody was quite prepared for the Devastator when it first rolled out of the factories. A massive tank, capable of countering anything on the ground, the Devastator was quickly feared amongst enemy troops for it's ability to counter almost any enemy force, as can be seen in these demonstration videos.
An almost un-counterable unit, the Devastator is a force to be reckoned with, capable of fighting off most threats with barely a scratch to show for it. It can fire tank shells, rockets and machine guns, all capable of tearing through their selected target in a mere matter of seconds. While powerful on the ground, the sheer strength of this unit does not extend to the air, as it's turrets are incapable of tilting vertically at all. Due to the heavy armour plating, the Devastator is also a slow, lumbering monster of a tank. If you can skirt it effectively, you can also kill it.
American Confederacy Devastator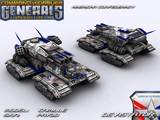 Unit Abilities
Longer range than previous heavy tank designs.
Can effectively deal with all ground targets.
Very strong armour
We hope you've enjoyed our latest update.
This is the EC team signing off.