Our ninth Isonzo dev blog is focused on a very special class - the Mountaineer! We obviously couldn't make a game set on the Italian Front without including the specialists who trained explicitly for Alpine warfare.
Mountaineer
"With training and equipment suited to the extreme terrain of the Alps, Mountaineers excel at reconnaissance and infiltrating enemy positions."
Mountain troops were used extensively by all factions on the Italian Front, given that most of the terrain was extremely mountainous - ranging from steep foothills on the Carso to the extreme high altitudes in the Dolomites. For the Kingdom of Italy there are the famous Alpini troops, while the Austro-Hungarian Empire can count on the famous Kaiserjäger to counter the Alpini. While the Kaiserjäger were not officially mountain troops, they were highly trained light infantry who fought hard in rough terrain. Both have a unique appearance, especially the Alpini with their characteristic capello with feathers. We knew that representing the mountain troops in-game with a specialised class designed to scout and make their way through challenging environments quickly was essential.
Their equipment options reflect their role. The Mountaineer is the only class apart from the Officer to be able to carry a flare gun, though the Mountaineer's flares work a little differently: one flare will grant spotting in the targeted area (identifying enemy forces on the mini-map) while following it up with a second flare will increase the speed and accuracy of any mortar being aimed by allies within that area. There's an obvious synergy in simultaneously spotting enemies and allowing more deadly mortar fire on those enemies!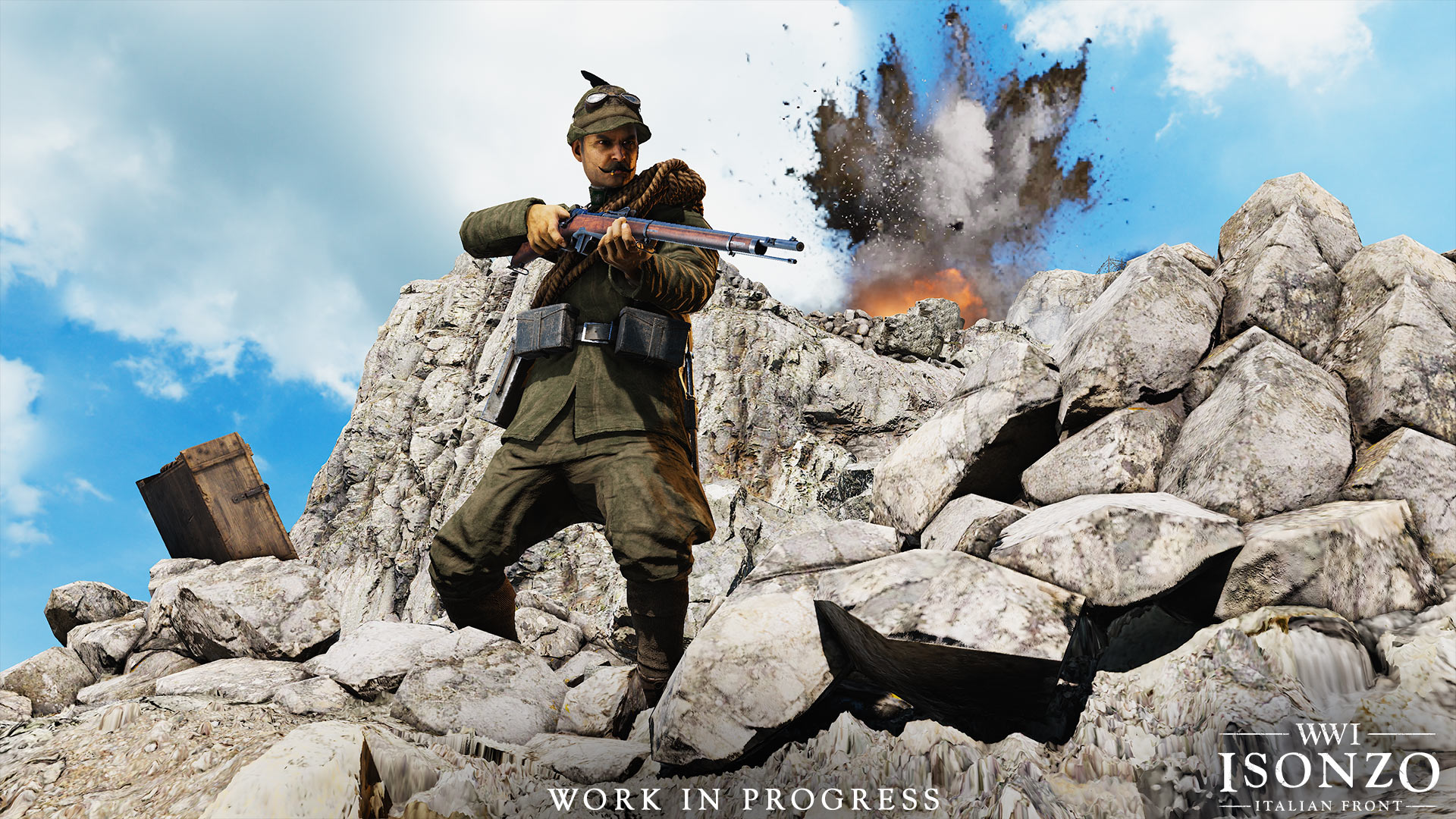 Italian Alpini in action.
Other choices include binoculars for spotting without the ammo limitations of a flare gun, an icepick melee weapon, a canteen, and even a bugle which inspires teammates around the mountaineer to advance with perks like faster sprinting and suppression immunity (representing mountaineer knowledge of the terrain and ability to lead troops through less obvious paths).
The Mountaineers enjoy perks that suit their role as mobile scouts. The Alpinist perk grants double vault and climbing speed, allowing for swifter navigation across obstacles and when moving vertically. The Observer perk gives the Mountaineer the ability to construct a periscope, which is a spotting tool that can be used by anyone on their team once built, and they can be built anywhere the Mountaineer deems useful. The construction system is something new to Isonzo that we've only hinted at so far, but you can expect a larger blog about it soon!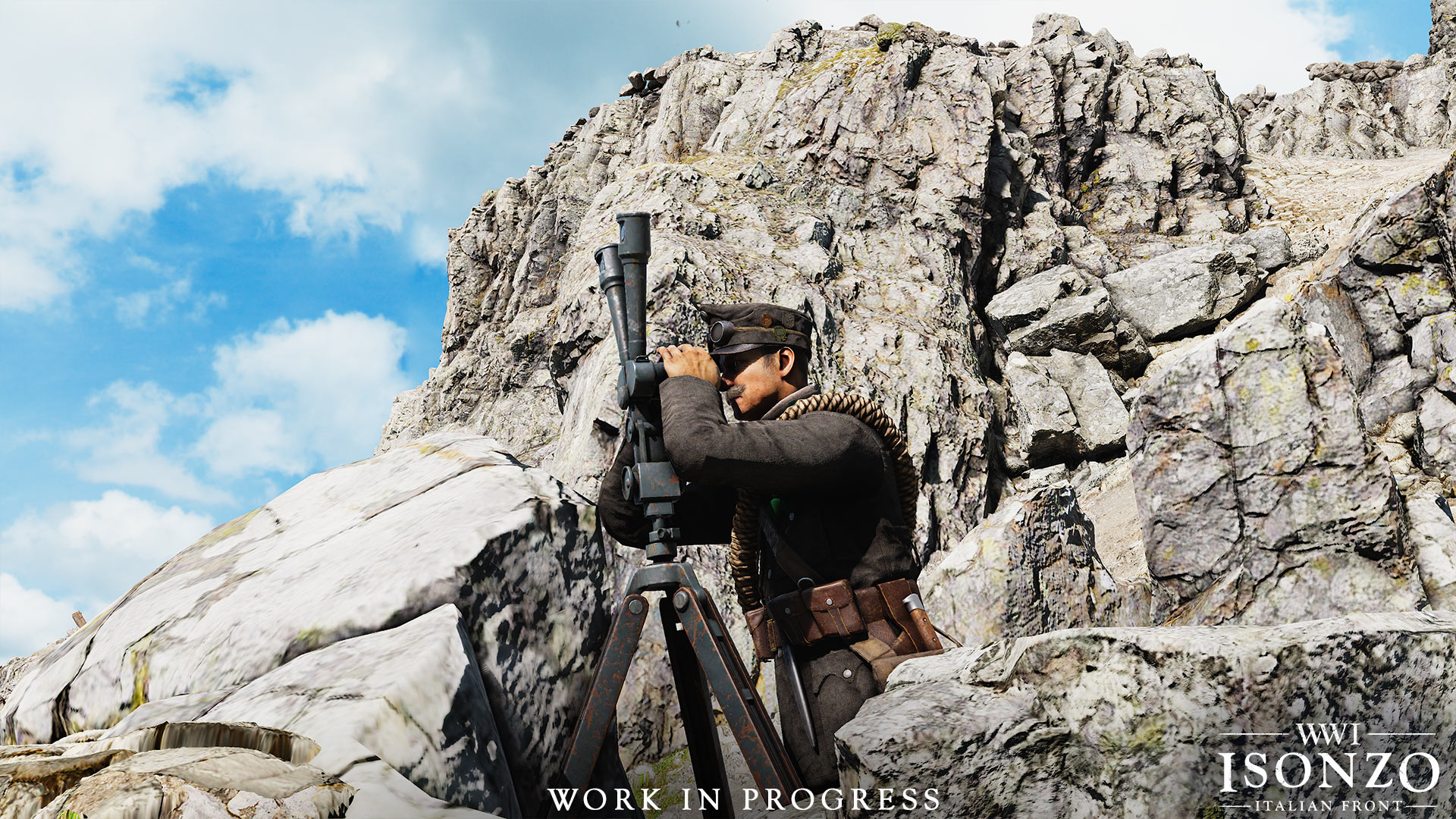 A mountaineer using a trench periscope to observe enemy positions.
All of this isn't to say that Mountaineers aren't ready to be in the thick of the fighting when things get hot! The aforementioned icepick is a deadly close quarters weapon, and they have a variety of rifles and carbines to choose from, including some with bayonets.
Reserve Rifles
Speaking of weapons, today we'll also look at two of the more… venerable rifles you'll see in action. You'll be able to unlock these as Mountaineer weapons as you play - we'll talk more about how you unlock weapons in Isonzo in a future dev blog! If you missed our previous blog about how the class and loadout system works, read all about it here. Now onto the rifles!
Vetterli 1870/87
The original Vetterli was a single shot Swiss design from 1868, which Italy started manufacturing for their troops in 1871. That's far enough in the past that the rifles produced in those early days often had minor differences due to variations in local construction - standardization was only introduced in 1874!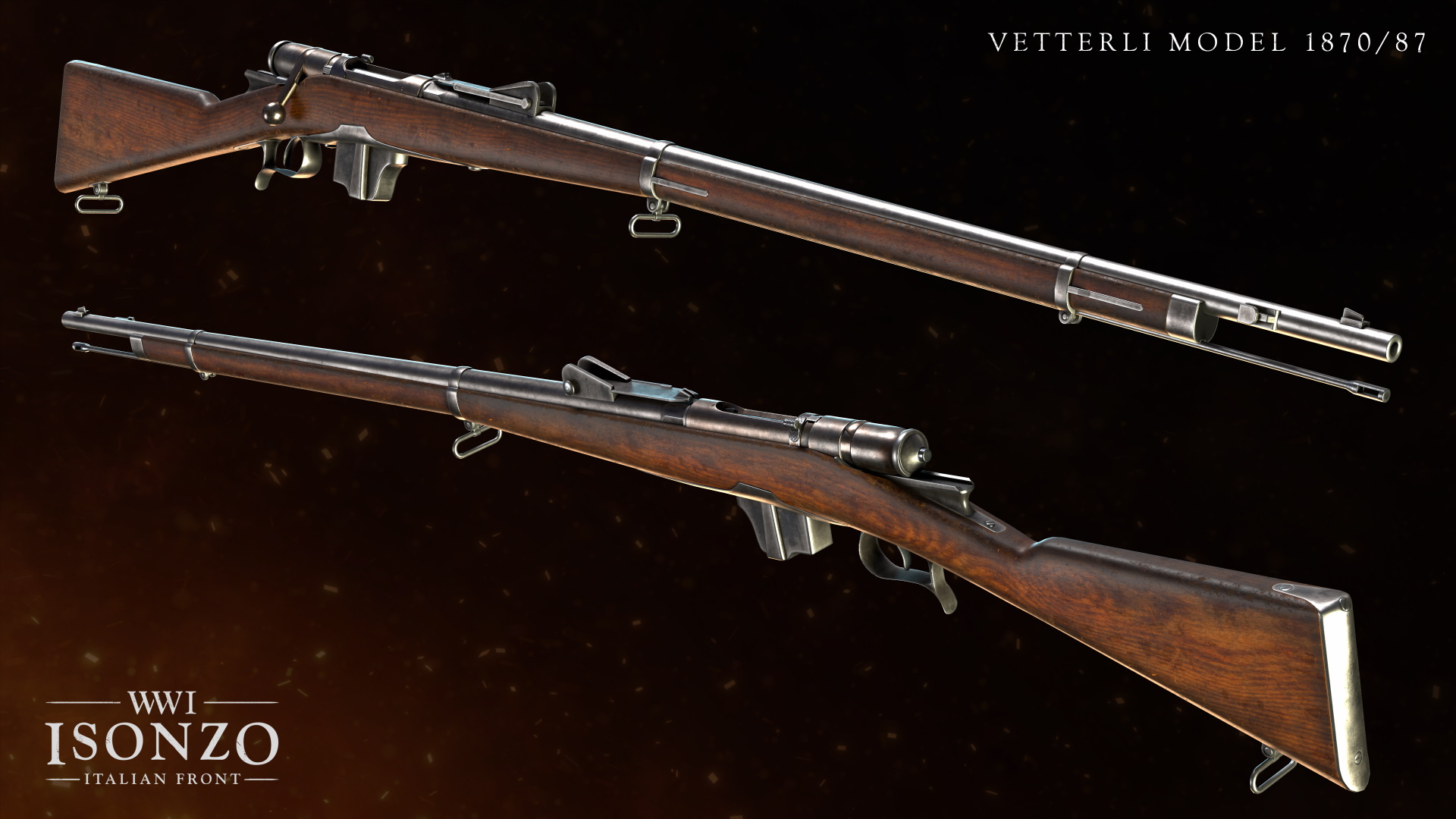 The 1870/87 version isn't the only Vetterli rifle in the game by the way…
By 1887, these Vetterlis were being converted into four shot magazine rifles. This was the Vetterli 1870/87, which would be replaced by the more modern six round Carcano rifle in 1891. But production of the more modern weapon never caught up to demand once the war started.
By late 1915 the Italians were running low on modern rifles, so the Vetterli 1870/87 was issued to various new regiments that nobody expected to see combat soon - however, the unpredictable nature of war meant that a number of these old rifles would see action as their users were forced into battle. If you don't mind a somewhat smaller magazine, the Vetterli 1870/87 can serve you well!
M1867 Werndl–Holub
If the Vetterli sounds long in the tooth, spare a thought for the Austro-Hungarian troops who found themselves armed with the M1867 Werndl–Holub rifle, which was even older than the original Vetterli. A single-shot breechloader, the Werndl was perfectly serviceable but no match for the rate of fire of modern guns.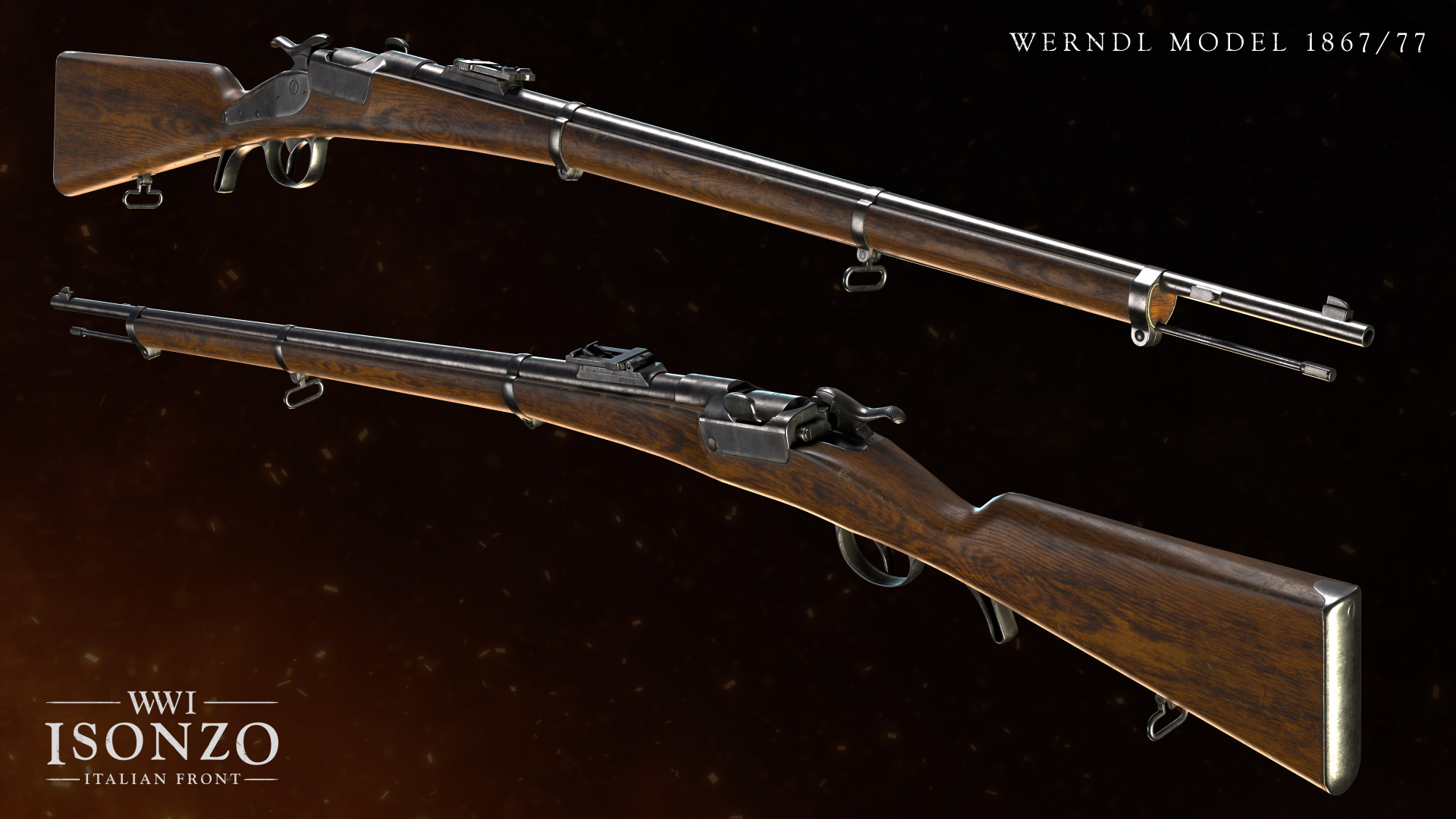 The reliable but elderly Werndl.
They were issued to some rear-echelon forces so that more modern weapons could be concentrated in frontline units. As with the Italian soldiers issued Vetterli rifles, the troops given the Werndl did sometimes find themselves in combat with their decades old firearms. If you can make every bullet count and avoid chaotic situations where you need more than one shot at a time (or bring your icepick for when things get up close and personal) the Werndl can be a very satisfying weapon to master.
Join the Isonzo Beta!
We're still gathering interested players for our Isonzo closed beta. If you're one of them, you can sign up here. There's no guarantee that everyone who signs up will get a chance to be part of the closed beta, since we pick people based on various criteria from hardware and server region to playtime. That said, we are looking for a broader audience than with the alpha tests, so your chances are good!
Stay tuned!
We've still got lots of exciting details to share about Isonzo, not least the new construction system. There's no guarantee it'll be ready for the next dev blog, but we're eager to share it with you as soon as we can! Don't forget to wishlist Isonzo on Steam!