Greetings The Development Project(TPD) fans!
It has been yet a long time since the last time and thought an update would be necessary to give everyone a heads up on what has been improved in the past 5 months with new plans, concepts and much more being done with the absence of internet.
For the past few months I have had very little access to internet apart from other devises such as cellphones to help update moddb, facebook and twitter, so information has been limited to learn little things here and there to help change things to suit the world a bit more such as debris, materials and much more.
As a taste of what the previous demonstration has been improved on, I have put together a playtest of hopefully the second and last version of this map which now includes proper puzzles, sounds, atmosphere and a few other little goodies.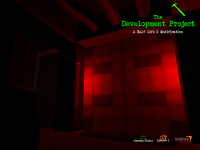 As a small reward to the new setup of this puzzle and new plans to help bring the world to life, I have put together another downloadable pack of backgrounds for your taste which I hope you will all appreciate just as much as the last.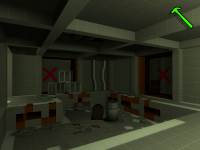 A concept of the world of dev textures falling apart which will soon be put into an extreme situation where entire hallways can be rip to pieces including pillars, floors, pipes and more!
In the past couple of years, it has occurred to me that although dev textures are a source of originality when it comes to creativity. They require many brushes (solid walls) to give areas different variations with multiple textures, pillars, detail etc?instead of doing this, I have gone and created many different models such as the above.

Ever since the beginning of the birth of TDP, finding new ways to improve on the already made dev textures has grown to be very exciting whilst discovering how many different ways they can be used let alone modified to also anything where we are now sitting on 120+ textures including different material types and variations of the default textures but some more improved than others of which were all made for the Dev universe to have a more unique feel and more original feel.
This has grown to be a very big concern and has pushed me into learning modeling, so now after a couple of years of this process I have worked on many new models for the game that is now at 70+ and growing, which now reduce this number of brushes and also bring in more exiting features such as breakable walls, detail, models and much more.
Thank you to everyone supporting The Development Project and know that this shall continue for a very long time until result has hit a satisfactory requirement.
Dont forget to follow us for more info!
Cheers,
Mapster(Weeblinator)