More frequent updates posted on Twitter: @BloodDeathWish
It's been about a year since I last posted an update here on ModDB, so for people who aren't following me on Twitter I'll give you a peak at how Death Wish v2.0 coming along.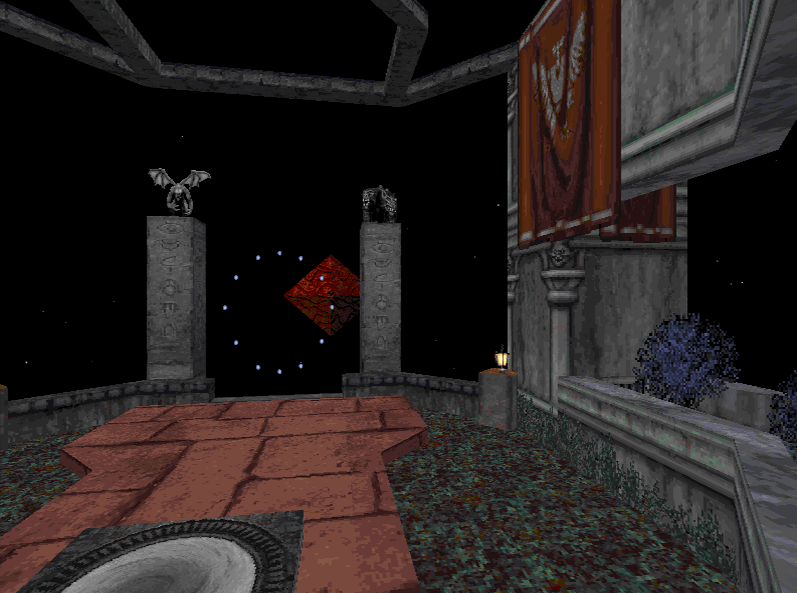 FAQ
When is it coming out?
Sometime in 2023. It will include both the updated episode 1–3 and episode 4.

What can I use to play it?
Death Wish will remain universally compatible, playable in DOS, Fresh Supply, GDX, NBlood, Raze, etc.
Will the add-on soundtrack by Speedy work with v2.0?
Yes.
Don't you risk over-designing by continuing to update the old maps?
Not really. I'm held to the sector/wall/x-sector limits of the original game, so in most cases I can only add new content by removing something else. When I add new things, it's only at the cost of segments I deem less valuable, and you'll just have to trust my judgement on that. Some maps, like e2m12, don't need as much touching-up as others.

What's the upgrade status?
Old map upgrades are more than halfway done. Episode 1 is done, 8 maps are done in episode 2, and 9 other maps have received some changes but are not completed.

How much of episode 4 is done?
Episode 4 has 2 completed maps and a third about halfway done. I stopped to update the old maps so I could add some new features and introduce some concepts that I thought the player should confront before they're 30+ maps deep into the expansion.

Why don't you release the updated episode 1–3 in 2022 and make v2.0 add episode 4?
When I decided to create episode 4, I wanted to reimagine Death Wish as a 4-episode package so that the final chapter doesn't feel tacked-on. The updated episode 1–3 will not feel complete without the 4th to close everything out.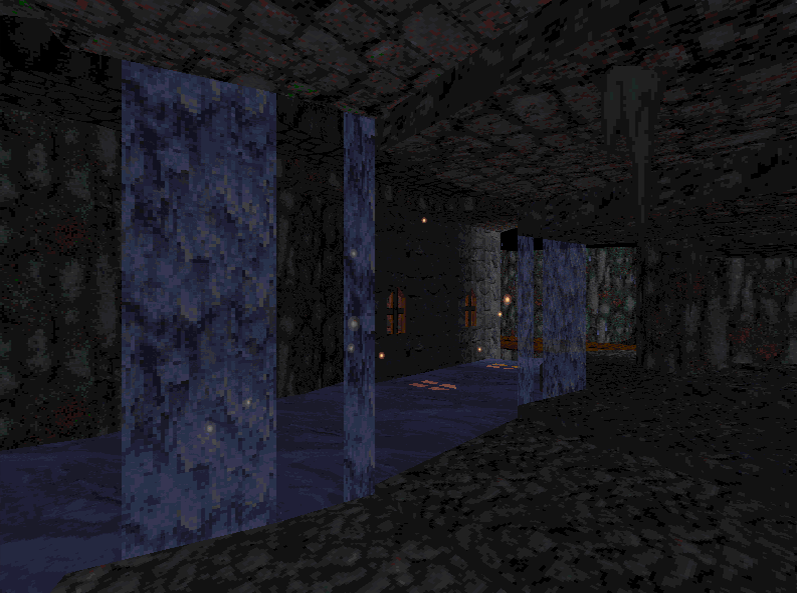 What's changing in the v2.0 upgrade?
One of the main goals of the upgrade is making things lean — cutting out areas that needlessly extend playtime, and using the resources made available from those cuts to add better content or enhance what remains. This was a big problem in episode 2, not only because it's longer than the other episodes, but there were a lot of spots that added up to player fatigue around e2m6 or e2m7, especially if that person is running through the expansion all in one sitting (good luck with that after I add episode 4). Even on a smaller scale, removing an unnecessary key requirement here and there can make for a better overall experience. Some special collectable items have been added to various levels, but they are all optional and don't require additional hunting unless you're dead-set on finding everything the level has to offer.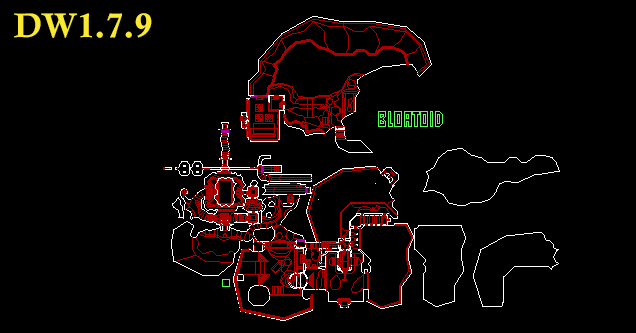 E2M5 (above) gets major layout changes to cut down on backtracking.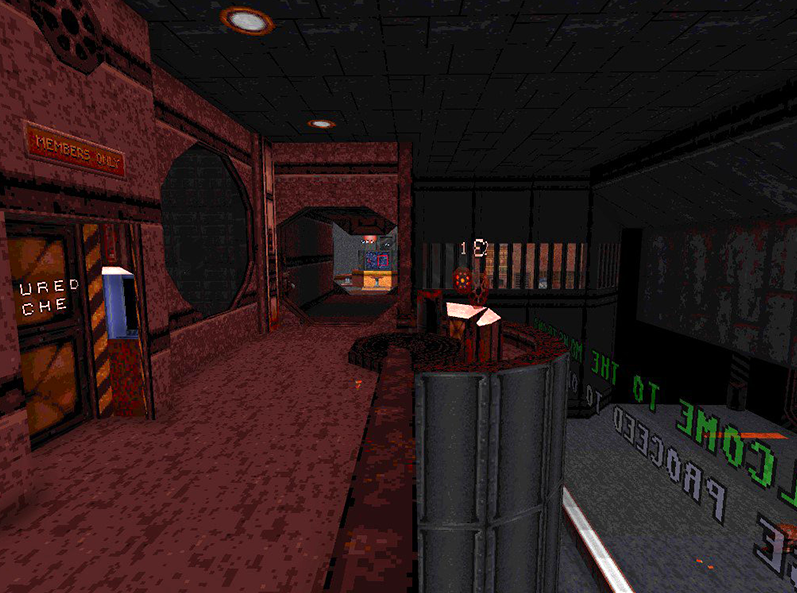 The updated E2M3 "Mothership" level (shown above) is a good example:
Skull Key Removed (Port 2 now optional)
Crew quarters no longer has key req. for either door (superfluous, better for Co-Op)
Rotating hallway replaced with more economical design that connects to other level sections
Added 3 Keycards for accessing items, etc. (optional)
Lounge area added (optional)
Crew Bathroom added (optional)
Books added (optional)
Better effects in OPS, Launch Bay, Core, etc.
Faster Pod ride w/out need for explosions to clear it (pathing locks at dock)
All main doorways labeled, changes depending on direction being faced
Hub now rotates in a single direction
Simplified vent system
Outer sectors broken up, some removed (performance)
Speaking of new things to find, a special set is being added to each map: The Enchiridion and Codex.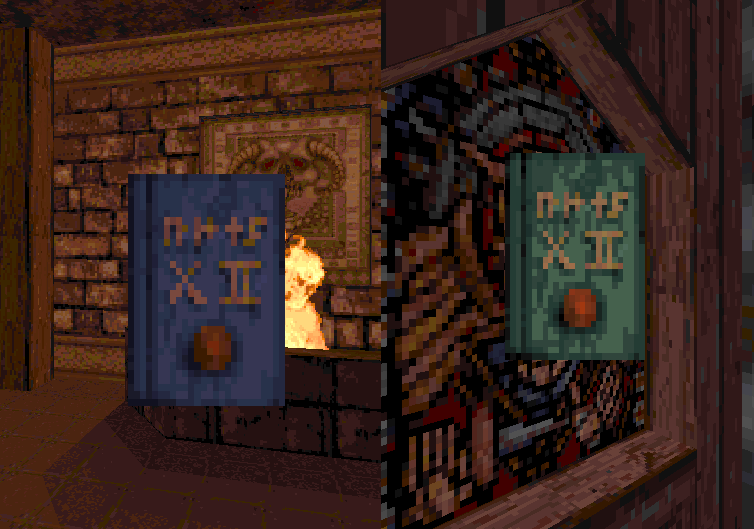 Pressing the Use key on either of these books will display a series of text lines that expand the lore. The blue Enchiridion tells the lore of the level in which it is located. The green Codex will focus on the events between previous Blood campaigns and how they tie into Death Wish.
Death Wish Episode 1 Codex collection: Lore of the gap between Blood Ep 4 & Cryptic Passage
Death Wish Episode 2 Codex collection: Lore of the gap between Cryptic Passage & Post Mortem
Death Wish Episode 3 Codex collection: Lore of the gap between Post Mortem & Death Wish
Death Wish Episode 4 Codex collection: [ secret for now! ]
These books are entirely optional, but will add some depth and context for those who find them. The Codex arrangement also allows for players the option to go through the entire library in "flashback" order on repeated playthroughs instead of chronological.
Chronological:
Blood Ep1–4 > Cryptic Passage > Post Mortem > Death Wish

Flashback:
Blood Ep1–4 > DW Ep1 > Cryptic Passage > DW Ep2 > Post Mortem > DW Ep3 > DW Ep4

While the books are optional, their locations will still be included in the walkthrough (secrets section) to accommodate anyone striving for 100% completion.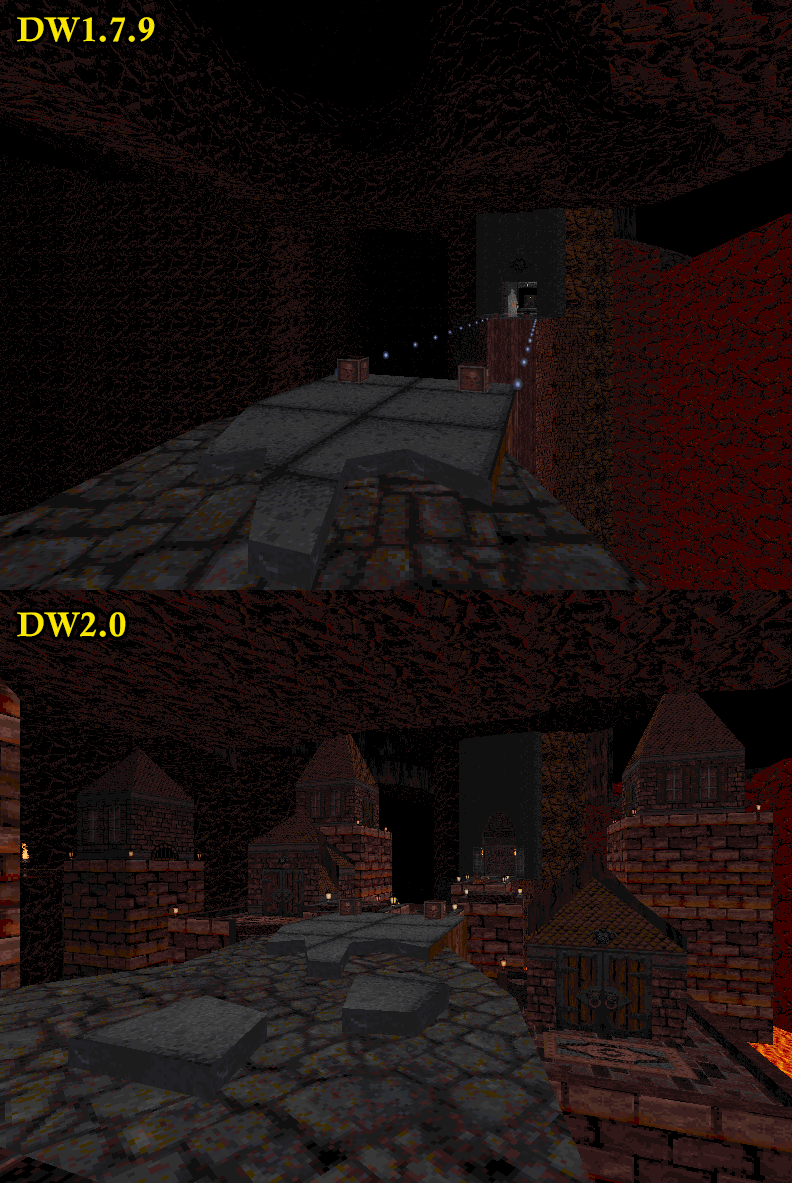 In a few places there is wiggle room for adding new architecture. I wanted to both improve the boss levels and make the transition maps more distinct from the originals upon which they are based. The boss maps in the original Blood are essentially throwaway maps, so that was the mindset I had going in when I initially created the ones for DW. Now that I've given myself a little more time to work, the boss maps are more interesting and come closer to the quality of the regular levels. The transitional maps are getting their own alterations, and will naturally diverge more from the originals as those get exclusive changes.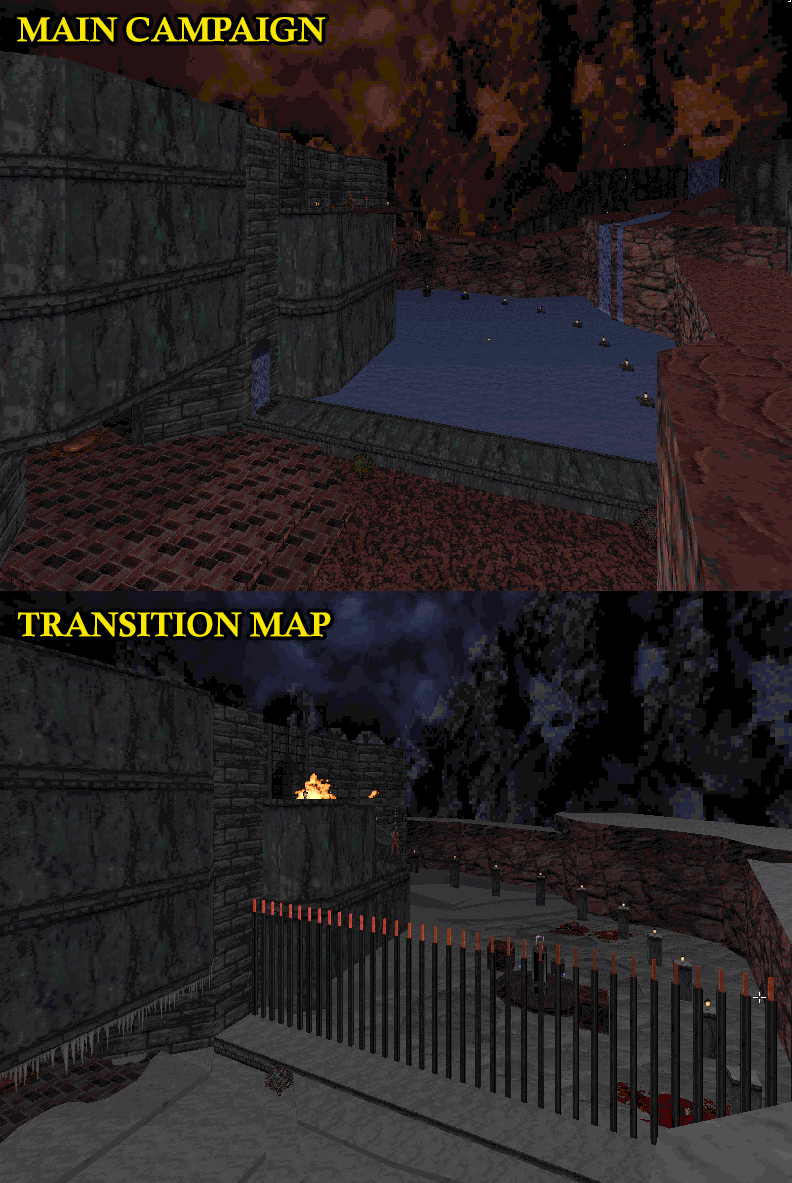 That's all for now. Be sure to follow me on Twitter for more frequent updates (usually weekly) that include videos and preview images. That's also a good place to ask me any questions you might have or to leave me a comment.
Until next time!